You have /5 articles left.
Sign up for a free account or log in.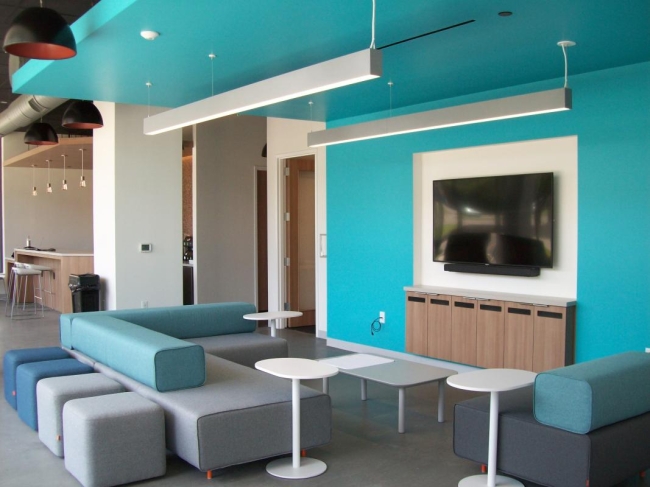 With free-flowing coffee and sleek modern furnishings in an open-concept space, Strayer University's new location in Killeen, Tex., looks more like a high-end co-working space than a typical university outpost.
That's because in many ways it is. The space is the 20th "hybrid campus" Strayer has opened in the past two years, with more locations like it on the way.
Strayer, an online for-profit institution with more than 50,000 students, has long offered physical locations where students can take in-person classes. The university currently has more than 70 campuses nationwide.
But in recent years, the number of students opting to study face-to-face has diminished and more students are choosing to study exclusively online, prompting Strayer's administration to rethink how these spaces might best be used, said Cale Holman, university chief academic officer and provost.
"While online learning has transformative potential, distance learners still benefit immensely from a sense of community, peer networking and support services historically equated with the on-campus experience," said Holman. "Through this work, our goal is to eliminate the false choice between the best of online and the best of in-person services."
The "café-style campus model" offers lots of space for students to study and mingle with their peers, said Holman. While some hybrid campuses will continue to offer in-person instruction, the focus will be on providing a quiet space for students to learn and get access to services such as success coaching or admissions help when they need it, he said.
Of the 20 hybrid campuses Strayer has already launched, seven were new locations where the university did not previously have a physical presence. Eleven of the hybrid campuses were renovations of existing campus spaces, and two were relocations.
The hybrid campuses are concentrated in urban areas where there is high student density and a large number of employers, said Holman. In addition to providing a space for students to study and get support, the hybrid campuses will offer career development opportunities, including résumé-building workshops and interview prep sessions.
Even if online students never set foot onto one of Strayer's physical locations, they can have a positive effect on students, said Holman. In 2018, students who lived near a Strayer campus were 5 percent more likely to continue on to the next quarter than were those who did not live near a Strayer campus, he said. "I compare it to having a bank branch near your house, you might never go in there, but customers like that they can go in and talk to a real person if they need to," he said.
Back to the Future at Phoenix
Strayer is not the only primarily online for-profit institution that is shaking up its campus strategy. The University of Phoenix recently opened a new campus in Arlington, Va., which it describes as a "service center." 
The new Northern Virginia DC campus will offer many of the same resources that students would find at any of Phoenix's existing campuses or learning centers across the country -- academic tutoring, computer access and spaces to organize group meetings. But the space is not designed as a traditional classroom. Instead, it is designed as a place for students, alumni and the community to convene. 
Jeannine Lake, district vice president at Phoenix, said the changing needs of online students have mandated a new model.
"Our goal is that we'll still have a presence in every key market, it will just be based on the demand that is there," said Lake. "If the demand for online learning is bigger, then our location will be focused on providing services to meet those students' needs. If students are still choosing the in-person modality, we'll continue to have that option."
Lake said the university is looking to open more of these types of locations in urban areas where students live, work and play. The new service center approach will be "a lot more community-oriented," said Lake, with a greater focus on career development.
Leaders at Phoenix believe taking the service center approach will play an important role in engaging students, said Lake. "Just because they're not coming in to take courses face-to-face, we still want to make sure that they have a quiet place to come and study."
Maintaining a physical location not only helps students feel connected to the university, it also serves as a recruitment tool, said Lake. "We have many potential students that walk in to our locations looking for more information," she said.
Sean Gallagher, executive professor of educational policy at Northeastern University, said it makes sense for these institutions to focus on expanding in urban areas.
"Historically (going back into the 1990s and well into the 2000s) the for-profit model was to locate near highway intersections outside of cities in relatively inexpensive Class-B office space, serving baby boomers and Gen Xers where they worked," said Gallagher. "More of the population and economic activity and momentum today is concentrated in cities themselves, so schools are locating where the students and jobs are."
Gallagher said while demand for hybrid and blended learning is high, many fully online institutions have yet to invest in some type of on-the-ground presence. But this appears to be changing. Capella University opened its first brick-and-mortar campus center in June. The parent companies of Capella University and Strayer University merged last year to create Strategic Education, Inc. 
Jeff Silber, an educational financial analyst with BMO Capital, said that the for-profit sector "tends to be ahead of the curve" in online education, though it rarely gets credit for it.
"The for-profit sector as a whole tends to be more in tune with where the industry is going and more focused on serving students in ways that are more convenient to them -- whether fully online, in the classroom, hybrid, nights, weekends, etc."
Daniel Pianko, managing director of University Ventures, an investment firm focused on global higher education, said it is a "virtual certainty" that in 10 years' time, every major online university will have a substantial number of hybrid centers, either for pedagogical, marketing or regulatory reasons.
"There is a long tradition of universities creating smaller footprint campuses in high-density areas to support professional programs," he said. "It's no surprise that primarily online universities are using a physical presence to enhance that student experience and attract more students."
A member of the University of Phoenix's senior leadership team once told Pianko that the institution's rollout of physical campuses in the early 2000s was largely marketing for the online programs. While the university closed 115 of these campuses in 2012 due to falling student numbers, it still maintains around 50 physical locations.
"Universities -- for-profit and nonprofit -- realize that more than 50 percent of students attend a university within driving distance of their home," said Pianko. "While students want the convenience of online, they want the experience of in-person education. There is a huge trust factor for a university to have a location that someone can go in and touch."
The trend of creating physical spaces for students to learn and meet up is not confined to for-profits. Georgia Tech last year shared plans to open a "storefront" for its online degrees, and institutions such as Northeastern University, Arizona State University, Webster University and the University of Maryland Global Campus also offer multiple campus locations.
Research increasingly shows that hybrid education has "substantially better outcomes" than purely online or in-person educational experiences, said Pianko. "The more technology we use, the more important the sense of space and human connection becomes."