You have /5 articles left.
Sign up for a free account or log in.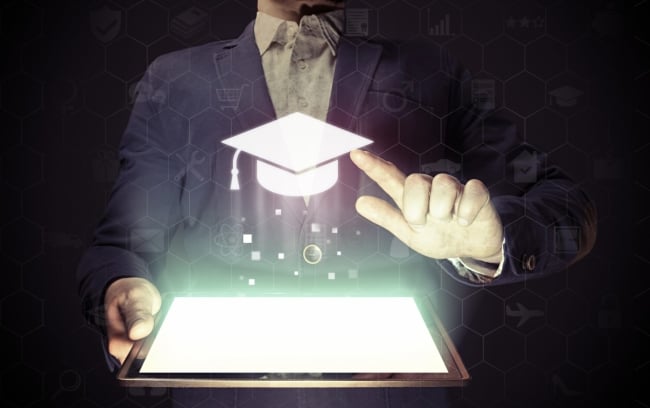 Georgia Institute of Technology is considering creating brick-and-mortar "storefronts" for prospective and current students to sample its course offerings, listen to lectures and network.
The effort is part of Georgia Tech's plans to make its online degrees and professional education certificates more appealing to the nontraditional students of tomorrow, who the institution predicts will expect "flexible learning experiences."
"We know that students are happy with the online delivery, but we have found that they still have the desire, and in many cases the need, to connect physically with us," said Rafael Bras, the university's provost.
Georgia Tech administrators published an ambitious report earlier this year exploring how the university might evolve to meet the needs of an increasingly diverse student population in the next 20 years. The report included a proposal to build a "distributed worldwide presence" through the creation of spaces called Georgia Tech atriums.
Inside Higher Ed's Deep Dive
Into the Credentials Landscape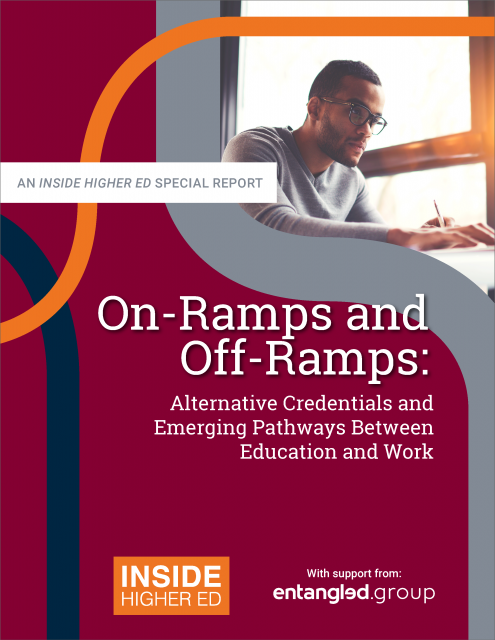 "On-Ramps and Off-Ramps" examines the fast-changing market of alternative credentials and emerging pathways between education and work. Purchase the special report or download a free preview here.
Bras, who convened the commission that created the atriums concept, imagines the spaces being located in co-working spaces, corporate offices or even shopping malls. Georgia Tech has already trademarked the atrium name, though the plans remain conceptual for now.
Bras wants the atriums to serve as a physical "touch point" for the 10,000 students already studying online through Georgia Tech -- a place where they can connect with the institution and with one another.
Many students enjoy the flexibility of studying online but still crave contact with the institution and other students in their cohort, said Bras. For example, large numbers of online students travel large distances to attend their commencement ceremonies on Georgia Tech's campus in person. And when university representatives host networking events in areas where there are already large clusters of online students, such as San Francisco or New York, lots of students always show up, said Bras.
"They want to come and meet you and see you," he said.
"The need for something analog to complement the digital is something that many companies have already zeroed in on," said Bras. Companies such as Apple or Amazon don't need stores to sell their products, yet both have invested in retail space. "That need for individuals to see and touch something 'real' is there, and will remain there, in our opinion."
Georgia Tech has ambitions to open atriums in some "key places around the country and perhaps the world," said Bras. But initially, the institution is planning a pilot much closer to home. The first atrium is likely to be located in Technology Square, a 10-block stretch of office, research, retail, residential and hotel space on Georgia Tech's campus in midtown Atlanta.
The Coda Building -- a modern high-rise building currently under construction in Technology Square -- has been earmarked as a potential first atrium location. Georgia Tech will be an anchor tenant of the building, which is due for completion next year, but half the space will be shared with private companies. The atrium could be located in a high-traffic area "right next to the entrance of the building," said Bras. He doesn't foresee the space looking like a "big empty classroom." Instead, he's picturing something more "like a mini-Apple Store" where people can get hands-on with technology and sample Georgia Tech's online credentials.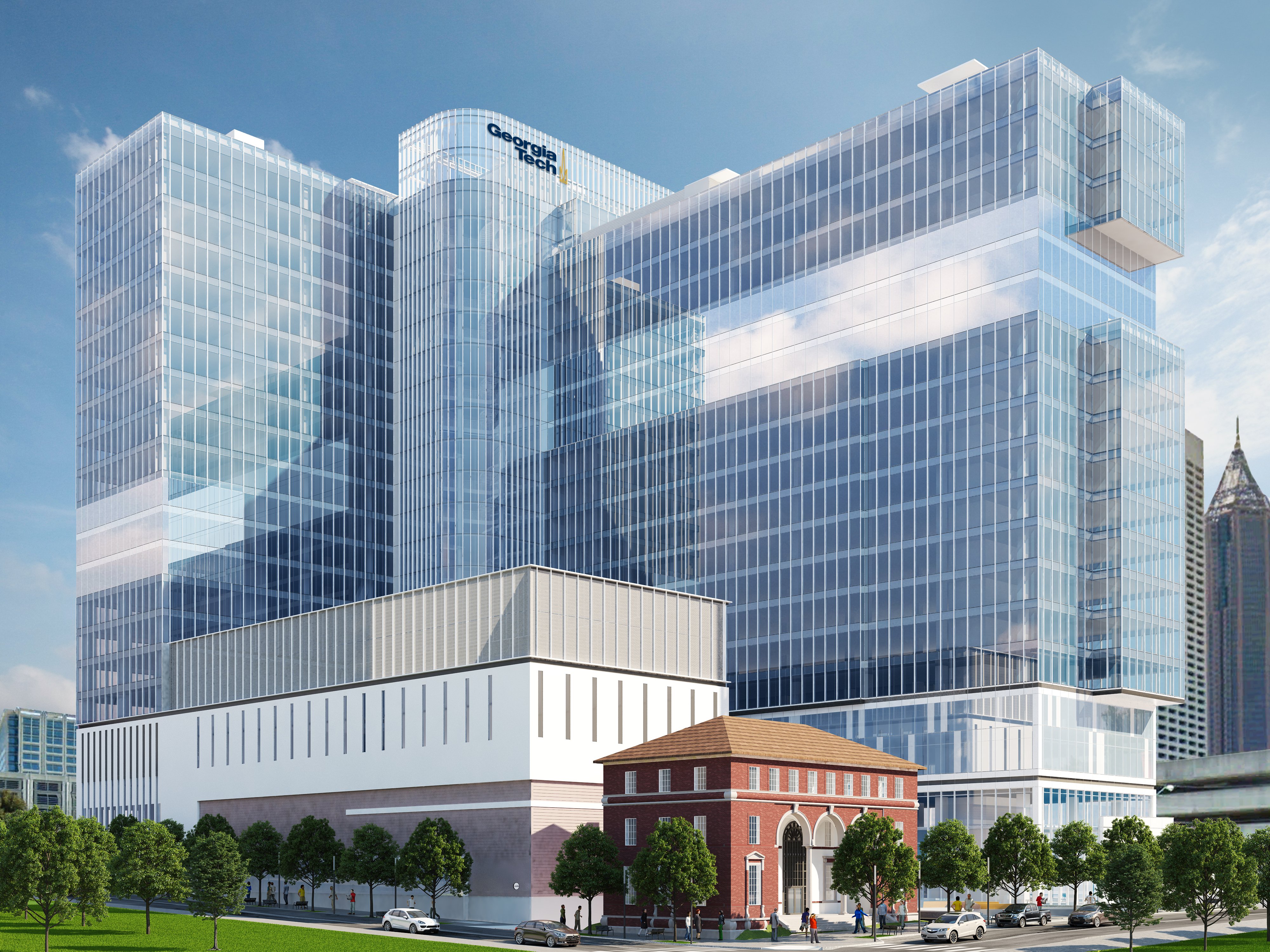 Many institutions, including Georgia Tech, already have physical outposts outside their main campuses. But the atriums will not be anything like a secondary campus, said Bras. A campus requires complex and expensive infrastructure -- buildings and staff and services. Atriums will be "a different animal" that is more adaptable to regional needs, he said.
Sean Gallagher, founder and executive director of Northeastern University's Center for the Future of Higher Education and Talent Strategy, said Georgia Tech's plans are part of an "established but under-the-radar trend" toward hybrid learning experiences in the online education market.
Online course provider 2U announced a partnership with the co-working space WeWork this year. More recently, Southern New Hampshire University acquired nonprofit LRNG, announcing plans to launch community spaces where students can work toward digital badges and degrees. Dozens of other institutions and online course providers have started mixing online learning with on-campus opportunities, said Gallagher.
Gallagher wrote an article for EdSurge discussing how online education providers had been influenced by "masters of omnichannel business models" such as Disney and Starbucks, "which sell customer experiences as much as products and services."
Northeastern "made a big bet" on education in this direction back in 2010, when it decided to open a series of regional centers to support online education, said Gallagher.
Having a network of locations can help institutions stand out in a crowded online degree market, where students can often feel disconnected from the institution or members of their cohort, said Gallagher. A hybrid model "offers the best of both worlds," he said.
He said regional locations can also boost an institution's brand. Research suggests that the majority of online students choose to study at institutions close to where they live.
Chris Mallett, chief operating officer at Northeastern's Lifelong Learning Network, said enrollment in graduate-level professional programs "nearly doubled" between 2012 and 2018 in areas with Northeastern regional campuses.
Unlike many for-profit institutions, which historically offered regional classroom spaces to online students in smaller cities or suburban areas, institutions such as Northeastern and Georgia Tech are now targeting large urban markets close to major employers, said Gallagher.
"If you look at the heritage of online education, it was about reaching rural students," he said. "Now there needs to be a certain scale for the strategy to be worthwhile."