You have /5 articles left.
Sign up for a free account or log in.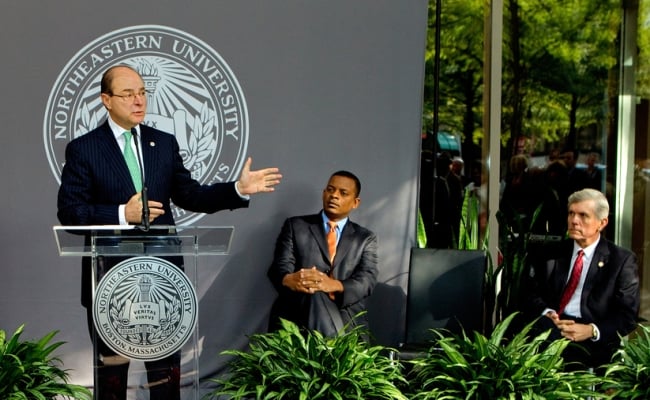 If students in North Carolina don't want to go to Boston for a graduate degree, then Northeastern University's going to bring the campus to their doorstep.
The university announced Monday that it would open a campus in Charlotte, N.C., the first of several planned branch campuses in cities across the United States. The university is also looking to open a program in Seattle next year, followed by programs in Austin, Tex., Minneapolis, and the Silicon Valley.
While branch campuses in the Middle East and Asia have made headlines recently, and while several colleges have multiple campuses in the same region or state, colleges setting up shop hundreds of miles away in unfamiliar territory have not been common, particularly as online education has grown and many in higher education have questioned the value of a physical presence.
But recently the domestic branch campus has been gaining steam, including a frenzied competition among major research institutions to secure a plot of land on which to build a campus in New York City. Administrators say branch campuses can reach untapped populations of students, particularly nontraditional students, a reality that for-profit colleges learned some time ago. The University of Phoenix, which enrolls more students than any other higher education institution, has more than 200 physical campuses and learning centers worldwide.
"With hybrid models and online offerings, there's a lot more competition for students nowadays," said Charles P. Bird, a former University of Ohio administrator who now consults with colleges and universities about branch campuses. "Schools are really challenged to get students enrolled so they can have the enrollment they need to be financially healthy. Branch campuses are one of the tools to do that."
Joseph Aoun, Northeastern's president (seen above left at the announcement in Charlotte Monday), said the university is opening the new campuses to bring high-quality graduate programs, which he says are in high demand but low supply, to other areas of the country. "The model in higher education has to be opened up," he said, adding that traditional higher education is no longer sufficient to meet job-training needs.
Northeastern has been planning the branch campuses for more than two years, Aoun said. Administrators surveyed for student demand, and reached out to city officials and local businesses. In Charlotte, and at the other branch campuses, Northeastern plans to offer graduate-level programs in fields such as business, health sciences, and computer sciences, which it already offers at its Boston campus. The programs offered at each campus will vary based on the needs of the local economy. Charlotte, which is home to several financial institutions and several Fortune 500 energy and technology companies, is an ideal location to launch programs in areas such as business, Aoun said.
Northeastern has rented two floors of a building in the heart of uptown Charlotte, the city's commercial center where several companies, including Bank of America, are headquartered. The university has converted the space into high-tech classrooms. It plans to offer a hybrid model of education, with some instruction taking place in a classroom and some taking place online. "We want the model to be flexible," Aoun said. "This is going to be student-centered." The programs, many of which will be part-time, will be tailored toward working professionals and recent college graduates.
Administrators said the university has been hiring faculty members for the planned expansions for the past three years. In total, the university plans to hire 300 faculty members to teach and research at the branch campuses, administrators said. Aoun said the fact that courses will be taught by true Northeastern faculty members engaged in research, and not simply by instructors, will help ensure the quality on the new campuses.
When it opens in January, the Charlotte campus will offer about eight master's programs, which it hopes to grow to 20 programs by next year. Administrators envision the campus growing to about 2,000 students when it reaches capacity. The regional campuses will also serve as bases for the university to establish deeper ties with different commercial partners to grow its co-op program, through which undergraduates are placed in full-time employment for semesters at a time.
Branch campuses are a way to grow an institution's reach without some of the fears about diminished quality raised by online-only education, Bird said. Branch campuses tend to cater toward nontraditional students who are not willing to uproot to attend a main campus but still want the experience and brand that the institution offers. "By having the option of going to a branch, you could be recruiting audiences that might never have come to your institution," he said.
They also can help bring in money. Without a large physical campus and all the trappings that come with it, such as dining halls and gyms, colleges could potentially offer a degrees at a significantly lower cost. "It would be unusual for an institution to offer a branch and offer programs that are going to lose money," Bird said. The programs at Northeastern's Charlotte campus will range from $24,000 to $65,000, similar to prices at the Boston campus.
But expanding into new parts of the country can be tough for an institution that is not well-known, which is why many tend to open branches close to home or in regions where alumni cluster. Ohio University, where Bird worked, has five regional campuses within the state. "Almost everybody has some kind of satellite operation," he said. "They make education more accessible and affordable for people." The colleges that have been successful at establishing branch campuses far from home typically have international brand recognition, such as New York and Yale Universities, which have developed or are in the process of creating campuses in Asia.
Drexel University's experience building a campus in Sacramento might be the one that most resembles what Northeastern will go through through. Both universities have a strong workforce-preparation curriculum, graduate offerings in professional training, and some name recognition, but not to the level of NYU or Yale. Northeastern also plans to offer a similar array of programs to what Drexel offers in Sacramento.
Drexel opened its branch campus in 2009 with a focus on graduate education. The university originally planned to build a full-fledged campus, complete with both graduate and undergraduate programs, and the graduate programs were a tactic to help grow the institution's brand recognition on the west coast. But plans for the undergraduate program were aborted after the property value of the land on which it was to be developed dropped significantly. But the university continued to press ahead with its graduate offerings.
One of the biggest challenges, said Frank Linnehan, interim executive director of the Sacramento campus, was establishing the university's brand thousands of miles from the original campus in Philadelphia. The university is fairly well-known in the Northeast, but in California, Drexel was better known as a furniture company than a research institution. To grow its name out west, the university launched an advertising campaign and got faculty members and students engaged in the community to help grow awareness about the university's presence.
Drexel's programs now enroll about 300 students across seven programs and have graduated two cohorts. Linnehan said the presence in Sacramento has helped boost enrollment in the university's online programs among Californians, as well as the Philadelphia campus's draw for students on the West coast.
Universities already in the Charlotte area said they were excited for Northeastern to open its doors, which it will do in January. The city currently has a large number of undergraduate institutions but few graduate programs. When the city recruited Johnson & Wales University, whose main campus is in Providence, R.I, and two other branch campuses in Miami and Denver, in 2003, Jim Woodward, then-chancellor of the University of North Carolina's Charlotte campus, said the city was "under-universitied." Jim Palermo, a former bank executive and executive-in-residence at Johnson & Wales, said the sentiment holds true today, particularly about graduate programs.
"Lots of people want to walk from the office and get M.B.A.," Palermo said.