You have /5 articles left.
Sign up for a free account or log in.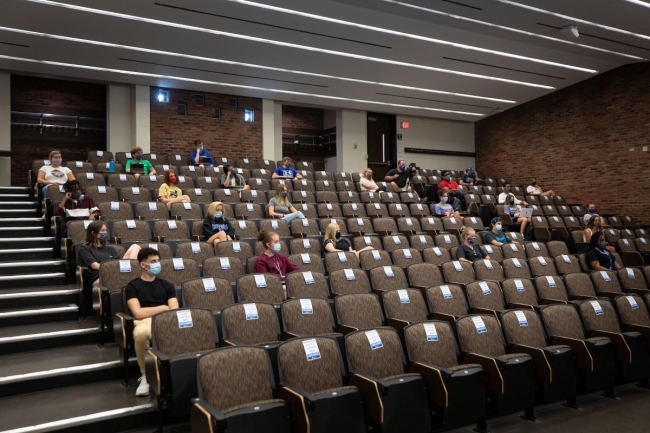 Mark Cornelison/University of Kentucky
As academics in recent months envisioned how this strangest of fall semesters might unfold for themselves and their students, their scenarios didn't paint a pretty picture.
Students in the physical classroom unable to hear their masked professor unless he practically shouted. The instructor standing as close to the blackboard as possible to try to put six feet between herself and the front row of students. Professors and students overwhelmed as they juggled virtual courses and family and work responsibilities at home.
As fall classes have begun at scores of colleges and universities across the country, we sought an early and informal sense of how things are actually going in the classroom (physical and virtual) in the first fall term in the COVID-19 era.
I'm putting aside for the moment the larger questions (explored elsewhere on Inside Higher Ed today and every recent day) about whether colleges should be physically reopening their campuses and how many universities are having to change potentially ill-considered plans. And in focusing on professors' actual experiences, I don't mean to play down the very real concerns that many have expressed about potential threats to the physical and psychological well-being of themselves and their students, captured so well in this journalist's catalog of faculty and staff opinions about their campuses' reopening plans.
The goal here is to understand, as best one can without cameras in thousands of classrooms, whether faculty members and students seem physically and emotionally safe, how instructors are delivering their courses to reflect the conditions and constraints, and whether the environment seems conducive to learning.
Interviews with a half dozen professors and academic staff members and social media accounts suggest that, on balance, things seem to be going better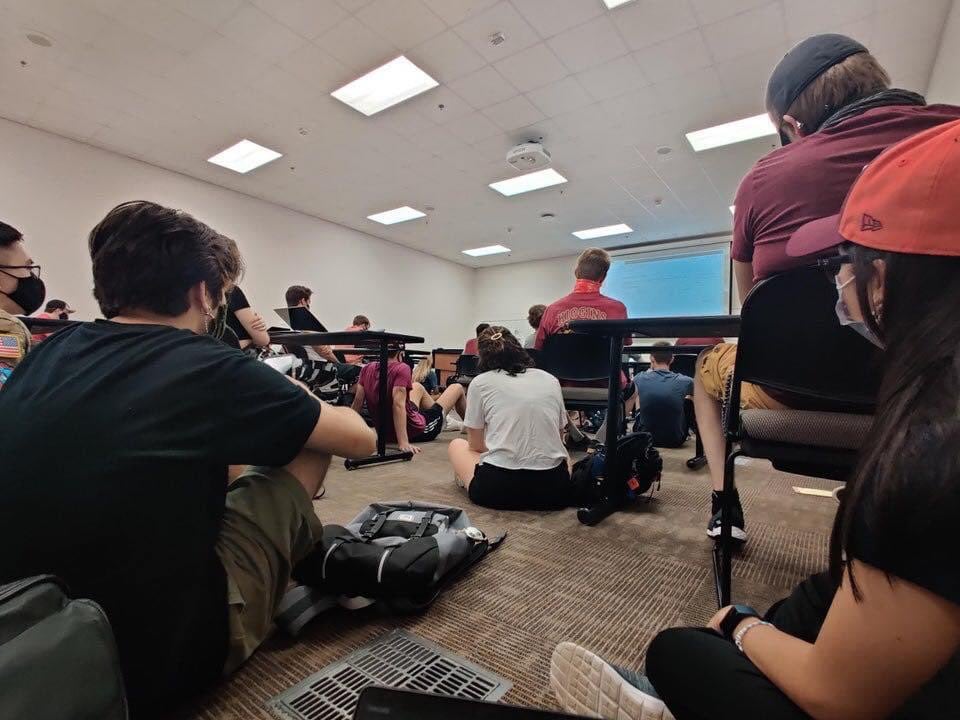 than many instructors anticipated -- a low bar for many.
That's not to say there aren't significant concerns. There've been some disturbing descriptions and images, like this one from Virginia Tech (right), in which the instructor of a hybrid course brought more than 40 students into a classroom redesigned for 26.
The picture of students sitting on the floor, clearly not social distancing, made the rounds on Twitter and Reddit and prompted the university's associate engineering dean to write to all engineering faculty members, calling the incident "unacceptable" because it "created anxiety in the students and placed their health at risk."
Elsewhere, an adjunct instructor at a major university in the Midwest (who, by the way, would have lost her health insurance if she hadn't taught in person this fall) said that while her classroom is set up to ensure that students are at least six feet from one another, at marked spots, "they didn't make where I stand six feet from the closest student." She estimates that as close to the wall as she can comfortably be, she's four to five feet from the students in the front row.
And whether they're teaching in person or online, instructors almost uniformly cite as significant that students are anxious and "overwhelmed," and that certain things they view as important -- especially creating opportunities for interactive and active learning -- are hard to pull off.
But by and large, faculty members say the time they spent preparing to teach in whatever ways they are this fall -- be it in person, hybrid or online -- have them feeling more comfortable than they did in the spring's sudden shift to remote learning, which they believe is resulting (so far) in a smoother, better academic experience for their students.
"It seems like the first week went better than most of us thought it would go," says Lia Paradis, a professor of history at Slippery Rock University of Pennsylvania, who is teaching an undergraduate course on, yes, pandemics.
Even the adjunct mentioned above (who requested anonymity because of her fragile employment status) says that the first week of in-person courses "went better than I thought."
***
Perhaps the most powerful early assessment of "how the fall is going" comes from Jessica Coblenz, an assistant professor of theology at Saint Mary's College, in Indiana. Her widely read Twitter thread last week offered her observations on the first few days of classes at her Roman Catholic liberal arts institution, and the one she highlighted first and foremost was her students' sense of being "even more overwhelmed than I expected."
Coblenz is teaching three hybrid courses this fall, and an optional "check-in" survey she offered students (she normally does such a survey at the midpoint of a semester, but added an initial one this term, given "the moment") elicited words like "helpless" and "out of control," she wrote. They are "frequently in tears."
Her other overarching findings: classroom conversations are possible in a physically distanced, "mask-to-mask" environment, even "inside with door and windows open for circulation," and teaching three hybrid classes that have essentially required her to split each course in half (because of classroom size limitations) means that she's essentially teaching six separate sections each week.
In an interview, Coblenz expanded on her 280-character musings.
She normally carries a 3-3 teaching load, and last spring she, like a million or so other college instructors and many millions of students, found herself thrust into a virtual learning environment for the first time.
Saint Mary's shut down while its students were on spring break, so many of her students didn't have their books with them at home. While Coblenz's normal approach to instruction is "exceptionally interactive" -- with in-class time usually a mix of small group or paired conversations, mini lectures and group discussion aimed at driving "higher-level critical thinking and analysis" -- she felt obliged to do much more lecturing in the spring, to explain content to which students had less access. (Coblenz said she went to campus to photocopy key readings that she paired with voiceover PowerPoint lectures she asked students to watch asynchronously.)
Coblenz would have preferred to teach online this fall, but she was turned down after failing to meet Saint Mary's requirements for an exemption based on health. (We're in one of those rare times where one might regret being too healthy.) Hybrid was the next best thing, which presented new challenges for course design and delivery.
The normal course sections of 25 to 28 students were too big for Saint Mary's classrooms, so she divided each course up into two groups of 12 to 14 students, and each group meets in person during one of the two weekly 75-minute class times. Students otherwise engage with the course content virtually and asynchronously, through a mix of abbreviated recorded lectures on Zoom and YouTube, readings, and "processing activities."
In "normal" times, Coblenz would have two full sessions of face time each week to make sure students processed the material. In this hybrid format, she says, Coblenz would expect students to come to class their one time each week having "processed a lot more content independently" with the goal of using the "precious hour and 15 minutes" of class time for "any kind of higher-level clarification and analysis that needs to happen."
"As I prepared for fall, I thought to myself, 'What are best things about teaching that I, based on my own limited experience level and expertise, can't replicate online?'"
In the two weeks of in-person classes so far, Coblenz has used more class time than before for "introducing ourselves to one another … I know that building a sense of community is really important to learning." The current situation, she says, may require more purposeful creation of "a lot of things that happen regularly in my teaching that I really value, but [that] happen more or less organically."
She is also asking students before they come to their one in-person class each week to suggest questions or topics to discuss, because "I want them to make connections between their own interests and the text we're reading, and I want them to bring their own curiosities to our work."
Coblenz says forgoing the "pair share" and small group discussion that used to be central in her teaching is a "big loss." And she is still trying to figure out where to point the camera to best involve the students who are livestreaming the class sections when they don't feel well. (She says she is seeing a slight uptick in students asking to stream in because they are "nervous about getting COVID from being in class.")
But all in all, she says, "I'm surprised at how comfortable I feel."
***
Like Coblenz, the aforementioned adjunct -- let's call her Deborah -- didn't have a choice about her preferred mode of teaching, at least if she wanted to maintain her health insurance. The public university where she has done much of her teaching for more than a decade requires her to teach two courses each term for the right to participate in its health insurance plan (she pays a much higher rate than she would if she were on staff).
While some tenured professors at the university had a choice of how to teach this fall, Deborah's choice was "teach the course or we'll find someone else … That's not really an option I can choose." So she entered the fall expecting to teach two in-person courses and a third online.
She was told she could go see her new classroom the week before classes started, and she did. But near the start of classes this month, university officials realized that the room she was scheduled to teach in held 10 students, and 24 were enrolled. They shifted the course to a room that holds 12 students, and planned for the students to alternate in the way Coblenz's are.
By the time classes began, though, enrollment had dropped to 15 from 24, with most of the rest opting for the fully online version of Deborah's course. Most of those changing, she says, enrolled thinking the class would be fully in person, and they would rather study fully online than in a hybrid format. So instead of teaching two separate sections, she is teaching just one, with students taking turns being among the three who don't attend in person.
The classroom has been marked so that the 12 desks are six feet apart from each other, but university officials "didn't make where I stand six feet from the first student," Deborah says. (There is no Plexiglas.) "If I wanted to, I could stand in the corner, and be five and a half feet away."
On her first day, she wore a "Smile Communicator" face mask with clear plastic around the mouth, but it fogged up even when she applied antifog spray. She switched to a regular mask for the second class but figures she'll keep experimenting.
She is recording two videos a week (one a mini lecture, one a tutorial on research methods) for her online students and for when her hybrid students aren't in class physically.
More fundamentally, Deborah says she continues to wrestle with how to replace in a physically distanced classroom the breakout groups and other tools she uses to engage students and let them drive their own learning.
"I know how to get them to interact online," she says. "I'm less sure how to do it when they're six feet apart."
***
Paradis, the history professor at Slippery Rock, wrote a skeptical essay for Inside Higher Ed in June envisioning a return to in-person learning. She is teaching online this fall, by choice, as is the whole history department.
Slippery Rock encouraged instructors to make their online courses as asynchronous as possible during last spring's emergency pivot, she says, given students' uncertain schedules and home situations. This fall, though, students registered for courses at set times, and professors are being urged to teach synchronously in those time slots.
"While it's too early to tell for sure, I think [synchronous teaching] is one of the things that's going to make this a much more positive experience for students and faculty," Paradis says. "Faculty don't like teaching into an abyss."
Paradis also says she and many colleagues feel better prepared to teach online this fall than they did last spring. The pandemic, she says, "has really been a wonderful motivator to get faculty to find newer tools, look for things that work."
She has approached that by asking, "First, what do I want to accomplish? By using that as a focus, that frees you up not to be anchored to trying to transfer methods that you used in person into an online setting. It's walking a line between being true to what you're good at, but finding new ways to accomplish what you need to because it is different."
For Paradis, that has involved using two computer screens so she can have her content on one screen and as full a view of her students' faces as possible on the other. "If the professor feels they're just lecturing or talking into the abyss, students certainly feel like they're sitting in their room in some town in Pennsylvania," she says. "If you can start your back-and-forth by having the ability to see faces and call on people, have them talk, have them engaged, that's crucial."
Paradis says she is doing more lecturing than she used to, "flying in the face of all the scholarship," because her undergraduate classes have 49 students in them, which makes online discussions difficult. Instead, she is using a tool called Perusall (which calls itself a "social e-reader") to "make the lion's share of discussion of texts happen asynchronously," with groups of 13 to 15 students engaged in those virtual conversations.
In many ways she is more concerned about her upper-division course that is "very heavily based on discussion and analysis, usually through a collective approach to documents, articles and readings," she says.
In-person discussions in that course are usually "very free-ranging," and they tend to be "a bit more stilted online." In the physical classroom she typically wanders (as inconspicuously as possible) from small group to small group, and "you can tell when they've stopped talking about what they're supposed to be talking about," Paradis says. On Zoom, "you can't hear what's going on in the breakout rooms unless you go into them, and that changes the dynamic.
"I have yet to figure out what to do about that."
One of many things that instructors and students will have to navigate as the fall semester continues to unfold, amid whatever curveballs their institutions and the pandemic throw at them.
Note: As always, we want to know what questions and issues are keeping you up at night or getting you jazzed. Please reach out to me if you have ideas for me to write about, dilemmas to explore, or just have some feedback. And feel free to respond to this column with a Letter to the Editor or by writing me directly.