You have /5 articles left.
Sign up for a free account or log in.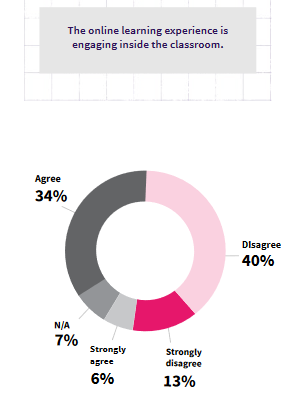 Undergraduates who are studying online this fall rate their learning experience as modestly better than what they encountered last spring -- with greater levels of satisfaction among students who see their instructors taking steps to understand and engage them, according to a new survey of 3,400 undergraduates in the U.S. and Canada.
The survey by Top Hat, whose courseware platform is used by about 750 colleges, also finds that nearly three-quarters of students who say their instructors are meaningfully interacting and engaging with them say they are likely to return for the spring semester, compared to less than two-thirds of students who disagree that their professors are doing so.
So at a bottom line, while satisfaction with online learning isn't strong, the investment that colleges (and instructors) are making in trying to improve their online offerings appears to be encouraging students to stay on their educational paths.
Surpassing the Spring's Low Bar
Top Hat surveyed about 3,000 students last spring in the wake of colleges' COVID-19-induced pivot to remote learning, and the results were not heartening.
Like other assessments of how students perceived their experiences in the abrupt transition last spring, students gave their institutions and instructors an A for effort but much lower grades on what they actually delivered.
More than two-thirds of students said the online courses they had during the winter term were worse than in-person classes. In particular, they described a lack of engagement with the content and desperately missed interaction with their professors and their peers.
As Nick Stein, Top Hat's chief marketing officer, said in sharing the results of the spring survey, "As the fall 2020 semester looms on the horizon, colleges and universities are facing an unprecedented level of pressure to provide students with a significant return on investment in their education. Based on the results from this survey, students are expecting a more engaging, interactive and human experience. Getting this right will be critical to the future of higher education."
The company's latest survey, conducted in October, midway through the fall term, indicates that colleges have made some progress. But they're definitely a mixed bag, at a time when many institutions are being forced, once again, to shift to virtual rather than in-person learning.
Students still overwhelmingly say they prefer in-person to online learning, with 68 percent believing they are not learning as effectively as they would have had they been in person. Roughly three-quarters of respondents say their online courses lack an engaging experience during class sessions and direct interaction with peers and professors.
Students were also more likely to disagree than to agree that the online learning experience was engaging in the classroom and (particularly) outside it, and slightly more likely to disagree (53 percent) than agree (46 percent) that they were "able to stay motivated and engaged with my education and coursework outside of class time."
But there were signs of improvement from the spring survey.
In May, 53 percent of responding students said they didn't have regular access to their instructors, and 69 percent said they lacked engagement with their peers. This fall, those figures had dropped to 48 percent and 65 percent, respectively.
Students appeared to attach significant value to their instructors' effort to get to know and communicate with them. Those who agreed that their professor had "made an effort to understand their goals, interests and challenges" were more than 10 percentage points likelier to say they were likely to return to their college next spring, as seen below.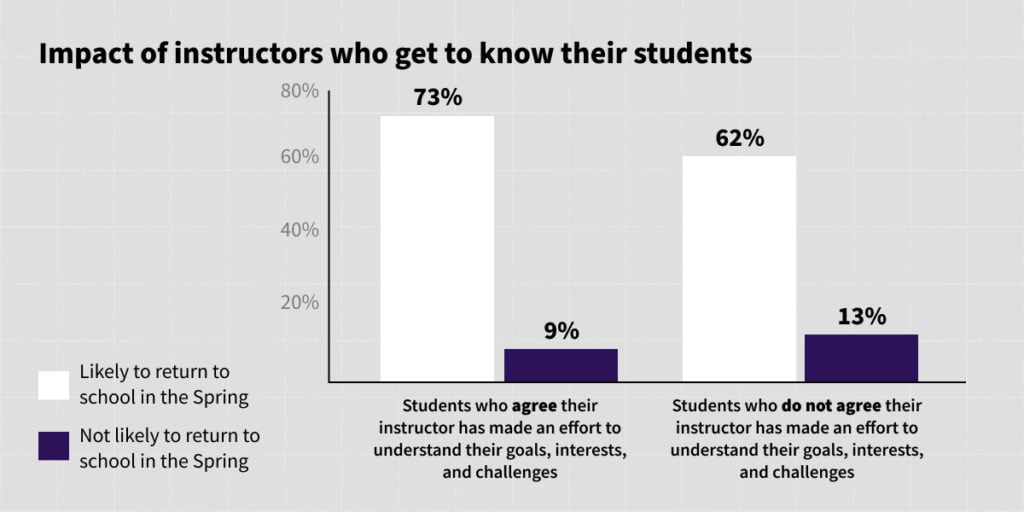 Similar results were evident when students felt their instructors had helped orient them to technology tools to support their learning and given them tools for communicating with the instructors beyond email.
Respondents to the Top Hat survey were evenly divided on whether their experiences studying online this term had made them confident that they would see the value of their higher education investment (48 percent expressed confidence while 50 percent did not).
And while students' online experiences this fall appeared to have modestly worsened rather than improved their opinions of their institutions compared to before the semester started, most seem inclined to stay at their institution. (Note: This paragraph has been updated from a previous version of the article.)