You have /5 articles left.
Sign up for a free account or log in.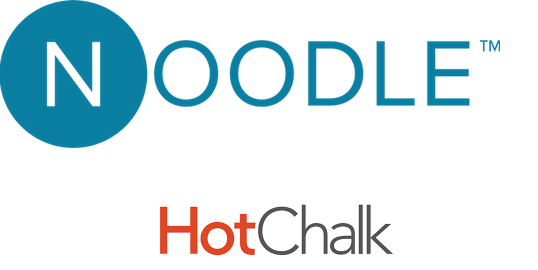 Noodle, an (ever-)evolving player in the competitive space of companies helping colleges take their academic programs online, on Friday announced that it has purchased several key assets of HotChalk, a onetime competitor whose biggest client, Concordia University Portland, announced in February that it would close.
Neither Noodle nor HotChalk would share financial details about the transaction, in which Noodle will absorb Creative Communication Associates, a higher education branding and marketing agency that had been part of HotChalk, and take over management of the online graduate programs of New York University's Steinhardt School of Culture, Education and Human Development and responsibility for many of Concordia Portland's now-dispersed former students.
But the deal is likely to be part of another wave of consolidation in the marketplace of companies that manage or enable online programs. (Those companies have been called online program managers, or OPMs, although nobody seems satisfied with that phrase.)
For Noodle, the deal represents an effort to expand its network of college and university partners, and to bring in-house digital marketing expertise for its campus clients, for which it has historically used outside contractors.
The purchase is the most recent in a burst of activity by Noodle and its founder and chief executive officer, John Katzman, in which it has also struck a deal with Strategic Education to move into the employee education market. Noodle raised another $16 million in June, for a total of about $60 million since 2015, and on Wednesday it announced that it had combined its Noodle search engine and its Noodle Partners online program network into one organization just called Noodle.
For HotChalk, whose owners include the German firm Bertelsmann, which invested $230 million for a minority stake in the company in 2015, the sale almost certainly represents the end of another cautionary tale in the education-technology space.
In the middle of the last decade, at the time of the Bertelsmann investment, Reuters reported that the company was to be valued at between $600 million and $800 million. But a large chunk of the company's value was related to its partnership with Concordia, which experienced explosive growth in a master's of education program and, as part of its contract with HotChalk, paid the company a significant share of the program's revenue.
The centrality of Concordia to HotChalk's rise was such that the Oregon-based university's folding in February led HotChalk to lay off half its employees and to sue Concordia for $302 million in April. In its lawsuit, the company charged that Concordia had transferred some of its key assets to its parent church, Lutheran Church Missouri Synod, days before it closed.
The relationship between HotChalk and Concordia was held up by some critics as the latest example of what they believe are problematic revenue-sharing relationships between colleges and online program management companies.
That perception, among other things, makes Noodle's buyout of HotChalk -- which the latter's CEO, Rob Wrubel, calls a "wind-down" of the company -- noteworthy.
In contrast with HotChalk's revenue-sharing model, Noodle has increasingly aligned itself with critics of those agreements. Katzman, its CEO, has framed his company as an alternative to and improvement on other major players in the online program space -- most notably 2U, which Katzman founded a dozen years ago. Among his early collaborators was 2U's current CEO, Chip Paucek, (That rivalry is strange for a variety of reasons, in part because both companies offer a range of ways for colleges to finance the creation of online programs, so the distinctions are not black-and-white.)
Noodle officials say that while HotChalk's business model may have differed from their own, incorporating some of HotChalk's key assets will help them achieve Noodle's stated goals of trying to drive down the cost of online education for students.
Katzman's company has been an enigmatic player in the online program market. Katzman founded Noodle in 2013 as a kind of "Google for education," as he called it -- a search engine to help would-be learners of all ages find whatever kind of education or training they needed.
Two years later, he launched Noodle Partners, which was designed to compete directly with 2U and other OPMs by stitching together a network of technology and other service providers that agreed to comply with a set of technology and business standards. It took several years for Katzman and Noodle to find their footing, but their number of college partners has grown sharply in the last 18 months.
The HotChalk purchase shows the company's model evolving from a general contractor working with outside servicers.
"We've done a whole lot of thinking about what things should be in-house vs. done outside," Katzman says.
Bringing the marketing team from Creative Communication Associates and HotChalk's senior executives in-house at Noodle will help the company better control how it manages the most expensive part of the online program management process, the recruitment of and marketing to prospective students.
"The easiest way we can drive down the cost of higher ed is by reducing those costs," said Keri Hoyt, Noodle's president and chief operating officer.
The company has begun discussions with officials at NYU's Steinhardt School about transitioning from the revenue-sharing model it used with HotChalk to more of a fee-for-service model that Noodle favors.
"The fundamental OPM model is kind of over," says Katzman, an assertion that 2U's Paucek and others dispute.
Hrubel, who was HotChalk's CEO and will take on a senior role at Noodle, says that many of CCA's traditional marketing clients will now be able to benefit from Noodle's online program services.
And he, Hoyt and Katzman all say they will make it a priority to ensure that the Concordia Portland students whom HotChalk had committed to seeing through to graduation at Concordia's remaining campuses in Chicago and Nebraska earn their degrees.
Hoyt and the others also believe that while a Joe Biden administration -- assuming it comes to pass -- is likely to ramp up its regulatory scrutiny of revenue-sharing agreements and the use of corporate providers in delivering education more broadly, higher education's forced embrace of virtual learning because of COVID-19 will increase the interest of universities entering into the sorts of networks that Noodle and some of the other online program providers are building.
"There was a time and place when going online was seen as tangential and something universities wanted an arm's-length distance from," so they preferred to use companies that were clearly separate, Hoyt says. "The last nine months, universities have embraced this idea that they need to go online, and together we can help them drive down the cost of providing that learning."