Cornell's victory in New York City competition, and its intense desire to win, show the importance of urban ties for the future of research universities.
New York Mayor Michael Bloomberg announced Monday afternoon that Cornell University and the Technion-Israel Institute of Technology had secured the city's blessing -- as well as a plot of land and $100 million for city infrastructure investments -- to build a state-of-the-art applied sciences research campus on Roosevelt Island, between Manhattan and Queens.
The announcement brings to close a roughly yearlong competition among many of the country's top research universities. It also ends an intense organizing, lobbying, and public relations effort by Cornell administrators that many credit with helping the Ithaca-based university overcome what seemed like long odds and stiff competition, including Stanford University, to win the city's blessing.
Cornell, one of the only top private research universities in the country not located in an urban area, saw expansion into New York as a necessary component of its future ambitions and was willing to go to greater lengths, invest more money, and better conform to what the city wanted, officials said. "In the end, the proposal that wanted it the most, and that fit the best with what New York is all about, was the one that won," Bloomberg said at Monday's announcement at the Weill Cornell Medical College, an earlier Cornell beachhead in Manhattan near Roosevelt Island. In attendance at the announcement were the presidents of Cornell and the Technion, as well as several city, state and national government officials.
The campus could have broad ramifications for all players involved. For New York City, the campus has the potential to develop a high-tech industry that many say is underrepresented in the city's economy. For Technion, the campus gives the Israeli institute, widely credited with transforming the country from an agrarian economy to a high-tech capital, a chance to demonstrate show its quality on the international scene.
Finally, victory in the competition and the potential success at the new campus could likely help cement Cornell as one of the major players in the high-tech industry, along with Stanford University and the Massachusetts Institute of Technology.
"History will write that this was a game-changing time in New York City," Bloomberg said at the announcement Monday.
The competition helps cement the idea research universities have been pushing in recent years that they can serve as economic engines to local communities and the country as a whole, and could spawn a host of similar initiatives in other cities.
It also reinforces a growing notion that research universities are going to need access to the resources provided by urban areas to continue to serve as such engines. "We believe the city had the right idea at the right time," Cornell President David Skorton said at the announcement. "The tech sector of universities is shifting from simply the pursuit of knowledge to service of business and industry."
A New Campus
Plans for the Cornell/Technion campus call for 2 million square feet of campus buildings incorporating several green energy components. By 2043, the campus is designed to house up to 2,500 students and about 280 faculty members.
The two universities will begin their operations in 2012 at an offsite location before construction begins on the new campus. The Goldwater Hospital, currently located on Roosevelt Island, must be removed before Cornell and Technion begin building. The first phase of the Roosevelt Island campus is expected to open in 2017, with 1.3 million square feet completed by 2027. In total, the plans estimate that the campus will cost $2 billion.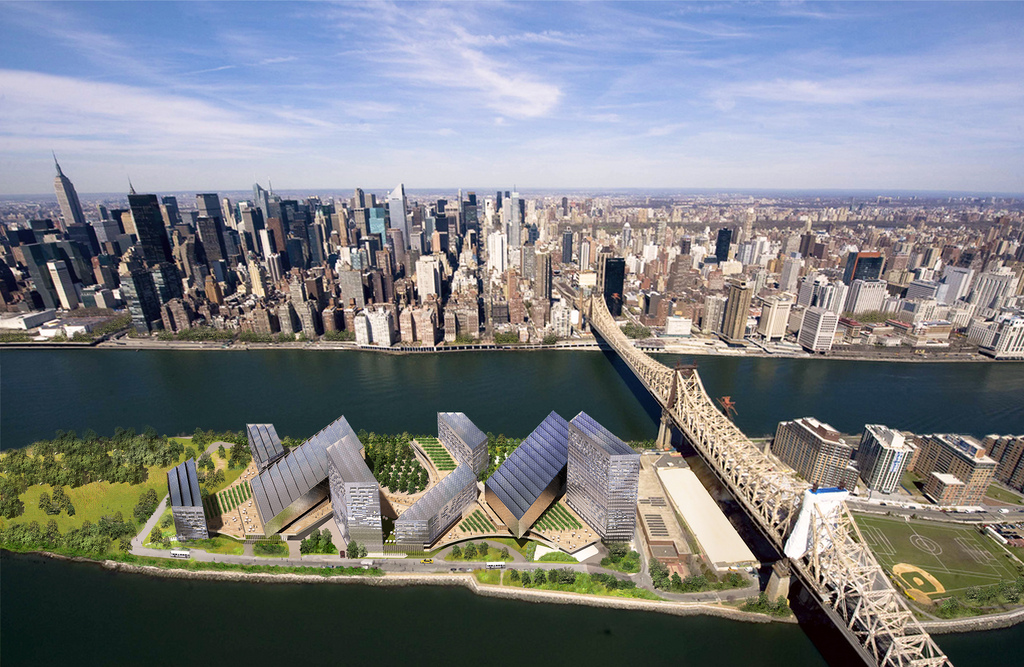 Initially the campus will be built around three interdisciplinary hubs: "connective media," "healthier life," and "the built environment," and offer master's and doctoral degrees in computer science, electrical and computer engineering, and information science and engineering. The design of the campus calls for the hubs to change over time to address emerging industries and city needs.
City officials said the Cornell/Technion proposal was selected because it was the largest in terms of square footage, enrollment, and faculty population, and had the most ambitious timeline. The pairing also promised to create a $150 million startup fund, which will support new companies that elect to stay in the city, as well as programs designed to improve math and science education in the city.
It is still possible that New York City will decide to pursue another project in addition to the Cornell/Technion campus. It remains in negotiations with Columbia and Carnegie-Mellon Universities, as well as with a consortium of institutions led by New York University, all aiming for different locations in the city.

However, since the city has already pledged the full $100 million of support to the Cornell/Technion pairing, it is unclear what resources would be allotted for any other projects. City officials said Monday that they would make a decision by January.
Wanting it More
Many officials involved in the selection process say Cornell was able to secure the city's blessing and resources because the Ithaca university wanted it more and worked harder to secure it than its competition. "Stanford wanted it only if made sense to Stanford," Crain's New York Business cited one close observer as saying. "Cornell wanted it at any price."
Stanford was widely perceived as the frontrunner in the competition for much of the summer and fall. The California university has a significantly larger endowment than Cornell, and traditionally raises more money in private giving. It also had a clearer track record of developing companies in a confined geographic space. When New York City officials were planning the campus, they studied Stanford and Silicon Valley -- along with the Massachusetts Institute of Technology and Technion -- as models for what they hoped to emulate. And Stanford's application was even celebrated by the mayor in March. "We're particularly pleased that Stanford -- which has a top-flight engineering school -- is considering the idea," Bloomberg said. On October 11, when the college announced a partnership with the City College of New York, it seemed a virtual lock.
But much was going on behind the scenes. Cornell was rallying support from all corners of the university, particularly the university's 50,000 alumni in New York City. The university filed an online petition backing its bid with more than 21,000 signatures. While Stanford saw some dissension among faculty members and students, both Cornell's undergraduate and graduate student governments rallied behind the proposal. It was also developing significant financial support.
The university hired high-powered public relations and lobbying teams, and administrators met with local groups like chambers of commerce in the city's different boroughs to drum up support.
Cornell officials also found that, while the companies emerging from the university's ideas and from Cornell researchers, students, and alumni were more geographically dispersed than were those of places like Stanford and MIT, their overall numbers rivaled any institution.
The university's partnership with Technion, which has a track record similar to Stanford's, increased the heft of the university's proposal when it was announced on Oct. 18. Going into the negotiation phase in November, many said it was a tossup as to which university would win, and some gave the edge to the Cornell/Technion team.
On Friday, Stanford abruptly dropped out of the competition, saying negotiations with the city had broken down on Thursday, clearing the way for Cornell's selection. A few hours later Cornell announced a $350 million anonymous gift to support development of the new campus, reiterating its ability to successfully raise and finance the project. (Late Monday, The New York Times identified the donor of the gift as Atlantic Philanthropies, whose founder is a Cornell alumnus. Atlantic largely shifted its philanthropic activities away from higher education about a decade ago.)

A Metropolitan Prize
Cornell had good reason to push so hard. Of the private universities in the Association of American Universities, Cornell is the only one whose main campus is not located in an urban area. The university's medical center is in Manhattan, and it runs several programs in the city, but its main efforts are concentrated in Ithaca, a four-hour drive from New York City and about an hour away from Syracuse, the closest major city.
While that might be a good environment for an undergraduate university or for the agriculture-focused parts of a land-grant university (all of which are parts of Cornell), it makes it difficult to engage in certain types of research and technology transfer. "Our location is a disadvantage," said Ronald G. Ehrenberg, a professor of industrial and labor relations and economics at Cornell and a higher education researcher. "It is very, very difficult for us to do the kind of development here through tech transfer that a place like Stanford or Berkeley can do in San Francisco or Harvard or MIT can do in Boston."
"There is no transportation here," he added. "If you were trying to attract startup companies to Ithaca, it isn't easy. If you are creating products for a local market, the market here is so small that it's tough to get off the ground."
In an interview in September, Dan Huttenlocher, dean of the faculty of computing and information science at Cornell and one of the chief architects behind the university's proposal, compared the expansion of university components focused on technology transfer to New York City to the decision to place the medical center there.
"What it takes for a medical center to have that kind of broad impact is a patient base," he said. "Similarly, to have the kind of commercial impact that is important to states, regions, and universities now, what it takes is a nearby big ecosystem of companies."
Attracting talent to upstate New York has also been a challenge for Cornell, said Ehrenberg and John R. Thelin, a professor at the University of Kentucky who studies the history of higher education. Offering higher salaries relative to the cost of living, particularly to young faculty members, has been one such tactic, Thelin said. "Cornell has always had to use imaginative strategy in terms of attracting talent, given its weather and location, and the disadvantage that comes with that," he said.
A campus in New York City offers distinct advantages in attracting faculty and students. It has the arts and culture that only a big city can offer, and resources one wouldn't find in a small town. Earlier on in the competition, Stanford officials joked that they could attract any talent in the world except for those who wanted to live in New York.
For all those reasons, metropolitan ties seem to have become crucial for research universities. Many attribute the rise of several universities, particularly the University of Southern California, New York University, and Columbia University, to the fact that they are located in metropolitan areas.
This is why Cornell saw New York as key to its future success. University officials identified expansion in New York City as a major goal for the university in the next few years. A key component of the university's strategic plan for 2010-15 was to "[b]uild a stronger footprint or base for Cornell's education, research, and outreach programs in New York City."
Hunter Rawlings, president of the Association of American Universities and former president of Cornell, said New York City's selection of Cornell intensifies the university's efforts in two directions: expanding its presence in the city and emphasizing technology development and transfer as an economic engine for the state and region. But it does not move the university in any direction it wasn't already planning to go, he said.
A Model to Follow
Many see what Cornell is doing in New York City as part of a growing trend of rural universities setting up shop in nearby metropolitan areas to serve different populations, tap into potential markets, and attract talent that otherwise would not be available to rural campuses.
Medical centers were some of the first programs that colleges set up away from their home bases. "To run a medical center, you need bodies," Thelin said. "Warm bodies in the form of students and cold bodies in the form of cadavers. Doctors need people to treat and the kinds of diseases to study, and you get that critical mass in cities."
In addition to Cornell, several universities and systems, including Michigan State, the University of Oregon system, and the University of Nebraska System set up medical centers in urban areas away from the rural university campus. Professional schools such as architecture, law, and business have also started setting up shop in larger cities.
The question of urban expansion is particularly acute for land-grant universities, established with the dual role of agriculture and mechanical education in mind. Over time, the agricultural mission came to dominate many of the campuses, driving them into rural areas.
But in recent years land-grant universities have begun to rethink that mission, particularly as states ask public and land-grant universities to take up the role of economic drivers. Many see their charge to research and teach mechanical arts, now engineering, as a big component of their futures, and believe such programs need the resources that cities can offer.
They also recognize that, as the majority of people now live in cities, they will have to go there if they want to tackle the issues that affect most people. "The land-grant mission is to serve people where they are," said M. Peter McPherson, president of the Association of Public and Land-grant Universities and former president of Michigan State University. "Students need to learn about issues and opportunities in urban areas, since that is where they are likely heading."
Ehrenberg said that is one reason why the move to New York was so important to administrators at Cornell, given its land-grant mission.
"It is very difficult to be a successful land-grant university in the 21st century if you're not involved in helping to solve the problems of urban areas," he said. "We have a president and provost who are not interested in just the private prestige of the university, but the social role of higher education, and they take that land-grant mission seriously."
You may also be interested in...
Today's News from Inside Higher Ed
Inside Higher Ed's Quick Takes