You have /5 articles left.
Sign up for a free account or log in.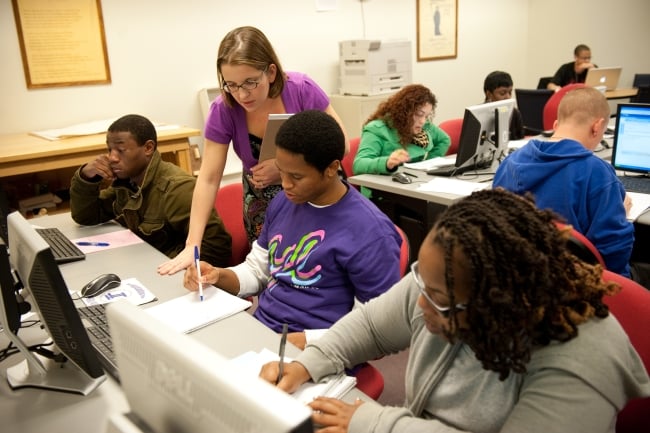 ROCKVILLE, Md. -- The remedial math class at Montgomery College thrums with the sounds of clicking keyboards and low murmurs. Students pack the room and stare intently at computer terminals.
Missing, however, is the voice of a professor lecturing to the class. This modular classroom is a computer lab, not a lecture hall. There is no podium or other central spot for a professor. Several instructors are here, however, hovering around the room and helping students one at a time. Their role looks more like that of tutors than professors.
Welcome to the "emporium" approach to remedial mathematics, a major change in teaching style.
Remedial math is perhaps the biggest stumbling block in higher education. Roughly 60 percent of incoming community college students are unprepared for college-level work, typically in math and English, and place into developmental courses (the preferred term among academics).
Success rates are the worst for math, and only a small portion of remedial math students ever complete a single college-level math course. Many get frustrated at their lack of progress and drop out, a major impediment in the push to get more Americans into and out of higher education with a credential.

"The issue of remedial math is the key for the completion agenda," says Louis Soares, director of the postsecondary education program at the Center for American Progress.
The problem was severe even at Montgomery College, which is widely considered to be a top two-year institution. Prior to the college's developmental math redesign, which went into effect this year, about half of the students who needed remedial math placed into the lowest levels of the developmental program. Of that group, just 15 percent successfully completed a college-level math course within 3.5 years of entry, according to college officials.

Those numbers are hardly unusual in higher education, experts say. They may even be high compared to other colleges.
 
"I would not go back to teaching like that if my life depended on it."
--Stephanie Pepin, math professor at Montgomery College
 
Ambitious solutions were clearly required at the college, many here say. With support from both faculty and administrators, they took the leap to an emporium model, which all developmental math students at the college took this semester. Adios, lecture classes -- at least at remedial levels.
Virginia Tech is widely heralded as having first designed the emporium method. And community colleges in Virginia and Tennessee are also considered pioneers of the approach. Loosely defined, an emporium class is one in which students work on computer-based math software and move at their own pace. Professors track their progress online, and answer questions individually, both online and in the lab.
Remedial math is typically broken into three classes, beginning with pre-algebra. But under the emporium approach, separate courses are abandoned for one sequence. A student might finish the coursework in just a few weeks -- some do -- while others will toil for three semesters or more. Mastery is required, regardless of how many times students must take tests or assignments.

Converts to the approach, which has been spreading rapidly over the last decade, rave about its results. But that doesn't mean it's any less jarring for professors.
"This is really changing the role of faculty," says John Hamman, a professor of mathematics and department chair at Montgomery College's Germantown campus. He admits that it wasn't easy at first. "I miss hearing myself talk."
But those adjustment pangs were well worth it, he says. Students are much more engaged, and self-pacing allows them to tackle each concept methodically. Hammond and several other professors also say the one-on-one time with students is crucial.
"I know my students so much better," he says.
And while it's too early to tell, faculty members say they expect much better results than with the lecture approach to remedial math, which made it much easier for students to tune out.
"I would not go back to teaching like that if my life depended on it," says Stephanie Pepin, a math professor at the Rockville campus.
Experts largely applaud emporium teaching, calling it a promising approach. But it only works if colleges employ enough instructors to give students individual attention.
"Done properly, I believe it should work," says Hunter Boylan, director of the National Center for Developmental Learning. However, the availability of professors is key, and that's never a sure thing when money is tight.
"As budgets continue to be cut," he says, colleges "will cut the personnel. They won't cut the consumers."
Collecting data and regularly tweaking the courses is also essential, says Michael L. Collins, an associate vice president for postsecondary state policy at Jobs for the Future. And not all the software tools are created equal.
He calls the emporium approach "very positive," and an improvement on "just-add-water solutions" that fail to fix a broken model. But it's still relatively new.
"The jury is out on the outcomes," he says.
Keg Cup Technology
The math lab here is a mix of high- and low-tech -- albeit clever low-tech.
At all work stations are the brightly colored Solo plastic cups that can be spotted at most college keg parties. Notches are cut into the cups so students can stick them above computer monitors. A red cup means the student is working on a test, while blue signals a question for professors, who busily mill around the room, working with individual students.
Faculty members say they picked up the keg cup innovation from similar math classrooms in Tennessee colleges. But the rest of the brand-new lab is decidedly digital. All remedial math sections at the bustling, three-campus community college, which is located around the north loop of D.C.'s Beltway, now use Pearson's MyMathLab, which is a clean, user-friendly interface.
For example, when students fail to master a concept and are forced to backtrack, the problems they couldn't solve are replaced with new ones -- no duplicate questions or flipping backward in a textbook. And it's easy to see how students who grew up around computers might find the coursework more engaging than listening to a professor at a chalkboard, as difficult as that may be for professorial egos.
In addition to the Pearson tool, the developmental math initiative at Montgomery College also relies on faculty-produced videos, PowerPoint presentations and an accompanying textbook.
The college retooled classrooms at its three campuses in order to offer emporium-style classes to all remedial math students. It wasn't cheap: new furniture was $60,000 and IT upgrades ran to $250,000.
A major shake-up of faculty teaching approaches can be tricky to negotiate for administrators. When she arrived as Montgomery College's president last year, DeRionne P. Pollard called for bold thinking to improve completion rates. The shift in remedial math was part of the push, but faculty played a leadership role in making it happen. Faculty union leaders gave a thumbs-up to how the change was handled.
"As a union we are appreciative that the math faculty had the freedom to research the best ways to support our students," Richard Penn, a professor of mathematics and president of the college's chapter of the American Association of University Professors, says in an e-mail. "The administration has been very supportive in enabling the recommended changes."
Hamman describes the program in a Web video aimed at students. In the clip, several students talk about how much they like being able to work on assignments at their own pace. "My biggest success is making it this far," said one student. "I hate math, but I kept trying, because you get a lot of tries and the teachers are very helpful."
Word of Mouth
Pearson originally developed MyMathLab as a homework tool, with the thinking being that real-time responses could help students better grasp math concepts. Its first major customer was the University of Alabama at Tuscaloosa.
"With the computer students get a lot more feedback," says Greg Tobin, president of mathematics and statistics at Pearson Higher Education.
Early on, the approach drew some puzzled responses from students and, sometimes, their parents.
"Students would say 'I don't have a math teacher,' " Tobin says.
As Pearson's ambitions grew for the software, it enlisted the help of early adopters among faculty members. The company formed an advisory board of 120 professors from around the country, picked because of input they provided.
The emporium model has largely spread by word of mouth. Along the way it's gotten plenty of support from state higher education leaders. The most high-profile champion may be Carol A. Twigg, president and CEO of the National Center for Academic Transformation, who advocates for the emporium approach as one way to bring technology to developmental math redesigns.
Many professors who teach remedial math aren't keen on giving up lectures. However, Soares says resistance may be futile. That's because once technology in the classroom proves it works, an "inexorable movement" follows.
Several faculty members here say they're sold after one semester.
Reaching students is easier in the math lab, says Andrea Steelman, an assistant professor at the Rockville Campus. That wasn't always the case in lectures.
"A lot of times it feels like you're teaching to the wall," she says.
One of her biggest challenges in lecture classes was working with students who vary greatly in knowledge and aptitude. Steelman says it's much easier in the current system. Some of her students finished the entire remedial pathway before Thanksgiving.
"If someone's fast, they're out of here," she says.
The emporium is also better for students who need more time, says Dina Yagodich, an instructor at the Germantown campus. Those students don't have to start all over again the way they would after failing a class. Now they always start where they left off.
"I haven't lost the people I've normally lost," Yagodich says.
Steelman admits to having been nervous about the shift. And her students hated it at first. She can say so with confidence, because they complained about it in the hallway outside her office. Their biggest beef was that the lab requires more effort than listening to a lecture. Now they like it, she says -- or at least those students who put in the work like it.
The best part for Steelman is being able to encourage students in a hands-on way. "I love that," she says. "We're going to help them pass."