You have /5 articles left.
Sign up for a free account or log in.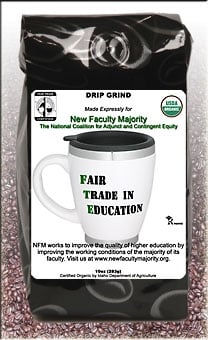 WASHINGTON – They gathered to commiserate and commit to giving adjunct faculty a stronger voice. In what was part bonding session, part road map for the future, members of the "New Faculty Majority," a group representing professors off the tenure track, met for its first national summit here Saturday.
"Contingent" employment is problematic and exploitative, the 150 participants or so agreed. They knew the statistics, and those who didn't surely did by the end of the day: non-tenure-track faculty, including part-timers, make up about 73 percent of the academic workforce.
"We present ourselves as the path to a secure middle class life with benefits, but in doing so we pay poverty-level wages with little or no benefits to the majority of faculty in higher education," said Gary Rhoades, former general secretary of the American Association of University Professors and a professor of higher education at the University of Arizona, while speaking at the summit's opening plenary.
Read the live blog of the event, by Lee Bessette, an Inside Higher Ed blogger.
The plight of adjuncts was well-known to the participants, but the emerging goal of the conference was to do more public education to broadcast that plight and make their struggles more visible. Just the other day, Vice President Joe Biden made what the NFM considers to be an ill-informed comment about the high costs of higher education related to high faculty salaries. Even a recorded video greeting by Rep. John Tierney of Massachusetts played for NFM members Saturday flubbed the number of adjuncts, Rhoades pointed out. Many worried that the already high number of adjuncts would grow even more following President Obama's "notice" to colleges and universities in his State of the Union address that proposed linking some aid funds to colleges' efforts to cut spending and tuition.
Carol Schneider, president of the Association of American Colleges and Universities, which had its own conference last week and helped with the daylong adjunct summit, said the NFM's goal should be to reach out to more people in academic leadership positions. "The reality that is clear on the ground for you is not yet perceived as a mainstream problem by our academic leaders who are nevertheless committed to a good vision of education," she said.
Some of that reaching out is already taking place. Saturday's summit had a fair sprinkling of top representatives from higher education organizations like the AAUP, the American Federation of Teachers, the National Education Association, the National Association for College Admission Counseling and the Modern Language Association, which also gave the NFM a donation for the summit. Michael Bérubé, president of the MLA, sat in on many of the sessions, and Stanley Katz, director of the Princeton University Center for Arts and Cultural Policy, was a featured speaker.
Ideas emerging from the breakout sessions, where participants discussed a draft document called "Forging a New Way Forward" that listed the goals and principles of the NFM with the intention of developing concrete ideas, included a push to develop local NFM chapters and have local and regional meetings to craft multiple messages for multiple organizations. Some suggested more contact with legislators to avoid Biden-like comments, while others pointed out the need for an ongoing dialogue with universities for more transparency in budgets. Beside highlighting the difficulties faced by adjuncts, efforts should also be made to highlight good work by part-time professors, many said. Other ideas: an effective social networking policy for NFM, conversation with institutions so that adjuncts could have web site profiles and regular evaluation by the universities.
"There was talk of internal alliances with tenured faculty and students," said Maria Maisto, president of the NFM. "There was a recognition of the need to recognize the perspectives of others." She also heard from members who stressed the need to engage with accrediting agencies. One model used as an example here of how a movement can promote change in higher education was the Presidents' Climate Commitment, which is a network of colleges and universities that have made specific commitments to reducing greenhouse gas emissions from certain campus operations while encouraging research on climate change.
The various tactics, members said, would promote NFM's seven goals of equity in: "compensation, professional evaluation and job security, academic freedom, participation in faculty governance and other representative bodies, professional development and advancement, access to health and retirement benefits and access to unemployment compensation insurance for all faculty not on continuing contracts."
NFM leaders will now get together a task force to push the ideas emerging from Saturday's summit. "February will be our month to mobilize the task force and to circulate the assumptions and principles to which we will be inviting individuals, organizations and institutions to affirm," said Maisto, who, like many of those here, seemed exhilarated and exhausted at the end of the summit. "My worst fears did not come true: the sessions did not turn into shouting matches. It is the beginning of a solution we envision."
Some summit participants felt that the state of the adjuncts was emblematic of the struggles being waged by many marginalized groups. One speaker, Deepak Bhargava, executive director for the Center for Community Change, talked about a struggle for the soul of the country. Another speaker at the same discussion, Debra Leigh Scott, an independent filmmaker and adjunct professor, gave vivid descriptions of an adjunct who was homeless for a while and lived in a van.
The summit ended with an address by Victor Sanchez, president of the U.S. Student Association, who pointed out how a college student's first encounter with an instructor is most likely to be with an adjunct. Sanchez bemoaned a culture of transaction that he said had taken root at colleges instead of a culture of transformation. "We can't win being one-dimensional, and we sure can't win being divided," Sanchez said.