You have /5 articles left.
Sign up for a free account or log in.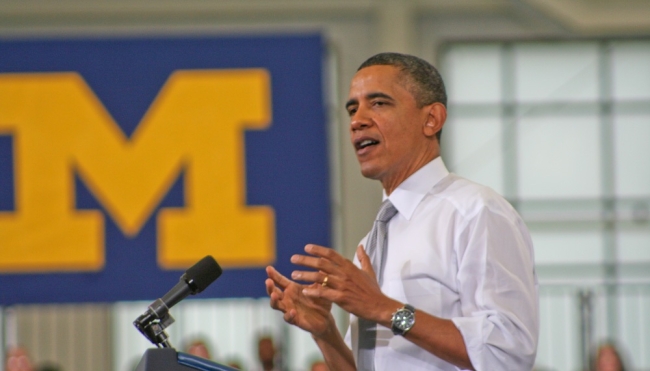 After the applause faded from President Obama's State of the Union address, a question lingered: Obama told colleges they were "on notice," but what does "on notice" mean, anyway?
Friday provided a few answers.
In a speech at the University of Michigan, the president laid out a plan for higher education that could be a key plank of his re-election campaign this year. Obama proposed using campus-based financial aid programs to reward colleges that keep net price low and punish those that  do not. Two new competitions, modeled on the administration's "Race to the Top" program for elementary and secondary education, would reward states that invest in higher education and colleges and nonprofit groups that improve productivity. A host of new disclosure forms would give students more information on price and financial aid.
On one level, the plan is  an election year crowd-pleaser, an appeal to middle-class voters who feel college for their children is increasingly out of reach. But it also signals a shift in the administration's higher education policy, which until now has focused on reining in for-profit colleges and increasing financial aid for low-income students.
Open Letter to the President
Robert Sternberg offers 10 suggestions to the Obama administration as it pursues higher education reform -- including patience and respecting
institutional differences.
The plan calls for linking federal aid not only to net price increases but to whether colleges provide "good value" to students -- a "quality education and training that prepares graduates to obtain employment and repay their loans," the White House wrote.
If that sounds familiar, it's for good reason. A similar philosophy guided the Education Department's controversial and much-protested "gainful employment" rule, which judges the value of for-profit colleges and vocational programs based on on whether they prepare their students for "gainful employment" by looking at student loan repayment rates.
The real message in "on notice": Increased scrutiny and regulation aren't just for for-profit colleges anymore.
"They're sending a strong signal about where the second Obama administration, if we have one, is likely to go," said Kevin Carey, policy director at Education Sector, a think tank. "They're not going to just keep putting millions of dollars into the Pell Grant Program and letting the chips fall where they may."
The president's higher education plan appears poised to become a major feature of his re-election campaign, alongside support for manufacturing, clean energy and other ideas intended to help shore up the troubled economy.
The plan's central feature is a change to the campus-based Perkins Loan Program, which provides funds to institutions to lend to their students. The White House has proposed expanding the program to $10 billion per year and revamping the formula for distributing both Perkins loans and Supplemental Educational Opportunity Grants. Money would be directed to colleges that do well on three criteria: setting a "responsible tuition policy," providing "good value" to students, and enrolling and graduating relatively large numbers of low-income students. Colleges that do not meet those standards could see their funding for campus-based programs cut.
The plan also would create a $1 billion "Race to the Top" competition for college affordability and completion. The money would serve as an incentive for states to maintain funding on higher education, the administration said. A second competition, called "First in the World," would provide up to $55 million for colleges or nonprofit organizations to improve productivity.
"If you can find new ways to bring down the cost of college and make it easier for more students to graduate, we'll help you do it," Obama said, referring to the states, in his speech at Michigan.
Many higher education experts and college groups were skeptical of Obama's plan when it was first proposed, in broad strokes, during the State of the Union address Tuesday night. Reactions from the major higher education associations after his speech Friday were tempered. Most praised the president for his proposals to expand work-study programs and Perkins loans: "If approved by Congress, it would provide an enormous amount of money to help students and families," Molly Corbett Broad, president of the American Council on Education, said in a statement. "Colleges and universities stand ready to do everything they can to help enhance student access and completion."
But they also pushed back strongly on additional federal involvement, especially in measuring the value of a college education or trying to force universities to keep prices low: "Colleges, states, and the federal government must work together in a climate of mutual trust and collaboration," David Warren, president of the National Association of Independent Colleges and Universities, said in a statement. "The answer is not going to come from more federal controls on colleges or states, or by telling families to judge the value of an education by the amount young graduates earn in the first few years after they graduate."
(Responses from individual college presidents were less measured. Michael Young, president of the University of Washington, called Obama's plan "nonsense on stilts" and "political theater of the worst sort," according to the Associated Press.)
All noted that important questions remained. For public universities, state support is key: so far, it's unclear how the Race to the Top competition would function, and whether it would be enough of a reward to spur states into increasing support. Tuition increases at public colleges and universities have been driven largely by declining state support, which Obama noted in his speech Friday and many higher education leaders reiterated.
"I think it'll be very hard to sustain holding tuition to inflation if the states can't keep their side of the bargain," M. Peter McPherson, president of the Association of Public and Land-Grant Universities, said in an interview. "Affordability for publics is fundamentally a question of state appropriations."
The Race to the Top for elementary and secondary education required states to make policy changes before they could even be eligible to enter the competition. But whether the competition for higher education will work that way, and what changes might be required, is unclear, said Andrew Kelly, a research fellow in education policy studies at the American Enterprise Institute.
"It sounds like what they're getting at is a maintenance of effort," Kelly said, referring to requirements to keep funding above certain levels to remain eligible for federal funds. But maintenance of effort requirements, including some related to higher education, have foundered in the past because the amount of federal funding at risk pales in comparison to state budget shortfalls. "What would the prerequisites even look like?" Kelly said. "I don't think anybody knows."
Education Department officials said more details will be released with the budget request for fiscal year 2013, which will provide information on how the administration plans to pay for the expanded Perkins loans, the two competitions and other factors of the plan. Obama has called on Congress to act on other parts of his higher education agenda immediately, including stopping the interest rate on subsidized student loans from doubling in July. The Democratic-led Congress cut the interest rate in half in 2007, with the knowledge that it would reset to the higher 6.8 percent rate without action (and available funds) to stop it, as Republican critics of Obama's new plan have been quick to note.
Still, given the Congressional deadlock, it's unclear whether any part of the plan will face a vote in the near future. And some provisions, especially the proposal to measure the "value" of degree programs, might require additional legislation, Kelly said. The regulation of for-profit colleges hinged on a brief phrase in the Higher Education Act: for-profit colleges, and programs not in the liberal arts, must prepare students for "gainful employment in a recognized occupation." There is no such basis for regulating traditional degree programs.
In a way, using similar criteria makes sense, Carey said: after all, even students studying art history or philosophy are attending college because they hope to get a job. "The president has kind of taken on the lenders and the for-profits and won significant victories, and he's now turning his attention to the traditional sector," Carey said. "They've been treating the symptoms of rising college prices, but they haven't really tackled it as a problem."
But some critics said that shift in focus takes away from what was seen as the administration's primary goal: enrolling and graduating more low-income students. Further expansions to the Pell Grant Program would do more to make college accessible, said Sara Goldrick-Rab, an associate professor of higher education policy at the University of Wisconsin at Madison.
"I don't have high hopes for [the new plan] being very effective in helping him achieve what I thought his goal was, which is getting more students from low-income families to be college graduates," Goldrick-Rab said, describing the plan as "a little all over the place."
"This is going to cause problems for the institutions that have the least resources to begin with."
Goldrick-Rab said she saw the plan largely as an election-year attempt to appeal to the middle class. But given the unlikelihood of major change this year -- and the fact that a second Obama term would also include the 2013 scheduled reauthorization of the Higher Education Act, an anticipated vehicle for many of the new policy proposals -- its ramifications are likely to linger long beyond 2012.
"This is setting a new agenda, and I think it's easy to underestimate that this is an important shift in the dialogue," Kelly said. The new conversation is about using incentives to force colleges to change, rather than just funding grants for low-income students, he said. "That's a fundamentally different agenda than we've had in the past, even within this administration."