You have /5 articles left.
Sign up for a free account or log in.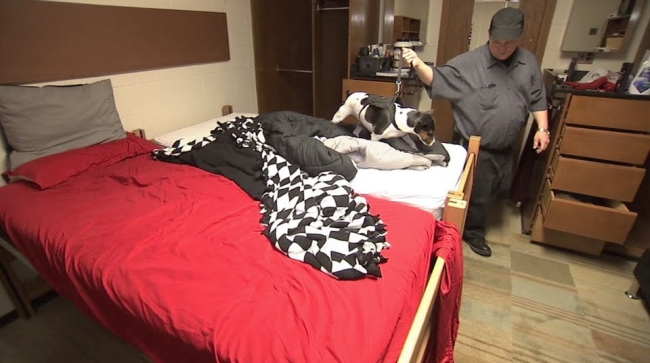 Students are scratching their heads in Indiana, crouching in front of toilets in D.C. and washing their sheets with extra care in Nebraska.
Recent outbreaks of lice at Huntington University, norovirus at George Washington University and bedbugs at the University of Nebraska at Lincoln have mobilized campus health officials and raised questions about how to stop pests and diseases from spreading among students living in close quarters. College health officials say communication and education are critical, and that students need constant reminders to recognize and report the symptoms of these often-expensive outbreaks.
Huntington officials believe lice arrived on their campus near Fort Wayne, Ind., after students returned from a mission trip in India. A college spokeswoman wouldn't say how many people were infected, but said students in four of the college's eight residence halls had lice. The infected students received free treatment.
At George Washington, more than 85 students are sick with norovirus – also called stomach flu. Custodial crews are stepping up their efforts in bathrooms and dining halls, and campus officials are encouraging students to wash their hands. Rider and Princeton Universities have also had norovirus outbreaks in recent weeks, and other colleges have fought the sickness before.
And at Nebraska, dozens of dorm rooms have been found to have bedbugs. The insects' resurgence has caused headaches at colleges and hotels in recent years after they were nearly eradicated by pesticides.
Nebraska's housing website now contains a blog about the bedbug situation, complete with daily updates and a video of Spots the bedbug-sniffing terrier. Spots and his canine colleagues are in the midst of a weeks-long room-to-room sweep, no small undertaking on a campus with more than 3,200 dorm rooms.
So far, bedbugs have been discovered in 94 rooms. It's proving to be a costly problem. University spokeswoman Kelly Bartling said it costs $1,000 to treat each room, plus $800-900 a day for each dog. Spots is the only bedbug-sniffing dog in Lincoln, so the college has had to fly in others from Minnesota and the South. All told, the bedbug breakout has cost Nebraska more than $150,000. Bartling estimated the dogs have only inspected about a quarter of the campus's dorm rooms so far.
Though the insects were found in a campus laboratory last summer, they weren't seen again in large numbers until students returned from winter break. The bugs are usually transported by people moving from one place to another.
Housing leaders have hosted several meetings with students, contracted with a national bedbug detection firm and are heat-treating infected rooms. One fraternity even took out a bedbug insurance policy.
But the Nebraska story has a twist. A resident assistant told the Lincoln Journal Star she was encouraged by her boss to lie about the presence of bedbugs in her room, asked not to hold a floor meeting on the subject and instructed to say her room was undergoing renovations instead of bedbug treatment.
That accusation prompted the campus-based Daily Nebraskan to allege a cover-up and call for housing director Sue Gildersleeve's resignation. The university has stood by Gildersleeve, acknowledging "some miscommunication" but saying there was no cover-up. A senior administrator compared the Daily Nebraskan's coverage to a "caricature of a high school newspaper."
Neither lice, bedbugs nor stomach flu are killer pandemics. But, as Nebraska's situation shows, communicating the health risks to people on campus while respecting the privacy of the infected students becomes a difficult balance.
Darrell Darnell, senior associate vice president for safety and security at George Washington, said his university's response to the stomach flu outbreak started early Monday. The campus ambulance service had transported a number of students with similar symptoms, Darnell said, and alerted him to a possible outbreak.
After talking with doctors, Darnell convened a meeting of leaders from campus security, health services and other departments to plot the university's response. The college ramped up cleaning work and started sending updates to students. 
Like many colleges, George Washington had a similar response in place during the H1N1 outbreak of 2010. While the stakes with stomach flu are a bit lower, Darnell said there's still a need to keep the campus informed.
"I think the key is really trying to as quickly as you can assess the situation, figure out what's going out and get out information so you can help them help themselves," he said.
Sarah Van Orman, vice president of the American College Health Association, led a response to norovirus in 2008 at the University of Wisconsin at Madison, where she is executive director of health services. She said framing messages with a sense of urgency is important, but so is not causing undue alarm among students.
Treating breakouts, whatever they may be, requires sensitivity to the infected students. Bartling said Nebraska worries about students on floors where bedbugs have been found being ostracized on campus. She said there's also concern of over-publicizing the the outbreak to a point where the college looks less attractive to prospective students.
And with so many bedbugs now on campus, she said it's likely the problem won't ever be fully solved. She said the university will focus on educating students and removing the stigma associated with bedbugs.
"These pests are everywhere," she said. "You're never going to be able to control it 100 percent, so the best you can do is be vigilant and be accepting that that's the world that we're in now."