You have /5 articles left.
Sign up for a free account or log in.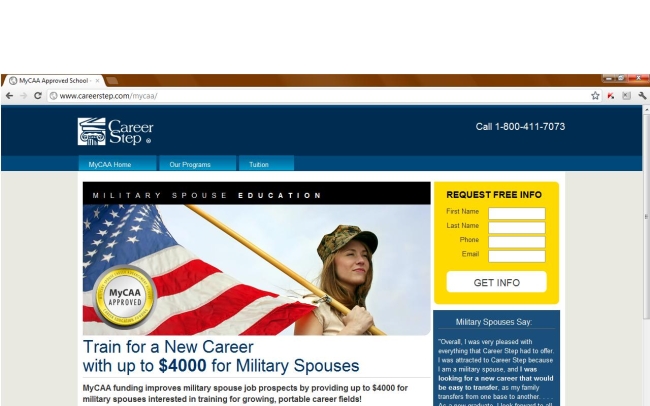 The Department of Defense spent $65 million last year on its tuition benefit program for military spouses. About 40 percent of that amount -- $25.3 million -- was used at for-profit colleges that operate outside the regulatory reach of the U.S. Department of Education and do not qualify for other federal financial aid programs.
Those numbers were released this week by the Democratic staff of the U.S. Senate's education committee, which last month distributed an analysis that found four non-aid-qualifying for-profit institutions among the top 10 recipients of military spouse aid. 
The findings surprised both Congressional investigators and financial aid experts, several of whom said they were not aware that any federal tuition benefits could be used at non-aid-eligible colleges.
The tuition assistance fund for active-duty service members, as well as Post-9/11 G.I. Bill benefits, can also be used at non-aid-eligible for-profits, but experts said it was unclear how much money from those sources also flow to the institutions otherwise ineligible for federal student aid.
Allied Business Schools, Inc., brought in the most military spouse aid, according to the analysis, earning $5.6 million and topping big names like the Apollo Group and the University System of Maryland, whose University of Maryland University College has long been a military educator. Career Step LLC and Animal Behavior College, also both non-aid-eligible for-profits, were at the fourth and fifth spots, respectively.
The three colleges are national chains with large online components. They market their eligibility to receive aid from the Military Spouse Career Advancement Accounts (MyCAA) program, which was created in 2009 and provides a maximum of $2,000 per year to spouses of junior rank service members for associate-degree and certificate programs.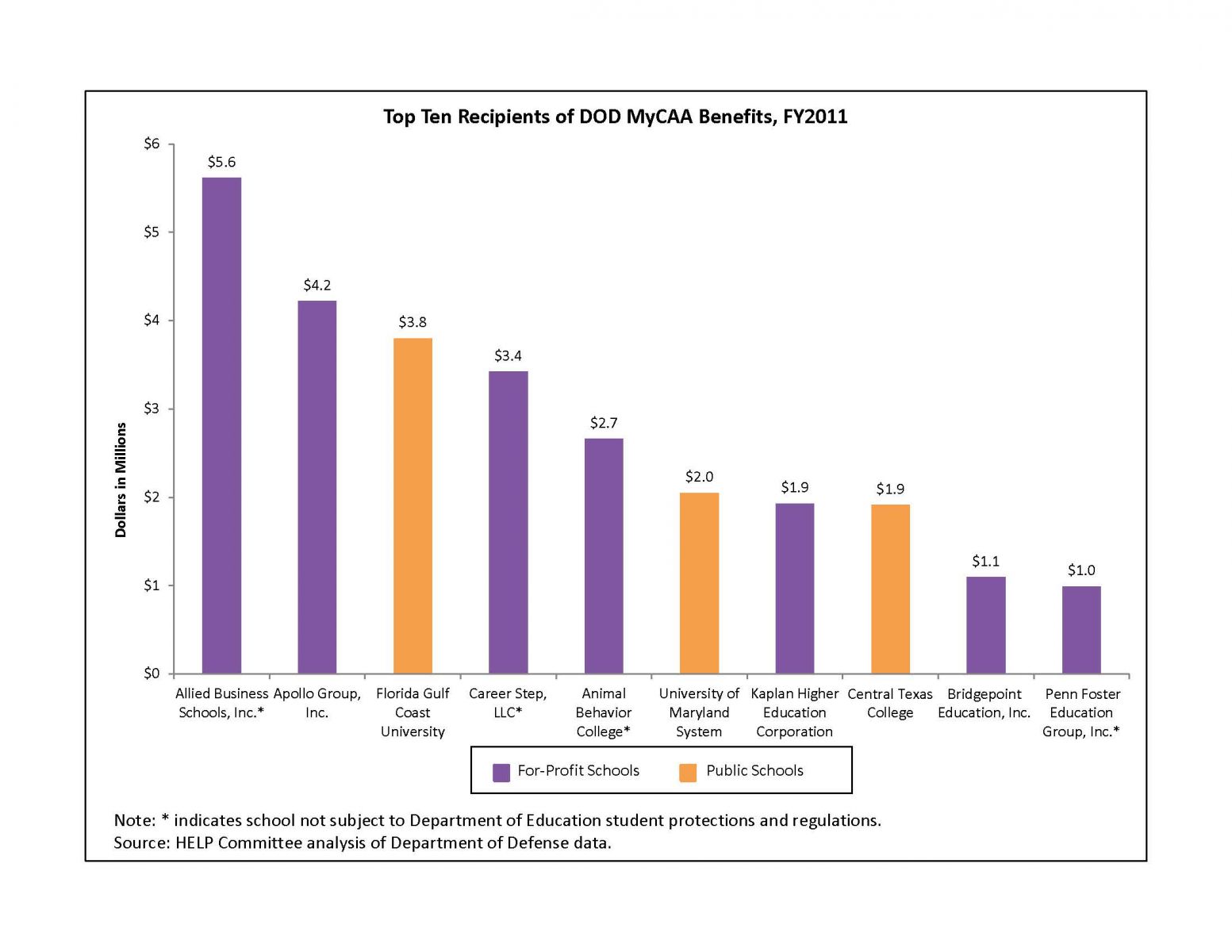 Websites for the three colleges prominently mention academic offerings aimed at military spouses. Allied, for example, has posted a "quick and easy military spouse cookbook" online, with recipes provided by "real military spouses from across the globe."
The report from the Senate committee, which is headed by Sen. Tom Harkin, an Iowa Democrat and frequent critic of for-profits, called the military spouse tuition program a "safe haven for unregulated schools," and questioned the academic quality of some of the non-aid-eligible institutions. For example, the report noted that Career Step lacks any accreditation.
"Because these schools operate outside of the regulatory regime set up to ensure minimal levels of program integrity, students at these schools are more likely to be subject to abuse," the report said.
Unregulated
Many for-profit colleges opt out of participating in Title IV aid programs, or are unable to make the cut, which follows a lengthy and expensive process. Students at these colleges cannot receive Pell Grants or other federal aid, but the institutions are also not subject to the same oversight that Title IV-participating institutions receive.
Non-aid colleges are often small operations, like local cosmetology schools that sometimes enroll fewer than 100 students. Seeking federal aid status doesn't make sense for some of these institutions. For example, the Department of Education requires accreditation by a recognized agency for Title IV colleges, which requires jumping over numerous hurdles. By staying outside of federal regulations, non-aid colleges can often charge their students less.
They can also market to students without following federal "program integrity" rules, which worries several advocates for military families. Non-aid-eligible colleges can pay admissions recruiters on a per-student basis, a no-no for other institutions, and aren't subject to the same controls on misleading advertising about their programs.
Non-aid-eligible colleges also do not need to collect information on student graduation and employment outcomes or loan default rates. And they can offer non-federal student loans without much federal oversight, although that could change with the creation of the new Consumer Financial Protection Bureau.
"These schools can use pretty aggressive marketing tactics to bring the military spouses in," said Karen Golden, deputy director of government relations for the Military Officers Association of America. "It warrants looking where these dollars go."
Lawmakers on Capitol Hill are pushing for increased scrutiny of for-profit colleges that serve veterans or members of the military, such as with proposed legislation to include the Post-9/11 G.I. Bill and military tuition benefits toward the requirement that colleges collect no more than 90 percent of their revenue from federal financial aid sources. While Congress isn't likely to pass legislation on this (or much of anything else) during an election year, efforts to protect service members draw strong support from both sides of the aisle. As a result, military aid programs may be a vulnerability for the for-profit sector.
Harkin's committee is continuing to study data from the Department of Defense, and is taking a closer look at which non-aid colleges receive money from the tuition aid program for service members, which distributed $563 million in benefits last year.

Ted Daywalt, president of VetJobs, a job database for veterans, said he would support a legislative fix to knock non-aid-eligible colleges out of the Pentagon-funded programs.
"Any school participating in MyCAA should be subject to Title IV," said Daywalt, who testified in a Capitol Hill hearing on veterans' aid programs earlier this year. "If they are going to receive federal funds, they should be regulated."
Allied was a popular choice for military spouses for at least a decade before the aid program was launched, said Lindsay Oglesby, the school's director of admissions.
"They really want portable careers," she said, "and we just really fit that mold."
Allied offers online-only certificates and associates degrees in real estate, medical and small business management, among others. Medical back-office programs are the most common tracks for Allied's military spouse students, such as ones in pharmacy transcriptions and medical coding. Oglesby said students in those programs can often earn a certificate and get a job within six months.
"That's what MyCAA is all about -- to get them to a job as quickly as possible," said Oglesby.
Good Investment?
The military spouse aid program has had money problems in the past. The benefits were an immediate hit, with 136,000 enrolled spouses, according to Stars and Stripes, and the program was suspended a year after its creation because of fears about how much it would cost.
"They just had more spouses sign up for it than they anticipated," Golden said.
The Pentagon brought back a scaled back version a few months later. Originally, any military spouse could qualify, but now spouses only of junior-grade personnel can participate. The overall grant limit was dropped to $4,000 over three years, from $6,000, and recipients can no longer use the benefits for bachelor's or graduate programs.
Those changes were a return to the program's original intent, Pentagon officials said, which was to help military spouses advance "portable careers."
­­­Allied does exactly that, Oglesby said. And while Allied is a national chain, she said the family-owned company is more like a "mom and pop" than a publicly traded for-profit.
Allied is accredited by the Distance Education and Training Council, which is a national accreditor. However, Oglesby said the council is not authorized by the Department of Education to grant Title IV status to online vocational programs like those offered by Allied.
Golden stops short of calling for Allied and other non-aid colleges to lose their eligibility to receive military spouse aid. While she is concerned that the colleges are largely unregulated, it's hard to know whether they provide a good return on investment.
Mark Kantrowitz of Finaid.org agrees. Kantrowitz, an expert on financial aid, said that while those colleges lack "quality standards," some of them may still be worth attending. The real question about the military spouse benefit, he said, is, "Is that money being spent effectively?"