You have /5 articles left.
Sign up for a free account or log in.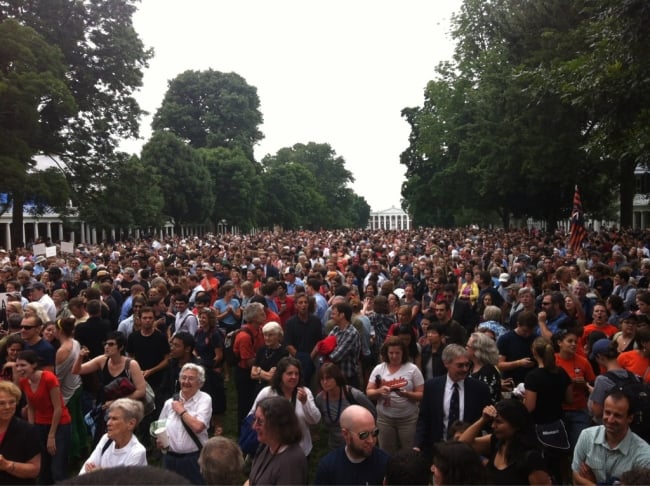 CHARLOTTESVILLE, VA. -- Over the past 10 days, it has become clear that the University of Virginia's Board of Visitors wants something other than "business as usual." That's exactly what it got Monday, and, technically, part of Tuesday morning.
On any given summer day on this campus, when the majority of students are away and faculty members are busy catching up on papers, the main quadrangle, called "The Lawn," would be tranquil, even bucolic.
Monday was a different story. An estimated 2,000 faculty members, students, staff, and alumni filled the Lawn to protest the removal of the university's president, Teresa Sullivan, after less than two years in office. Inside the university's historic Rotunda, the board met for almost 12 hours -- mostly behind closed doors -- to appoint an interim president and discuss the university's future. The board's meeting stretched until past 2:30 a.m., and a small group, composed predominantly of students, waited outside the building to question board members as they left the building. 
Sullivan's forced resignation, which many reports say was orchestrated by the board's rector, Helen E. Dragas, has thrown this often-sedate campus into turmoil. The board's limited explanation for why it asked Sullivan to step down last Friday -- citing a desire for "bold and proactive leadership"-- was deemed insufficient by the university's faculty. Since the resignation, they have issued several calls for greater transparency -- and for Sullivan to be reinstated, and for Dragas and other board members to resign.
By the time the board wrapped up its meeting Tuesday morning, it was apparent that Sullivan would not be getting her job back, and that the University of Virginia would be looking for a new type of leader. Dragas doubled down on her previous statements, and the drawn-out meeting -- concluding with a split vote on the appointment of Carl Zeithaml, dean of the university's McIntire School of Commerce, as interim president -- highlighted the depth of disagreement on campus. Two board members abstained from the vote, and one, W. Heywood Fralin, voted against Zeithaml's appointment, citing concerns about lack of faculty involvement. 
Monday threw into sharp relief the different leadership styles valued by Sullivan and by the board's leadership -- a conflict taking place at many higher education institutions, though often in a more subtle form. Public universities are debating how to function without steady state support, what changes are needed, and who should decide on the course for the future. Sullivan, with strong faculty backing, has advocated what is, in essence, a "first, do no harm" approach, arguing that the university had the strength to make incremental change while preserving the qualities for which it has earned acclaim. Board leaders, with statements about an ever-increasing pace of change, advocated for speedy and dramatic change -- without, to date, specifying what that would look like. Sullivan worked closely with faculty members in her two years here (and previously in her career, at other leading public universities). The board acted against her without any known consultation with faculty leaders, and there are questions about whether they ever made their concerns about Sullivan's leadership clear to her.
The University of Virginia, which has enjoyed a reputation as one of the country's top public universities, now enters a period of uncertainty. Faculty are worried about what kind of leader to expect next (and whether the institution will attract top-flight candidates), how much change the university will undertake, what role faculty members will play in governance, and whether the institution will continue to excel at the same level.
In the Dark
For the past 10 days, the largest question hanging over the university has been why the board decided to remove Sullivan. Because there has not been a clear explanation about why or how the decision to remove Sullivan was made, faculty members, students, alumni, and media outlets have been left to speculate about the board members' motives.
Various reports raised questions about whether state politicians or rich donors were involved; a leaked letter by a member of the business school's foundation board seemed to imply that the business school had some involvement in the decision; and on Sunday, The Washington Post reported that Sullivan was unwilling to cut some low-enrollment programs, notably German and classics, that the board wanted to shrink or eliminate.
Faculty members have issued several statements calling for a better explanation and increased transparency. Sunday night, the Faculty Senate voted no confidence in the board. With 53 of the senate's 87 members present, the full faculty group voted 50-0.
The faculty's most forceful statement came Monday, after the executive committee of the Faculty Senate met in private with Dragas. While the faculty statement said the conversation was "cordial," the statement called for the board to delay the appointment of an interim, to reinstate Sullivan, and to recommend the appointment of faculty members as voting members of the board, and for the rector and vice rector to resign.
Until Monday, board members did not comment on any of the theories about why Sullivan was asked to step down, leaving faculty to wonder what was going on. In her statement Monday, Dragas apologized for the lack of communication. "We recognize that, while genuinely well-intended to protect the dignity of all parties, our actions too readily lent themselves to perceptions of being opaque and not in keeping with the honored traditions of this university," she said. "You -- our UVa family -- deserved better from this board, and we have heard your concerns loud and clear."
She denied the charge that the board was interested in closing specific programs. "The board has never, nor will we ever, direct that particular programs or courses be eliminated or reduced," she said. She also denied claims that a handful of wealthy donors had pushed for Sullivan's exit. "There is not one single person on earth whose interests we would ever put above those of the thousands of stakeholders entrusted to our care," she said. "Not one president, not one administrator, not one faculty member, and certainly not one donor."
But aside from rebutting those notions, the board did not provide any further explanation about why it asked Sullivan to step down. "While our answers may seem insufficient and poorly communicated, we have responded with the best we have to offer – the truth."
Only a handful of reporters and top university administrators were allowed in the room to hear Dragas's statement, after which the board immediately went into closed session. Sullivan was not present at that point, but arrived shortly after. When she approached the building -- through the crowd that had gathered on the Lawn -- to deliver her remarks to the closed meeting of the board, the crowd broke into applause and shouts of "President Sullivan" and "You are our president." She received the same ovation on her way out of the building and thanked the crowd for the support. 
Sullivan later released her remarks, and they were read to the crowd by Gweneth West, a professor in the university's drama department. West broke into tears at several points.
Faculty members on the Lawn on Monday said the board's statement did nothing to make governance more transparent. They said the transparency question – more than their outright support of Sullivan as a leader – was what drove them to the Lawn Monday. "The appearance is that the board reached a conclusion without respect for the community," said M. Mitchell Smith, a professor of microbiology. "And with the lack of an explanation, the appearance is all we have to go on."
Smith and P. Todd Stukenberg, a professor of biochemistry and molecular genetics, said that the board's actions drove the university's faculty to rally behind Sullivan, in the process learning more about her and seeing her as the type of leader they want. "When you talk to people, they seem to only have positive things to say about her as a leader," Smith said.
Faculty members and students waited on the lawn, staring into the Rotunda's windows, until the board made its announcement at just after 2:30 a.m. -- Tuesday morning. Local restaurants provided food for the group.
Defending Incremental Change
During her two years at the helm of the university, and in her remarks Monday, Sullivan made it clear that she believes in moderate change, the type of governance that universities have historically embraced. "I have been described as an incrementalist. It is true," she said, in a rebuke to a statement Dragas made last week saying the university could not maintain its standard under incremental, marginal change. "Sweeping action may be gratifying and may create the aura of strong leadership, but its unintended consequences may lead to costs that are too high to bear."
Higher education experts say there's good reason to involve major stakeholders, particularly faculty members, in decisions. Because faculty members have tenure, they often outlast presidents at any given institution and can rarely be fired for not going along with presidential initiatives. Because most actions taken at a university involve faculty, many presidents say getting buy-in is key.
"Because of academic freedom, boards and presidents do not unilaterally decide all matters germane to the mission of the university," said Rodney A. Smolla, president of Furman University and a scholar of free expression and shared governance in higher education, in an interview with Inside Higher Ed in February.
In her statements to the board, Sullivan laid out the steps she has taken to change the university, particularly a new budget model that vests decision-making authority in departmental deans, rather than a central administration.
"There has been substantial change on Grounds in the past two years, and this change is laying the groundwork for greater change. But it has all been carefully planned and executed in collaboration with vice presidents and deans and representatives of the faculty," Sullivan told the board in closed session, according to remarks distributed after she spoke. "This is the best, most constructive, most long-lasting, and beneficial way to change a university." Sullivan had requested permission to give her remarks in open session, but the board refused.
"A dramatic, top-down reallocation in our general fund, simply to show that we are 'changing,' not that we are 'incremental,' seems fiscally imprudent, highly alarming to faculty, and unfair to students who expect to get a broadly inclusive education here," she said. "I have chosen a lower-risk and more conservative strategy, because I am accountable to the taxpayers and the tuition-payers."
While Sullivan's actions have so far not been the kind that grab headlines in national publications, she had a long-term vision for the institution, based on her identification of specific vulnerabilities and opportunities for the university, which she laid out in May in a memo to the board's leadership that was leaked last week.
In her remarks to the board, Sullivan rejected the notion that colleges and universities need to move to a more top-down administrative model, the type of leadership that is often associated with the business world. "Corporate-style, top-down leadership does not work in a great university. Sustained change with buy-in does work," she said.
Wanting More
Dragas's statement Monday indicated that she, and by extension the majority of the board, believe that more major decisions should be made by top executives and the board, which have a "unique vantage point" to see the university's long-term interests.
"The Board of Visitors exists to make these kinds of judgments on behalf of all the constituencies of the university," she said. "While the broader UVa community -- our students, faculty, alumni, and donors, among others -- have varied and important interactions and touch-points with out university leadership, the board is the one entity that has a unique vantage point that enables us to oversee the big picture of those interactions, and how the leadership shapes the strategic trajectory of the university."
The leadership of the board has made it clear that it wants bigger, more dramatic shifts in how the university operates -- shifts that require a leader to move more quickly and act more decisively. "Simply put, we want the university to be a leader in fulfilling its mission, not a follower," Dragas said in her remarks Monday.
It is true that Sullivan's budget model, while radical for the University of Virginia, has been in place at other universities, including universities that don't have as prominent a reputation as Virginia, for decades.
Virginia is also not grabbing headlines in the same manner as some of its peers who have moved into offering courses online. The University of California at Berkeley and the University of Michigan, two institutions that Virginia regularly counts as its peers, have begun to offer courses through Coursera. Dragas's original statement noted that "Higher education is on the brink of a transformation now that online delivery has been legitimized by some of the elite institutions."
The letter leaked last week by Peter Kiernan, the business school board member, pushed the idea that UVa needed a leader who practiced "strategic dynamism," a style of corporate governance that relies on constant monitoring of data and rapid reaction to changes in those data.
The Fallout
The university now faces a significant amount of uncertainty.
The most pressing question, raised by both board members and faculty members, is what effect the recent turmoil will have on the university's ability to attract and retain top talent -- students, faculty members, and leaders.
Faculty members questioned whether the board will be able to attract the type of talent it wants for the leadership role. Faculty in particular were skeptical that administrators would want a board looking over their shoulders so closely and one that is willing to change its mind in such a short time frame. In her remarks, Sullivan made a parting shot at the board on this topic. "No matter how accomplished he or she might be, a president cannot read minds," she said. "When you choose a new president, tell him or her what you're thinking."
As a public university in a state where lawmakers have increasingly frowned upon spending, the board will also likely be under public pressure not to offer a high salary.
In her remarks, Sullivan said the university has lost faculty members to other universities in the last 10 days. "Fortunately, we are well past the usual hiring season in most disciplines," she said. "But deans and provosts at every peer institutions are setting aside funds now to raid the University of Virginia next year given the current turmoil on campus."
In July, Dragas's term on the board will expire, and it will be up to the governor whether to reappoint her. Even if she is reappointed to the board, her position as rector is not guaranteed. According to the board's bylaws, the term for a rector is two years. Barring some dramatic shift, the board's current vice rector, Mark J. Kington, who has also been involved in Sullivan's ouster, will become rector. The vice rector is a position elected by the rest of the board and becomes rector after the presiding rector's term expires.
Because of the timing, the turmoil likely won't have much effect on the university's enrollment, though extended turmoil might. But the departure of high-profile faculty could affect the university's applications and enrollments over the next year.
While Sullivan holds a tenured faculty position at the university, and Dragas said she would like to see Sullivan "remain an important contributing member of the UVa family," her desire to remain at the institution is in question. Several other universities have reportedly approached her and her husband, a law professor.
On Monday, Sullivan enjoyed the type of support that few university presidents receive. Faculty members said they were "99.5 percent" united behind her, and the willingness of so many professors to cheer her on during the day, and wait outside the board meeting into the night reflects a resolve that many academic leaders don't see. How many university trustees nationally share her vision for close faculty consultation and incremental change remains unclear. But Monday's display -- and the outpouring of support that Sullivan said she has received from colleagues across the country -- made it clear that faculty members still believe in the model.