You have /5 articles left.
Sign up for a free account or log in.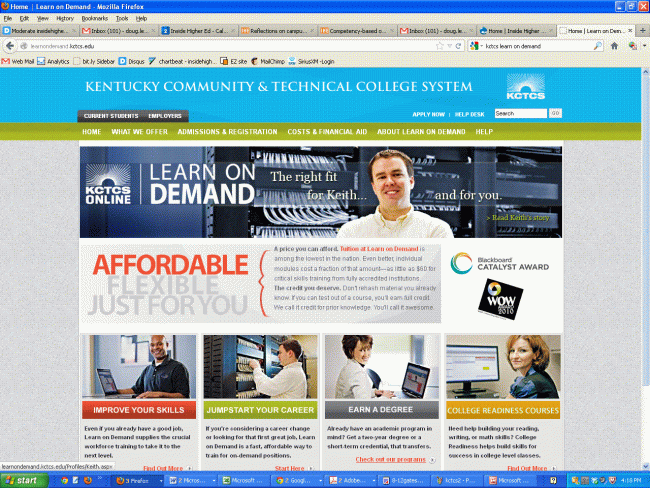 Sometimes potentially "disruptive" approaches to higher education arrive on campuses with little fanfare. And they can become solid additions to traditional colleges rather than an existential threat.
Take Kentucky's two-year college system, which three years ago began an online offering aimed at working adults. The project, dubbed "Learn on Demand," hits most of the buzzwords du jour, featuring modular courses that lead to stackable credentials, with both self-paced and competency-based elements. All that's missing is a MOOC.
But the program is up and running, with modest, but steadily increasing returns.
Roughly 1,000 students are enrolled in Learn on Demand at any one time, according to officials at the Kentucky Community and Technical College System. Many heard about it by word of mouth, and a growing number of the system's 33,000 online students have been attracted to the convenience of the classes, which can be broken into modules that take as little as three weeks to complete.
On-campus students have also begun "plugging their schedules" with the courses, says Jay Box, the system's chancellor. The system has yet to market Learn on Demand to its on-campus students, but plans to in the near future while also making aspects of it available more broadly.

The 16-college system is no stranger to online education, in part because a large number of its students live in rural areas where getting to campus isn't always easy. But officials spotted a gap in those offerings about six years ago.
"There was still an audience that we were missing, and that was working adults," Box says. The problem was one of scheduling, because many "could not commit to a traditional semester."
Under Learn on Demand, students can enroll whenever they want. There are no class schedules or assignment deadlines in the self-paced courses. And students can leave without facing problems when they re-enroll. As Box says, with modular courses, students have "exit points along the way."
The program offers full, 15-week courses as well as ones that are broken into three or more "bite sized" pieces. Faculty course developers "determine the most logical competencies or learning outcomes to group together in a module," Box says. Some of those modules come with a credit hour. Some don't, and offer fractional credit. But all of them build toward a certificate or associate degree, including ones in business administration, information technology and nursing.
For example, the course "principles of management" is part of the bachelor's-degree track in business administration. It comprises six modules: introduction to management; planning, decision making and the manager's environment; the process of organizing; leading and staff; controlling; and special concerns in management.
Each module is worth a half-credit, and the course is pay-as-you go, like other modular classes. Tuition is a flat $140 per credit. So in the management course, that's $67.50 per module. With additional fees, such as charges for e-texts, the course's modules range from $88 to $105, which is fairly standard across the program. So students can expect to drop no more than a c-note per credit.
The project also attempts to make remedial education more efficient.
Various studies and advocacy groups have pointed to the problem of students taking remedial courses they don't need, which can be expensive and discouraging. The project, however, includes a college readiness course which enables a student to test out of individual modules -- breaking down their remedial requirements into small pieces.
"A typical developmental education student who might test into the highest level of developmental math and would normally have to take a 16-week long course to get the credit for the course," Box said via e-mail, "might only have to be enrolled through Learn on Demand in one three-week module."
Three's Competency
The online project in Kentucky is among several at public institutions that feature competency-based education, an approach for which Western Governors University is best-known.
For example, the University of Wisconsin System and Northern Arizona University this year announced new degree programs with heavy competency elements. And Western Governors, a nonprofit, online institution that offers bachelor's and graduate degrees, keeps expanding. The university has so far forged agreements to operate in Washington, Indiana and Texas, in addition to its growing national operation.
Faculty members at Kentucky's two-year colleges studied the Western Governors model when they were building their new online program, officials said. They also took a long look at the University of Phoenix, mostly to try to duplicate how the for-profit runs its online programs all day, every day, with instructors and student services always on-call. Rio Salado College, an online two-year institution that is part of Arizona's Maricopa Community College System, also served as an example.
Here's how competency works in Learn on Demand: Each module begins with an assessment, or "pre-test." If the student scores high enough on that test, he or she can skip the self-paced course material and go directly to the modular final, or post-test. So essentially, each module can be completed by passing two tests.
"There are competencies all along the way," Box says.
'Facilitator' Faculty
For students who can't pass out of the courses, or who choose to work through them, the system has faculty members it calls "facilitators" on call to help students master the material. The online program includes several interactive features for students to work with faculty, and other students, including chat rooms and "live" class features.
The role of facilitators is the "same as faculty in other deliveries," including online and in class, says Sandra L. Cook, the KCTCS director of online programs.
The system was also able to offer student services 24/7 by contracting with an outside vendor, Presidium, with a call center in Kentucky -- a bonus for the public institution. That firm is now part of Blackboard. Students in the main online program have been clamoring to use that service, and the system will offer it this fall to all online students.
Kentucky's two-year colleges are part of a growing number of community colleges that are banding together to go online in ways they couldn't as individual colleges, says Christine Mullins, executive director of the Instructional Technology Council, which is affiliated with the American Association of Community Colleges and specializes in online issues in the two-year sector. Other examples include Michigan's community colleges and a group of two-year institutions in western New York.
The advantage is economies of scale, she says, through the sharing of courses and centralized system maintenance. It's also easier to market online programs on a statewide basis, and to compete with the big advertising budgets of for-profits. But pooling online resources doesn't work everywhere, Mullins says, and requires that individual colleges relinquish some control.
"A lot of colleges are afraid of the model," says Mullins.
In Kentucky, nine of the 16 colleges have contributed courses to Learn on Demand. The system handles back-office administrative tasks. And while students are enrolled in an individual college when they are in the program, meaning that their degree or certificate will bear the stamp of that specific college, they might be taking courses from other colleges.
"Any student can be enrolled through their home college," Box says. But "they actually should never know where the content comes from."