You have /5 articles left.
Sign up for a free account or log in.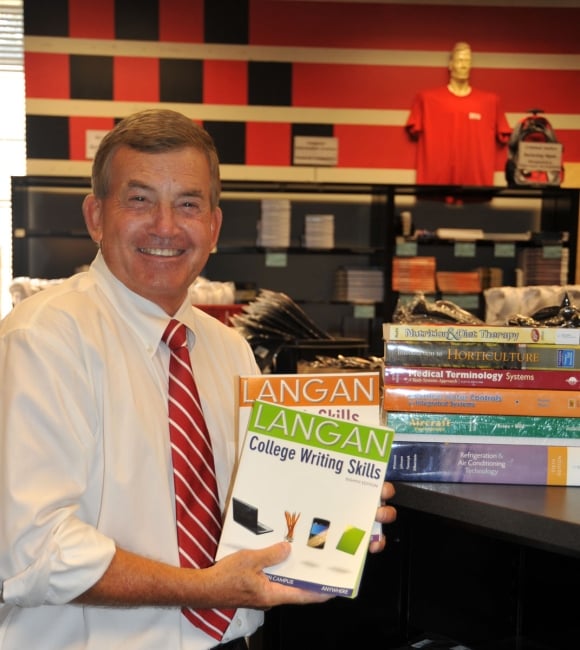 When Georgia's need-based HOPE grant for technical college students stopped helping them pay for textbooks last year, administrators at South Georgia Technical College decided to take matters into their own hands.
The college announced three weeks ago that starting this fall, it will provide students with free textbooks for each of their courses -- a program that President Sparky Reeves said he hopes will be paid for by tuition revenue brought in by additional students.
Between 80 and 85 percent of the college's students are eligible for the grant, which used to pay 100 percent of tuition and award students a $150 voucher for textbooks, Reeves said. But -- as of last fall -- the grant now pays about 90 percent of tuition, and it no longer awards book vouchers.
Last year, the college charged $75 per credit hour for most of its degree programs, bringing tuition to $1,125 if a student took the maximum of 15 credit hours per term. With the HOPE grant covering about 90 percent of that cost, grant recipients pay about $112 per term. Vanessa Wall, a criminal justice instructor, said textbooks for her courses can cost upwards of $100 each.
About six months ago, Reeves said, administrators began looking at how they could help alleviate students' funding concerns, and they decided that offering free books would be an effective way to help students strapped by the grant reduction.
"Book costs can be extremely burdensome," he said. "We've got a very strong foundation, and they are working hand-in-hand with us in helping us with this project." He said the college is also using other generated funds and a few small grants to pay for the program, which will initially cost about $400,000.
Instead of requiring students to buy their own textbooks at the beginning of each semester, this program will loan students books for free for the semester -- then ask for them back and loan them to the next cohort of students in each course.
Reeves said if the college can increase its enrollment by about 5 percent -- between 100 and 125 students -- each year, then the additional revenue generated from tuition will pay for the textbook program.
But the college saw a drop in enrollment this past year, he said, adding that the state's entire technical college system saw about a 12-percent decrease in enrollment. "We're hoping that we can offset this decrease with giving students an opportunity who might not have come to college because of lack of funding," he said.
The college's fall pre-registration started Tuesday, and the college saw a 9.3 percent increase in registration from last year's first day of pre-registration, Reeves said. "We've talked to a number of students, and they're super excited about the books," he said.
Students will receive their textbooks at the first class, and at the end of the semester they must return the books, he said. Students will be responsible for books that are damaged or unable to be turned in.
Reeves said policies on highlighting or writing in the textbooks will be clarified: "I would like them to limit what they do to the textbooks," he said, adding that if students choose, they can also purchase the books for themselves from the college's bookstore.
According to a press release, students still must purchase their own workbooks, kits and other consumable items required for certain courses and programs.
Faculty Involvement
Reeves said faculty members were involved from the program's beginning stages to recommend textbooks: "They have fully embraced what we're doing here, and they're excited because they know what it means for our students."
He said textbooks will be replaced every four or five years, but this policy won't limit faculty teaching ability, because each discipline's core courses teach theory, which doesn't change much from year to year: "English is English, math is math, chemistry is chemistry," he said.
Wall, who is also dean of the college's homeland security program, said faculty members got to choose the books they wanted to use for each course, and the college did not limit their choices: "We were very involved."
She said since publishers update textbooks more frequently than the college plans to replace them, she will supplement the textbooks with handouts, PowerPoint presentations and other media. "That's not going to be a problem," she said. "Four or five years is a good rate of change."
Wall said the program is a win-win situation. "It definitely benefits the college," she said. "The more students you have, the better it is all around."
She said several of her criminal justice students have told her they couldn't return for another semester because they couldn't afford textbooks, and books can cost as much as $700 total a semester for students, depending on how many courses they take.
"That's a lot of money, especially if you're talking about using a book for a semester, maybe two semesters," she said. "If that's a burden off of them -- if that's something they don't have to worry about -- then they'll come to school."