Cal State taps Tim White, UC Riverside's chief, as its next chancellor. White will take over after California's voters consider a tax proposal with big implications for the cash-strapped system.
Timothy P. White will take over as chancellor of the California State University System at the end of the year. But he'll have a better idea of how hard his new job will be next month, when California voters consider a proposed tax hike.
If the measure fails, the system will absorb $250 million in new budget cuts, meaning it will have lost $1.2 billion (or 39 percent) of its annual state funding over five years. Under that scenario White would have to confront a range of unpleasant decisions, according to system officials, including further tuition hikes, more cuts in administrative costs and negotiations with union leaders over health care benefits.
The system's Board of Trustees announced White's hiring Thursday. He will replace Charles B. Reed, the colorful chancellor who announced his retirement in May, after 14 years at the system's helm. Reed is a politically savvy leader, but has still faced plenty of controversies in California's minefields.
At least White, 63, is no stranger to the state's budget woes. The chancellor of the University of California at Riverside since 2008, White has plenty of California cred. He attended institutions in all three of the state's public higher systems, starting at Diablo Valley College, getting a bachelor's degree from Cal State's Fresno campus, a master's from the East Bay campus and eventually earning his Ph.D. at UC Berkeley, where he later served as a professor of human biodynamics. (Note: This paragraph has been changed to correct an error.)
It's not like Cal State is easy to run in flush times. The system's scale alone is a challenge, with 23 campuses, 427,000 students and 44,000 faculty and staff. Some of its campuses are still relatively open-access, like Chico and Dominguez Hills. Others, including San Diego State, San Jose State and the Long Beach campus, are more selective and buried in applications each year. Those universities have recently made difficult and controversial decisions about which students to serve.
These days, however, Cal State's biggest problem is money. The system would be forced to turn away an estimated 25,000 students if the tax proposal fails, officials have said, while cutting 3,000 or so faculty and staff jobs.
Budget woes have not improved frosty relations between the system's administrators and its unions. The California Faculty Association, which is the primary faculty union, has loudly criticized executive compensation at Cal State campuses. A particular flashpoint was the $400,000 pay package (which includes $50,000 in private funds) of Elliot Hirshman, who was hired last year as San Diego State's chancellor.
Last month, however, Cal State's faculty association agreed to a new contract. And on Thursday the union put out a written statement saying it was hopeful that White would set a goal of "unifying" the system.
"While we wish that the CSU Trustees had been more transparent in making its selection," said Lillian Taiz, the association's president, "we are nevertheless eager to work with the new chancellor to rebuild the California State University to serve our economy, democracy and all the people of California."
White's publicly funded salary will be $421,500, system officials said, with an additional $30,000 private foundation supplement -- the same amount Reed received.
The new chancellor's supporters can hope he picked up a few tips for getting along with rank-and-file professors and staff during his turn last year on the reality T.V. show "Undercover Boss." He donned a fake mustache, false teeth, earring and buzz cut to try a range of jobs on the Riverside campus, including track coach.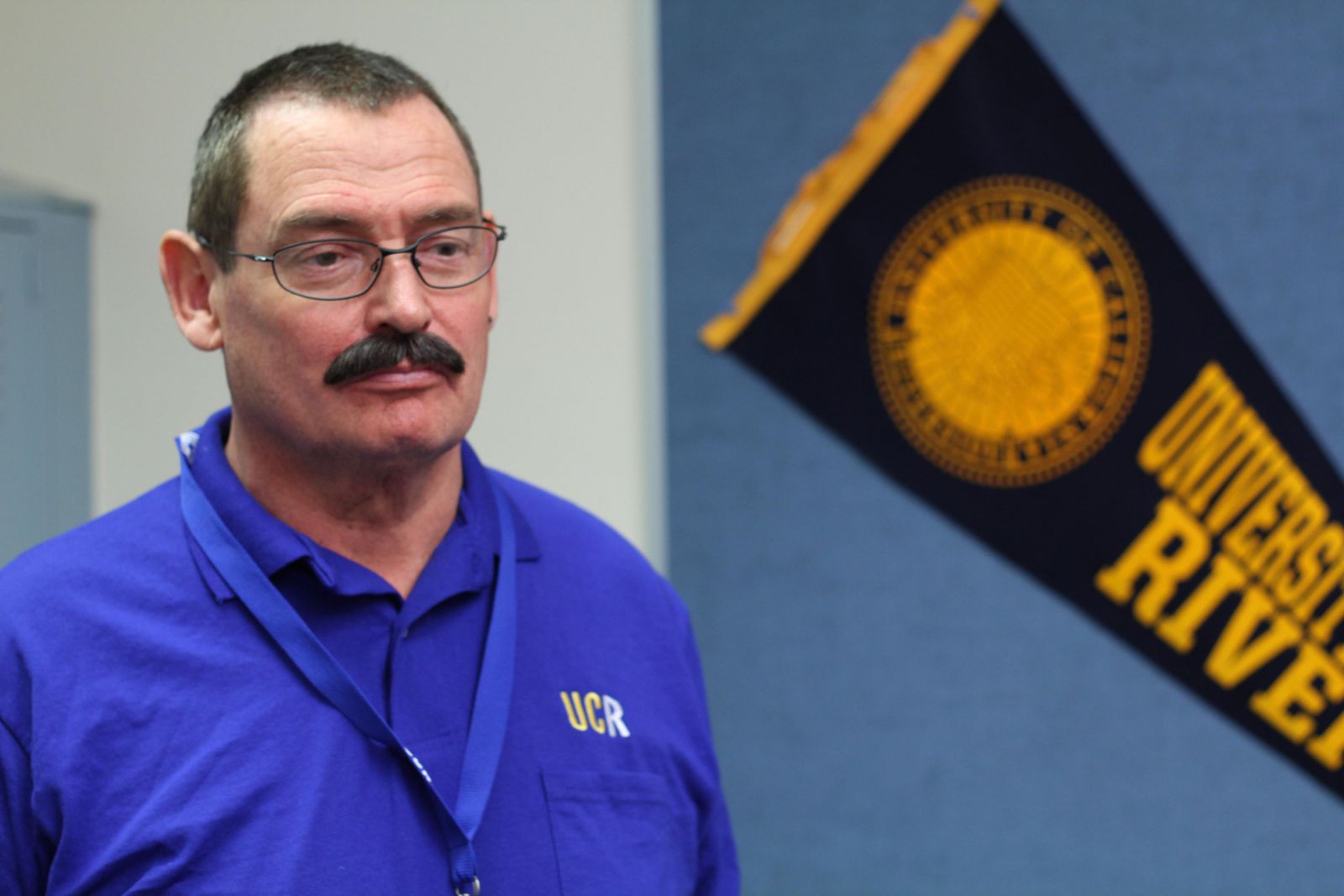 "I was moved and changed as a person and as a leader by this very intense examination of how the place works from the ground level," he later said of the experience.
Changing of the Guard
Joining White as the new leader of a statewide system in California will be Brice Harris, who last week was named chancellor of the state's 112 community colleges. He replaces Jack Scott, a former state senator and community college president.
The sole veteran at the top of the state's three systems will be Mark Yudof, who has led UC since 2008. Some observers wonder how much longer Yudof will stick around, given the bruising budget battles, but he has not hinted at plans to step down.
News of White's appointment comes the same week as perhaps his biggest success as Riverside's chancellor. The university worked toward launching a new medical school under his watch, but was rejected last year in an initial bid for the school's accreditation, in part because of fiscal worries. But White helped raise $100 million in private funds and a national accrediting agency this week gave the school a green light to begin enrolling students next summer.
White has spent some time outside of California, having led the University of Idaho from 2004 to 2008. He also previously served as provost and interim president at Oregon State University. White has participated in several national committees, including the NCAA Division I Board of Directors. Several Cal State campuses have Division I athletics programs, but none are big-time sports powerhouses.
The Riverside campus is the UC system's most diverse, and more than 53 percent of its students receive Pell Grants. The stint at Riverside should help White at Cal State, which generally serves lower-income students than UC.
"Tim has experienced firsthand the powerful impact of higher education," Bill Hauck, a Cal State trustee who led the search committee, said in a written statement, adding that White "has the leadership qualities to guide the system through these fiscally challenging times."
Today's News from Inside Higher Ed
Inside Higher Ed's Quick Takes
What Others Are Reading
Past:
Day
Week
Month
Year