You have /5 articles left.
Sign up for a free account or log in.
Prospective students who are considering colleges in Virginia can now use a Web tool to see how much money newly minted graduates of individual academic programs earn, with data that is broken out by college and major.
For example, a bachelor's degree-holder from George Mason University who majored in computer engineering can expect to earn $59,000 in his or her first year after graduation, according to the College Measures website, which is 56 percent more than the state average in that discipline. On the other side of the earnings scale, the average George Mason graduate who studied biology earns $32,000, still 15 percent more than peers from other Virginia colleges.
The web tool and an accompanying report were released this week as part of a joint venture between the state's higher-education coordinating body and College Measures, a nonprofit group that the American Institutes for Research (AIR) supports. It is probably the most extensive, state-level consumer tool for tracking wages of college graduates.
The project is based on the Virginia Longitudinal Data System, which released detailed wage numbers earlier this month. The system has been in development for years, but got a boost last year from the state's General Assembly, which mandated its creation.
Data systems of similar scope are in the works in Texas and Colorado, said Mark Schneider, an education data expert who is president of College Measures and a vice president at AIR. Those customizable databases could be finished by early next year. Florida already has a wage-tracking system in place, and College Measures is working on similar data in Tennessee and Arkansas. Officials in Nevada, Kentucky and Utah are also interested in tracking college graduates' wages, according to Travis Reindl, the education program director at the National Governors Association.
"It's a step in the right direction," Reindl said of the Virginia tool from College Measures. Most importantly, he said it is among the first state-level efforts to forge a data-driven "connection between higher education and the work force."
Another Ranking?
Reindl cautions against making overly broad conclusions from the data, which have several limitations. "There is potential for the overuse and misuse" of the study, he said. "Use these with care."
The database's undergirding is a link between student records and unemployment insurance wage data. It focuses on the first-year earnings of students who graduated from a Virginia institution between 2006 and 2010. But the data include only those graduates who are currently employed in Virginia, and federal employees -- including members of the military -- are excluded, as are graduates who work across state or international borders.
The study also does not depict the long-term earning potential of graduates, focusing instead on the first year out of college. For some liberal arts degree-holders, earnings steadily increase over a long period of time, but start out at a relatively paltry level, at least compared to graduates in technical fields.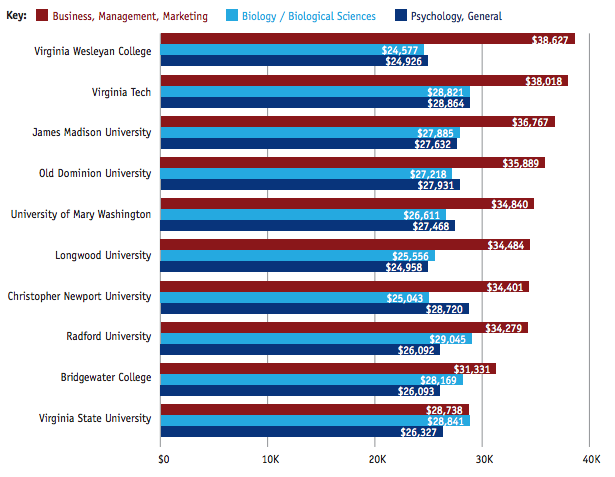 College Measures is careful to stress weaknesses in the data, and also warns against simplifications based on the Web tool.
"We know that the credentials of incoming students vary across institutions, that missions vary across institutions and that many schools serve regional labor markets across which wages vary," the report said. "We also know that individuals often make choices based on goals other than maximization of wages."
For those reasons, Schneider said the study is intended to help students and their families make good decisions about where to enroll, what to study and how much to spend on a degree. But it is not substantial enough for policy makers to measure the performance of colleges.
Even so, the temptation will be there to compare colleges based on institutionwide wage figures for bachelor's degree-holders. And AIR published a list doing just that on its website. (If you can't resist taking a peak, here's the link.)
But despite the data's limitations and the risk of its being overly simplified, Reindl said the study makes significant progress toward understanding connections between degree production and wages. "This is an issue that's on just about everybody's minds," he said.
Community College Payoff
On a statewide level, the study found that the average first-year wages for graduates of the most popular bachelor's-degree programs earned about $37,000. Registered nurses did the best among those common majors, earning $50,000, while biology degree-holders earned a bottom-dwelling $29,000.
The study also echoed other recent research in finding that attending community college can be a good investment, with graduates of occupational and technical programs at two-year colleges even topping the wages of bachelor's degree-holders by almost $2,500 statewide.
Graduates of the University of Richmond's information science and human resources management programs topped the overall list, with wages of $83,000 and $69,000, respectively. However, those totals were based on small numbers of students -- only 58 in the information science major.
There were few surprises in the lowest-paying majors right out of college. That list includes painting majors from Virginia Commonwealth University, philosophy and religious studies majors from Radford University and sociology majors from Hollins University, who made an average of between $23,000 and $21,000 right out of the gate.
The online database is user-friendly, and easy to surf. That's the point, according to Schneider.
"This is in the public domain and searchable," he said. "You can slice it and dice it any way you want."
Schneider and Reindl said the next step would be to create systems to track graduates' wages over longer periods of time, and across state lines. And momentum is building for those efforts, with more interest from state lawmakers and education reformers. So while a publicly available database that shows how much a degree in particular major at a particular college pays over decades remains unrealistic, that may soon change.
More from Learning & Assessment