You have /5 articles left.
Sign up for a free account or log in.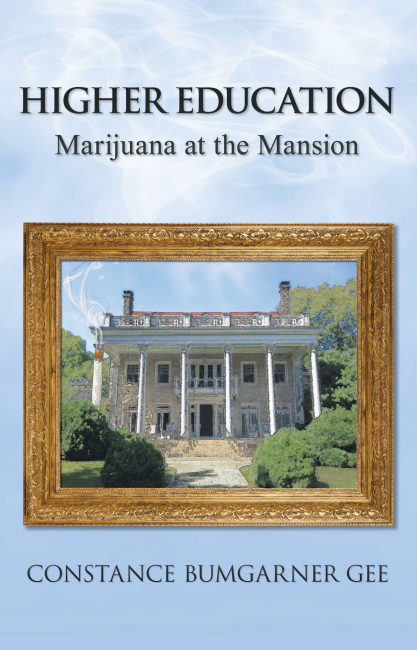 During the divorce proceedings between Constance Bumgarner Gee and her now-ex husband, the famously peripatetic university president E. Gordon Gee, the judge asked Constance Gee whether she'd like to change her name.
"I declined," Gee writes in her new memoir, "thinking 'Gee' might be a bit more useful than 'Bumgarner' for local restaurant reservations." (Gordon Gee, now in his second run as president of Ohio State University, was then chancellor of Vanderbilt University.)
The name would also – Constance Gee adds slyly – "be infinitely more useful should I write a sleazy tell-all."
Gee's new book – Higher Education: Marijuana at the Mansion – is not exactly a sleazy tell-all, but it certainly tells a lot. In her 13 years of marriage to Gordon Gee, Constance Gee was "first lady" (as she puts it) and a faculty member at three major universities: Ohio State, Brown, and Vanderbilt.
Her outspoken and rather uncompromising nature helped to land both Gees in hot water at Vanderbilt, thanks to a series of flaps that fueled a lengthy front-page article in The Wall Street Journal in 2006. The story began by investigating Gordon Gee's "lavish spending" as chancellor of Vanderbilt (to this day, President Gee makes headlines for his prowess at both raising and using universities' funds -- many trustees would say he is worth every penny), but detoured into a catalogue of Constance Gee's political and personal missteps: She lowered the American flag at the university mansion to half-staff in the wake of President George W. Bush's 2004 re-election. She signed a letter of protest against Condoleezza Rice's being named – by Gordon Gee – the recipient of Vanderbilt's first "Chancellor's Medal for Distinguished Public Service." Most eye-catchingly, and damagingly, she – in the article's words – "kept marijuana at [the presidential mansion] and was using it there, according to people familiar with the matter."
The fallout from all of this earned Constance Gee a harsh reprimand from the Board of Trust at Vanderbilt (where she was then a tenured faculty member, as well as a "university representative," as the chancellor's wife) and catalyzed the end of the two's already-faltering marriage.
It also played a role, Ms. Gee writes, in then-Chancellor Gee's decision to return to the presidency of Ohio State -- while he suffered few if any personal consequences from the article (which, in Constance Gee's words, made him look "downright good," thanks to its descriptions of his fund-raising and profile-boosting successes), he felt that he had been deliberately set up by his political enemies at Vanderbilt.
"He was angry and suspicious at what he perceived to be a growing yet undefined band of conspirators surrounding him," Ms. Gee writes. Meanwhile, Ohio State was in search of a new president, and Gordon Gee's friends and allies there began pressing him to "come back to where he was loved."
A Candid Account
In Higher Education, the candidness that was no asset to a university chancellor's wife proves a major boon for readers, for Constance Gee doesn't hesitate to share intimate details about her life as a first lady. (Occasionally too intimate: readers wishing to remain ignorant of Gordon Gee's underwear preferences, for example, may want to give the book a miss.)
In an interview with Inside Higher Ed, Constance Gee explained that she ended up self-publishing her memoir because the publishers and agents she approached thought the book's appeal was "too regional" – i.e., only of interest to those from the Nashville area or otherwise familiar with Vanderbilt. But, from a higher education perspective, that assessment is quite off the mark: while the book's title and subtitle make overt, humorous reference to the scandal at Vanderbilt, its 350 pages also include much about Gee's first tenure at Ohio State and his short-lived stint at Brown; moreover, Gee's forthright account of her experiences will likely ring bells for other presidential spouses and many academics in dual-career marriages.
Higher Education offers an insider's look at many facets of university politics, including the secretive and sometimes dramatic world of presidential head-hunting. Gee notes that her ex-husband was actively courted by the University of Utah and the University of North Carolina system, among others, and she reveals the back story behind the information leak that led him, in 1995, to publicly decline the presidency of the University of California system, which he had previously decided to accept.
Gee is frank about the immense privilege she enjoyed as the president's spouse at three wealthy universities: cars, chefs, luxurious home renovations, exclusive parties, travel to destinations around the globe. That last is a perquisite for which she expresses particular joy and gratitude, and she takes obvious pleasure in her memories of trips to places like South Africa,  where she and Gordon Gee met Nelson Mandela; Jordan, where they met Queen Noor and toured archaeological digs in Petra; and Guatemala, where they met with a Vanderbilt archaeologist excavating newly discovered Mayan ruins.
But Gee is also open about the many challenges she faced, large and small. An academic in her own right, with a Ph.D. in art education from Pennsylvania State University, Gee first came to Ohio State as an assistant professor, tasked with creating a new graduate program in arts policy. But when she fell in love with and then married her university's president, she found her career had to take more and more of a back seat to her role as presidential spouse – particularly when Gordon Gee left Ohio State's presidency for Brown's, and then Vanderbilt's.
The latter move was particularly unsettling for Constance Gee (as well as for Brown). She was "adamantly against leaving Brown and Providence," she writes -- largely because they had been there so briefly, but also because Vanderbilt had no programs in art education or art policy, her areas of specialty, and because she (a North Carolina native) had no desire to return to the South.
But Vanderbilt was tenacious in its bid for Gordon Gee, and the "persistent attentions had turned his head," Ms. Gee writes; President Gee "liked being pursued." Vanderbilt was also offering him several times his salary at Brown, which he had discovered was "at the bottom rung" for an Ivy League president.
Brown's board members were displeased when President Gee informed them of his conversations with Vanderbilt; as tensions grew, Gordon Gee's mother fell ill and died, and both Gees were offended when they received no expressions of concern or condolences from Brown's trustees. President Gee had already been feeling himself to be a poor fit at Brown, where he clashed with faculty members and found the university's governance structure to be "awkward, unwieldy, and divisive"; when salary discussions with Brown became heated, he opted to accept Vanderbilt's offer.
"So why did Gordon Gee leave Brown University?" Constance Gee writes.
"It was what the money represented in tandem with Vanderbilt's relentless pursuit. They wanted him."
Illness and Aftermath
Constance Gee struggled to balance her sometimes-conflicting roles as professor and presidential spouse; she felt out of place at Vanderbilt, which she (an outspoken liberal) describes as "the shiny gold star on the rhinestone buckle of the Bible Belt"; and then, most devastatingly, she was diagnosed with Meniere's disease.
The fateful Wall Street Journal article made one brief mention of Constance Gee's illness, noting that, according to an unnamed source, "Mr. Gee said his wife smoked marijuana to relieve an inner-ear ailment… ." The description enraged Constance Gee, who writes, "Of course, a villainess with a genuinely serious disease might not seem so villainous. Smoking pot on the pretext of a mere 'ailment' would better serve sensationalist innuendo."
Admittedly, a short summary of Meniere's disease makes it sound trivial: the Mayo Clinic describes it as "a disorder of the inner ear that causes spontaneous episodes of vertigo… along with fluctuating hearing loss, ringing in the ear (tinnitus), and sometimes a feeling of fullness or pressure in your ear." For some sufferers, however – including Ms. Gee – the disease can be debilitating.
In the latter part of Higher Education, Gee describes the effects of her illness in stomach-turning detail:
"During an attack, getting to the toilet and, more to the point, remaining upright while keeping my head over the bowl as the room spun around were way beyond my capacity. It was as if an invisible sumo wrestler had me pinned to the ground, his foot on my back… I would retch violently onto the back of my hands and into my hair, shivering in a pool of vomit… The puking process would last three or four hours, and it came almost every day. The rest of the day or night… would be spent in bed drugged up on Valium, Xanax, Zofran, Ativan, or Phenergan – whatever medication various physicians thought would ease the nausea and stop the vertigo."
Meniere's has a wide variety of treatments, but no real cure. For Gee, none of the usual methods proved effective; she finally tried marijuana when it was offered by a friend, a "gifted healer and knowledgeable herbalist" who observed that, having lost 17 pounds in a few months of illness, Gee "look[ed] awful."
Gee maintains that she smoked marijuana infrequently, and only out of sheer desperation – she recounts, for instance, a day when a severe vertigo attack nearly kept her from attending a luncheon in honor of Sandra Day O'Connor. Determined to meet the first woman to serve on the Supreme Court, Gee turned to her herbal remedy, finding humor in the "absurdity of… meeting a Supreme Court justice while in a Jamaica state of mind."
In Constance Gee's telling, Gordon Gee  – a Mormon who abstains from alcohol and coffee – strongly disapproved of her marijuana use, but grudgingly accepted that it alleviated her symptoms, and that she was able to appear in public after using it without saying or doing "anything untoward." Still, it was a point of contention between them, and all the more so after it became public knowledge. Toward the end of the book, Constance Gee relates the following exchange:
"…I implored, 'Gordon, you saw how terribly ill I was. Would you have rather watched me lie on the floor and vomit, or have had me smoke a little pot for some occasional relief?'
"He looked me in the eye and said, 'I would rather have seen you sick.' "
These days, Gee and her ex-husband are on much better terms. In fact, she writes in the closing pages of Higher Education, "Gordon and I spoke frequently over the course of my writing this book… [it] served in some ways as the couples therapy we should have pursued at difficult times in our marriage."
To Inside Higher Ed, Ms. Gee noted that Gordon Gee has read her book, and his public statement about it was very positive. (The statement reads, in full: "I have finally had an opportunity to read Constance Gee's book.  She writes with grace, humor and honesty. The book does focus on the tragedy and triumph of our time together and the struggles we faced in the intense crucible of public life. Through it all we have managed to maintain our friendship and respect for each other.")
"He's privately told me that he thought it was a really good read – that it was a little strange to see some of it in print, but that he thought I did a good job with it and I was fair," Ms. Gee added.
That reaction was a relief, she said, "because I do still care about what he thinks."
"I needed to write what I had to write, and I'm glad he was cool about it."