You have /5 articles left.
Sign up for a free account or log in.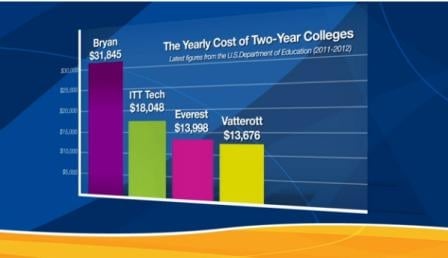 Ozarks Technical Community College is naming names in a marketing campaign that touts how its tuition stacks up against for-profits.
A TV commercial the college unveiled last week compares the $3,300 annual cost of tuition, fees, books and supplies at Ozarks to $32,000 at Bryan University, $18,000 at ITT Tech and roughly $14,000 at Everest College and Vatterott College.
"When looking at the costs, there is no comparison," a voiceover says during the commercial. "The numbers speak for themselves."
A pugnacious ad from a community college is rare. The sector generally avoids duking it out directly with for-profits, which have much bigger marketing budgets. But that may change as community colleges, like the rest of higher education, seek to demonstrate return on investment to an increasingly skeptical public.
"When you have a good thing going and you hide a light under a bushel, you're not very smart," said Hal L. Higdon, the chancellor at Ozarks, which is located in Springfield, Mo.
Enrollment is flat at many community colleges, after a broad surge in demand in the first couple years of the economic downturn. A cynic might suspect that Ozarks is chasing an elusive student market and trying to beat back strong competition from for-profits. Not so, however, as the college has struggled to meet heavy student demand, having seen its enrollment grow to 15,000 students from 9,000 several years ago. Ozarks has been forced to turn away students in allied health and technical programs.
Higdon also said for-profits haven't been a major threat. "I don't think they really hurt our enrollment."
So why create the campaign?
The answer, Higdon said, is to help prospective students and their families be better-informed about college costs. Good consumer information can be hard to find in higher education, and hysteria about sticker prices at expensive private colleges tends to dominate the discourse. Higdon said students often do not know how affordable Ozarks is, or how its costs compare to those at for-profits. The college backs up its assertions in the ad with data from the U.S. Department of Education.
"We want our students to be smart consumers," he said.
And for-profits do cause some problems for Ozarks. Higdon said students who have previously attended for-profits sometimes come to the college with heavy debt loads. Ozarks inherits those students' debt on what it reports to the federal government, which also hurts the college on loan default rates.
Ozarks is not alone in overtly taking on competitors. Southwestern Illinois College has tried a similar tack with a marketing campaign the two-year institution began a few years ago. Dubbed "SWIC-onomics," the campaign's print ads explain tuition at the college and how it is only a "fraction" of tuition levels at public and private universities.
More community colleges will likely test the water with bolder marketing, said Alan Moran, vice president of marketing and communications at Cuyahoga Community College. That will be a shift from a historic focus on advertising that pushes academic programs rather than "trying to show the value for attending the school," he said.
And while sagging student demand may not be an issue at Ozarks, other community colleges are suffering from it. They might need to get more aggressive to beat back for-profits, most of which are struggling with even steeper enrollment declines.
"Community colleges will not sit by idly when students in their backyards are being poached," said Moran.
Another reason Moran said community colleges will try different messages with prospective students is that the sector is increasingly getting into online education, which means trying to attract students from beyond their local areas. Cuyahoga is even marketing outside of Ohio.
However, he said the most effective advertisements are still those that try to show that an education at a community college leads to a good job or to further educational opportunities. Cuyahoga tests all of its ads, and the best responses are to stories about the success of actual students.
Ozarks is spending $20,000 on advertising during the first two weeks of the campaign. That's peanuts compared to what for-profits can spend on marketing, particularly national chains.
For-profits often claim that state support gives community colleges an advantage in competing on price, which is certainly true to some extent. But Higdon said Missouri doesn't get much credit for low tuition levels at Ozarks, which is roughly $4,000 for in-state students who live outside the local district. That's because the state kicks in just $962 annually per full-time student, with total state support covering 13 percent of the college's overall budget.
"We're among the worst-funded higher education in the country," he said.
Government funding probably isn't coming back for community colleges. And as the sector becomes more privatized, it will need to be savvy about marketing, said Higdon, who previously worked in business.
"Everyone's going to have to be there."
(Note: This article has been changed from an earlier version to correct a reference to Bryan University.)