Topics
D1 Hoops, For-Profit and Christian-Style
Division I sports has its first openly for-profit member, with the planned addition of Grand Canyon University.
For-profit higher education has its first Division I athletics program.
Grand Canyon University on Tuesday announced that it has accepted an invitation to join the Western Athletic Conference (WAC), an NCAA Division I conference. The publicly traded for-profit, which sports a growing, 6,500-student physical campus in Phoenix as well as an online enrollment of 42,000, will be the slowly reloading conference's sixth member when Grand Canyon begins competing in it next fall.
The university's move to the big leagues has been in the works for years. Grand Canyon this year was the most successful Division II program. It spent $9.5 million on athletics last year, university officials said. The university lacks a football team, but has men's and women's basketball squads, which are probably the highest-profile of its 22 sports teams.
The WAC has been hit hard by the conference realignment that has buffeted college sports. Several of its higher-profile members have been lured to greener pastures in recent years, with several more to go in 2013. Grand Canyon will be among three new members, including California State University's Bakersfield campus and Utah Valley University. Rounding out the conference are New Mexico State University, the University of Idaho and Seattle University.
Grand Canyon's addition is key to the WAC's "rebuilding," said Jeff Hurd, the conference's interim commissioner, in a written statement.
Not much is typical about Grand Canyon. The university is one of only a few major for-profits that have fared well over the last year, with continued enrollment growth amid steep declines across much of the industry. It was created in 2004 when investors purchased Grand Canyon College, a struggling nonprofit religious college in Phoenix. The university remained Christian throughout its for-profit transition, with a statement of faith and requirement for students to take a course on Christianity.
Grand Canyon's online programs have been booming, and the university has used some of that revenue to develop the Phoenix campus, with $200 million in facilities spending over the last three years. It also heavily discounts tuition with scholarships for students who attend the physical campus -- they pay an average of $7,800 per year on a sticker price of $16,500.
Many of those students appeared fired up about the WAC news. They helped pack the university's new, 4,700-seat arena for a rally Tuesday that Grand Canyon streamed on its website. Brian Mueller, the company's CEO, spoke at a podium while backed by a group of shirtless male students who spelled out the Grand Canyon mascot's name, the 'Lopes, with chest paint. Also speaking were Jan Brewer, the state's governor, and Greg Stanton, the mayor of Phoenix.
The university will be the first to combine two of the academy's most controversial issues -- big-time sports and for-profit higher education. And Mueller said Grand Canyon might receive extra scrutiny because of its Christian identity. As a result, the university would need to "do things right" with its athletics programs, he said.
In a recent interview, Grand Canyon's head men's basketball coach, Russ Pennell, said the university's for-profit status has been a non-factor in his job.
"I can't tell you any difference -- maybe others can, but I can't. To me this is the same as what I've known from 25 years of coaching," said Pennell, who has been an assistant coach at several traditional universities, including Oklahoma State University and Arizona State University.
The university's sports ambitions have faced resistance, however. Getting invited to Division II as a for-profit "was not an easy sell," said Keith Baker, Grand Canyon's director of athletics. And others have been skeptical about the move to the next level, he said.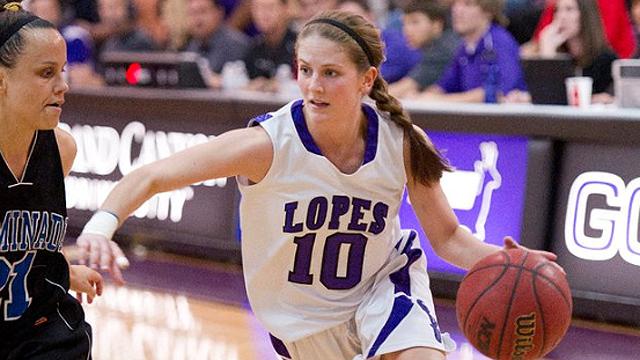 Christianity played a key role in Grand Canyon's decision to make the jump. Mueller said he hoped playing against institutions like the University of Notre Dame or the University of California at Los Angeles would help give more visibility to the university's Christian mission. And he quoted the Bible during the rally to make that point.
"A city on the hill cannot be hidden," Mueller said to cheers. "We need to do something to illuminate" the university's work, he said, and "athletics will give us a platform to do this."
Winning in Division I won't be easy, a challenge that Mueller acknowledged. But he said the university was committed to being successful.
Grand Canyon will play by a few different rules from the rest of its Division I peers. Sponsorship by corporations or individual donors will be trickier for a for-profit, according to Baker. For example, Grand Canyon won't be able to sell high-dollar seats with the lure of a tax write-off -- a technique many major athletics programs rely on.
News of the university's move to the WAC first broke in a corporate filing. The U.S. Securities and Exchange Commission requires publicly traded companies to disclose unscheduled events, so the university's holding company was obliged to distribute a news release about the WAC invitation 15 minutes before the rally kicked off in Phoenix.
Investors joined students in celebrating the news. The company's share price, which goes by its mascot's name on stock exchanges with the ticker symbol LOPE, went up 4.3 percent on Tuesday.
(Note: This article has been updated from an earlier version to correct an erroneous reference to Utah State University.)
Steve Kolowich contributed to this article.
You may also be interested in...
Today's News from Inside Higher Ed
Inside Higher Ed's Quick Takes