You have /5 articles left.
Sign up for a free account or log in.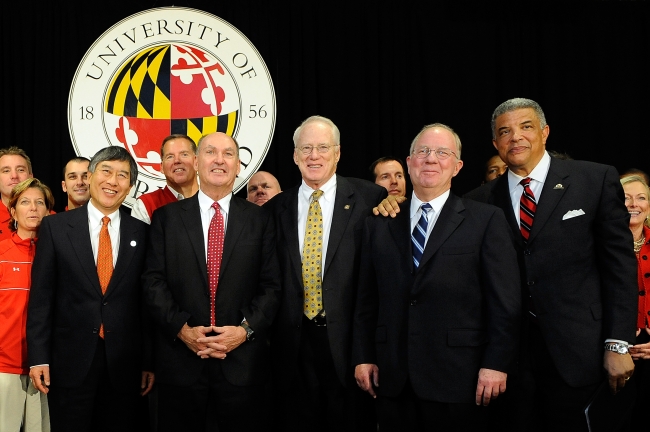 Conference realignment has gotten so out of control that few things have the power to shock anymore. But Monday's announcement that the University of Maryland at College Park would leave the Atlantic Coast Conference to join the Big Ten Conference seems to be among them.
That was true for many reasons. Geographically, it doesn't make sense -- but in this age, a shift in leagues in which a university jumps across regions for any given game is hardly unusual. But the move was also swift and secretive; when news of a potential switch broke on Saturday night, one regent told reporters it was the first that some board members had gotten word of it, which isn't surprising considering that Maryland President Wallace D. Loh said Monday that the entire deliberations and voting process took place in under three weeks.
Then there is the fact that William E. (Brit) Kirwan, chancellor of the University System of Maryland, is also co-chair of the Knight Commission on Intercollegiate Athletics and an outspoken critic of commercialization of college sports – and it's no secret that realignment is largely if not entirely driven by the search for a bigger bottom line.
And while insisting that the Big Ten is a good fit for Maryland academically, Loh and Kirwan both acknowledged that finances were a major factor here, and in citing future financial stability of athletics before all other reasons why the university changed conferences, Loh framed the increased revenue Maryland will reap from the deal as a life-saving cash infusion into a withering athletics program.
The regents' vote was not unanimous; about 10 percent opposed the decision, Kirwan said. One who did was Tom McMillen, a former Maryland basketball player and U.S. congressman.
"I'm not saying the substance wasn't meritorious," McMillen told The Washington Post. "There are arguments for it. But when you rush a process, it's antithetical. There was sympathy in some points, but it's all about money. It's all about money. That's what it is."
By the Numbers
$50 million
ACC Exit Fee
$57 million
Maryland annual athletics budget
$15.85 million
University and student fee funds in sports budget
$5 million
Maryland annual athletics budget deficit
$17 million
ACC member annual league payout
$24.6 million
Big Ten annual league payout
This summer, the university cut seven of its 27 varsity sports teams to help mitigate a budget deficit that's currently running at $5 million annually and was expected to top $17 million by 2017.
"Perhaps the most painful thing we have ever had to do is to look a student-athlete in the eye and tell them that, no, we could no longer support your team," Loh said at a news conference Monday afternoon. "By being members of the Big Ten Conference, we will be able to ensure the financial sustainability of Maryland athletics for decades to come."
Maryland must pay the newly raised $50 million exit fee to depart the ACC -- almost as much as the department's annual budget of $57.7 million -- but can (and probably will) negotiate with the Big Ten to cover part or all of it. Maryland was one of two ACC institutions in September to unsuccessfully oppose the fee increase, which more than doubled from the previous $20 million figure, at the same meeting where the conference voted in the University of Notre Dame as a member in all sports but football (which evidently, despite speculation to the contrary, did nothing to calm conference realignment).
The move will give Maryland a significant boost in its television contract earnings, as the Big Ten Network pays conference members about $24.6 million a year (as opposed to the $17 million Maryland gets now). The university also hopes to draw more fans as it competes against top-tier programs like the University of Michigan and Ohio State and Penn State Universities.
"Substantial funds" from that new revenue stream will go to support the university's educational mission via financial aid for needy students (and not just athletes), Loh said, asserting that Maryland is "doing nothing less than developing a new financial paradigm for intercollegiate athletics," whereby the program supports the university and not vice versa. Maryland is one of about two dozen athletic programs that are self-sufficient and, Loh said, not subsidized by taxpayer dollars. But it does receive considerable contributions from the university and student fees -- a total of $15.85 million in 2011, of the total sports budget of $61 million, according to USA Today's sports program database.
Loh and Maryland's athletics director, Kevin Anderson, also said they hoped to use the money to reinstate some of the teams that they cut earlier this year, but stopped short of committing to that or of saying how many of the seven teams (originally eight, before one raised enough money to survive for now) might be resurrected.
Loh spent some time Monday discussing the academic implications of joining the Big Ten -- in doing so, the university will also become a member of the prestigious Committee on Institutional Cooperation, a collaborative research consortium comprising the conference's universities plus the University of Chicago. The president said he didn't know if he would have wanted to change conferences had it not been for the CIC.
But Kirwan, a former Big Ten president at Ohio State, was the one who emphatically insisted that the move was in the best academic interests of the university (while neglecting to address the additional time and energy athletes will have to devote to travel).
The CIC, Kirwan said, is unmatched in academic collaboration anywhere else save possibly for the Ivy League, so the move will advance Maryland's academic mission. Like Loh, Kirwan raised his voice and gestured in aggressive enthusiasm as he spoke.
"I have said publicly, on numerous occasions, that my concern about all the money being generated by intercollegiate athletics programs is that it stays in athletics and in many cases creates an imbalance with spending," Kirwan said. "Wallace has made it very clear that this will not be the case with UMCP as a member…. This sends a powerful message about the appropriate role of athletics within our universities and it's the kind of commitment that I hope other universities both in the Big Ten and elsewhere will emulate."
Others have their doubts, and lamented that Kirwan would support such a move given his leadership on the Knight Commission.
"I'm sure that there are reasons that they're trying to spin, but to me it's just a money grab," said B. David Ridpath, an associate professor of sports administration at Ohio University who has written extensively (and critically) about college athletics. "I don't think anyone can think, when stuff like this happens, that academics or what's best for the athlete is even in the conversation."
Ridpath also questioned whether the move would in fact pay the anticipated financial dividends. Research and history have shown that when athletic revenue escalates, so too does spending – on coaches' salaries, extravagant facilities, travel expenses and the like. (Not to mention the ramped-up academic support that's going to be required for athletes in a more competitive and high-pressure environment.) Angry fans who valued Maryland's longstanding regional rivalries won't flock to Big Ten games, he speculated, and Maryland won't be competitive in most of those match-ups anyway.
Maryland's move is just the latest shake-up in a turbulent college sports landscape that has stretched the traditional conference rivalries and geographic ties in exchange for multimillion-dollar television contracts and access to football bowl games and new markets.
Ridpath sees Maryland's move as yet another step toward an inevitable scenario in which four Football Bowl Subdivision "super-conferences" of 16 teams dominate college sports. Today, Rutgers University is expected to join the Big Ten, bringing its head count to 14 teams, the same as the Southeastern Conference. The Pacific-12 Conference boasts as many members as its name suggests, while the ACC drops to 11 with Maryland's departure. Reports Monday indicated that the ACC would likely look to the Big East Conference, whose members have been fleeing with increasing frequency, to replace the Terrapins. The University of Connecticut is a potential target.
At the news conference, Big Ten Commissioner Jim Delany declined to comment on future expansion, while noting that geography is not as much a factor for conferences in these times and that it's better to be ahead of change than behind it.
Ridpath, for one, doesn't necessarily think the super-conference scenario is a bad one – especially if it leads those schools to dismiss the National Collegiate Athletic Association's notion of amateurism, which denies athletes financial and other benefits on the grounds that they're "students first," and which critics say grows increasingly hard to defend as college sports become more and more professionalized.