You have /5 articles left.
Sign up for a free account or log in.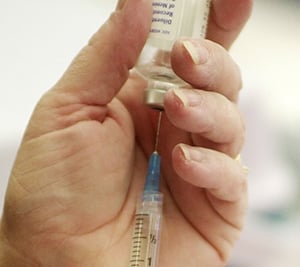 The cost and hassle of a required vaccination shot for bacterial meningitis might be helping to drive down enrollments at Texas community colleges, another reminder of the impact of even seemingly minor barriers to college on underserved student populations.
Last fall, about 13,000 fewer students were attending community college in the state compared to fall 2011, a dip of 1.8 percent, according to preliminary data from the Texas Higher Education Coordinating Board. The leveling off of enrollment in the state mirrors a national trend at two-year institutions, which had seen heavy student demand in the first couple years of the recession.
While it's impossible to say for sure what is contributing to the decline in Texas, a recently released analysis from the state board pointed to improving employment options in some parts of Texas, as well as tightened Pell Grant requirements and tuition increases.
The report also mentioned the possible impact of a new state law, which went into effect a year ago and requires incoming college students at public institutions to prove they have been vaccinated against bacterial meningitis at least 10 days before they register for classes. Tight quarters like residence halls and classrooms can be breeding grounds for the frightening disease, and the state has seen several high-profile cases among college students, at least one of which was fatal.
The law applies to students under the age of 30 who take on-campus classes, whether they live on campus or not. College administrators had initial worries about the red tape of complying with the regulation, and now some think it might be a factor in discouraging potential community college students.
The vaccine isn't cheap, running to $125 or more. That's a serious cost for many community college students in Texas, where in-district tuition and fees are roughly $65 per credit. And the relatively complex paperwork students must submit to prove they have complied or qualify for an exemption, as well as the 10-day waiting period, can also be dissuasions, particularly for students who often register for classes on short notice.
Rey García, president of the Texas Association of Community Colleges, said his organization believes the vaccination law is a factor in declining enrollment, although he cautions that there is no good way to collect data to support that theory.
"It might be the shot requirement is just the last straw for a student struggling to navigate college matriculation," he said via e-mail.
State Sen. Jane Nelson wants the Legislature to reconsider the policy next month, the Houston Chronicle reported. Nelson has introduced a bill that would lower the age exemption to 21.
"We are hopeful that the Texas Legislature will consider some reasonable changes to the meningitis shot requirement that will balance student interests and public health," García said.
The enrollment dip in the state varies widely across individual community colleges, according to preliminary estimates from the Texas Association of Community Colleges. The Houston Community College System and the Austin Community College District – two of the state's biggest – saw declines of 7 and 4.5 percent, respectively. A few, including Cisco College, Texarkana College and the Texas State Technical College System, experienced decreases that topped 10 percent. At the same time, several two-year institutions had increases. The Lone Star College System, another biggie, had a 3 percent bump.
Unemployment in the state has also declined, hitting 6.6 percent after a peak of 7.9 percent in 2011. Community college officials have said that flat enrollments are partially due to students who arrived during the worst of the recession, earned credentials and then used them to get jobs, some of which weren't available until recently. Also likely playing a role are tighter Pell Grant requirements, like the elimination of summer grants and those funding students beyond 150 percent of the standard time to graduation.
Nationwide, the end of the boom in student demand at two-year colleges could be seen as a relief. That's because contributions from state and local governments often did not keep pace with enrollment increases.