You have /5 articles left.
Sign up for a free account or log in.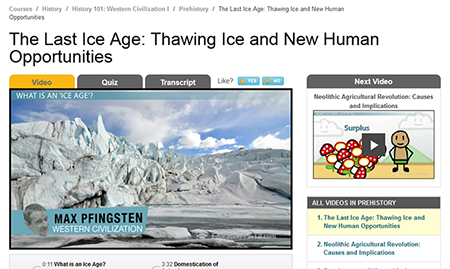 It was last December, and the University of Wisconsin at Green Bay's holiday break had begun. But Alex Stenner, a sophomore and human biology major there, spent his two weeks off earning three credits from the university. And he did it without attending a single class -- at a total cost of $90.
Free online courses don't lead to college credit, at least not directly. But students can use free course content from providers like the Saylor Foundation and Education Portal to study for "challenge exams," which may be the fastest and most inexpensive way to earn credits.
The examinations, like those offered by Excelsior College and the College Board's College Level Examination Program (CLEP), are designed to test whether students grasp the concepts that would be taught in a conventional classroom version of general education courses. In that sense, they combine elements of both competency-based education and prior-learning assessment.
Last year, about 18,000 people took Excelsior exams. And 76,000 passed CLEP exams, with 98,000 taking the tests.
Many, if not most, American colleges and universities accept that the tests are academically rigorous, and have accepted some Excelsior and CLEP exam credits, most of which cost less than $100. Another popular exam package is the U.S. Department of Defense's DSST, formerly known as the Dantes Subject Standardized Tests, which can earn credit recommendations from the American Council on Education (ACE). And colleges, particularly those that cater to adult students, also develop and offer their own challenge exams for prior-learning credit.
Stenner spent two weeks studying with Educational Portal's Psychology 101 course before taking the corresponding CLEP test. He had heard about CLEP when he was in high school and found Educational Portal with an Internet search.
He liked what he saw on the site. Like Saylor's offerings, Education Portal's courses are self-paced and prepackaged – or asynchronous, meaning that instructors create the courses and students work through them on their own schedules. They include bite-size video lectures and quizzes, and each course typically consists of 100 videos of 5-10 minutes each.
Education Portal's video lectures are snappy and have a professional production quality, but that's not the only draw.
"Obviously it was very appealing because it was free," Stenner said, adding that "I spent two weeks studying, as opposed to 15 weeks in a course."
The course wasn't easy, said Stenner, and he had to be disciplined to power through the material in two weeks. Students can take substantially longer to master the material. But Stenner wanted to finish before the end of the holidays. He passed the CLEP test on January 2.
Stenner said he has no regrets about not taking the intro psychology class at his university. He values personal connections with professors and his fellow students. But this course would have been taught in a big lecture hall, so according to his cost-benefit analysis, Education Portal was a better investment.  
"To me it just doesn't make sense to pay so much for entry-level courses," he said.
Deepening Partnerships
Massive open online courses could also be used by students to prepare for challenge exams. The California community college system, for example, is considering a partnership with popular MOOC providers to help students use the free courses to pass credit-bearing exams. And Excelsior is looking for MOOC content that is a good fit with its exams.
But for now, that pathway remains mostly a concept. Meanwhile, Saylor and Education Portal are busily working with Excelsior and CLEP to make sure an increasing number of their courses match up properly with challenge exam learning requirements.
This approach is similar to that of StraighterLine, an online course provider that offers low-cost ($99 per month is one option) and self-paced material that can lead to ACE credit recommendations. StraighterLine also partners with Excelsior, and the company recently announced 15 professor-taught courses.
Unlike StraighterLine, however, Education Portal and Saylor don't do testing or assessment. Nobody passes or fails. That option only comes if students try to take a challenge exam somewhere else.
Education Portal, for example, offers 31 courses that are linked to credit-bearing challenge exams – 16 geared to CLEP, two to Excelsior and eight that match up with both types of exams. The for-profit startup, which is based in Silicon Valley, is also a Web publishing company with material aimed at advising students on career and college choices. Advertisements on that side of the business generate revenue, company officials said, which keeps the courses free.
The company employs 53 video instructors, who hold master's degrees or Ph.D.s. Ben Wilson, Education Portal's co-founder, said the company might consider licensing course content to colleges. And advertising on the course portals could be another revenue stream.
Saylor is a nonprofit that offers 270 free online courses. The foundation has created a full suite of courses for a dozen popular undergraduate majors.
So far Saylor has launched only one course that is "aligned" with an Excelsior exam – in single-variable calculus. But foundation officials said six more courses are in development, with likely release dates this year. And Thomas Edison State College, which is located in New Jersey, is partnering with Saylor to create six challenge exams that are synched to Saylor courses.
Those collaborations are labor-intensive, said both exam creators and course providers. Learning objectives in the exams are mapped out, and any gaps in the course material must be filled in. But officials with Education Portal and Saylor think enough students will be attracted to the credit pathway to make the work worthwhile.
Saylor would also take on more college partners, said Jeffery Davidson, the foundation's strategic initiatives manager.
"We stand ready to work with any college that wants to develop their own exams," he said.
Extra Help
The College Board produces study guides and sample tests for CLEP. It also suggests externally produced online study material, albeit somewhat tentatively. Excelsior goes somewhat further by directing students to Open Educational Resources (OER) that specifically cover the bases for their credit-bearing tests.
Students can study a free online textbook to prepare for an exam, said Mika Hoffman, executive director for Excelsior's Center for Educational Measurement.  But to do that successfully requires plenty of self-motivation.
"There are a lot of other students who need more help," Hoffman said. "It's not very engaging to read a textbook cover-to-cover."
In contrast, Hoffman said the material from Saylor and Education Portal is meant to pull students along. Concepts are broken out individually, with extra attention to tricky ones. (She explains, in an online presentation, how Excelsior matches its assessments to free content.)
"We give a lot of guidance along the way," said Devon Ritter, Saylor's special projects administrator.
Hoffman calls material from both providers a "great match" with Excelsior's exams. One reason, she said, is that they are focused on general education courses, where, at least arguably, a standardized approach to helping students master content can be more valuable than professors' individual teaching styles with the material.
In that sense, the two free course providers are taking a page out of the playbook of for-profit institutions, like the University of Phoenix, which pioneered standardized curriculums. And Hoffman said that approach also sets Saylor and Education Portal apart from major MOOC providers, like Coursera, Udacity and edX.
"They're much more like the elite universities," she said of MOOCs. "It really matters to them who teaches the courses and the stamp they put on it."
Stenner said he doesn't want to miss out on learning from talented professors at his university. But that mostly applies to upper-division and major-specific courses, he said, not "impersonal" ones taught in large classrooms. Stenner plans to take another Education Portal course this summer, in history, and he's spreading the word about how he used free courses to pass challenge exams.
"I've told everybody," Stenner said.