You have /5 articles left.
Sign up for a free account or log in.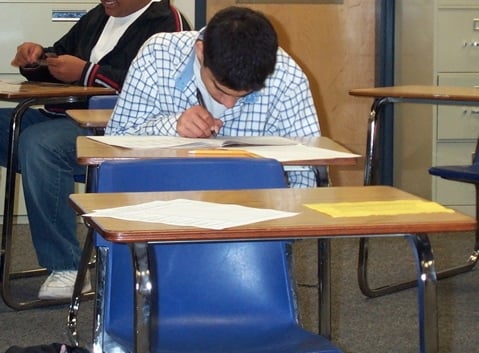 Part swan song, part favor for a friend, Ken Bernstein's letter to college professors upon his retirement from teaching high school government is generating buzz across higher education.
Called "Warnings From the Trenches," the piece alerts professors to the generation of No-Child-Left-Behinders they've begun to inherit in their classrooms and what standardized test-driven K-12 educations will mean for college-level teaching and learning.
"No Child Left Behind went into effect for the 2002-3 academic year, which means that America's public schools have been operating under the pressures and constrictions imposed by that law for a decade," largely sacrificing meaningful content and development of critical thinking and writing skills for test preparation, Bernstein wrote. In other words, if it wasn't tested, it wasn't taught.
"Thus, students arriving in our high school lacked experience and knowledge about how to do the kinds of writing that are expected at higher levels of education," he wrote. And even though high school teachers may try their best to make up for lost time, they, too, are held accountable for standardized test scores. Beyond mandatory state tests, the broad scope of Advanced Placement exams can have the same short-sighted effect on instruction, he added (many of Bernstein's courses were AP U.S. government and politics).
Consequently, he said in an interview, students now arriving at college -- even elite ones -- are better at "filling in bubbles" than thinking outside a discrete set of multiple choices, in the ways the higher education and adult life demand.
Bernstein said he'd planned on retiring from his Maryland high school several years from now, but decided to leave last month due to a combination of factors, including the increasingly frustrating nature of teaching in a test-focused system. The longtime teacher –  who's been blogging for years about education, often with the political blog Daily Kos – originally wrote the piece for the American Association of University Professors' journal Academe. He did so at the urging of its editor, Aaron Barlow, a friend and sometime collaborator on independent projects.
Barlow said his own work as an English professor at New York City College of Technology and as an instructor for another early-college composition program have made him "keenly aware of the growing problems for students entering college out of what has become test-heavy secondary education."
Getting someone "outside the ivory tower" to speak to the issue has proven an effective way to promote the conversation both within and outside academe, Barlow said, referring to the wave of attention Bernstein's letter has attracted, including a spot in The Washington Post's popular The Answer Sheet column (from which it's been recommended on Facebook 92,000 times). Diane Ravitch, prominent education historian and professor at New York University, said on her blog that "Warnings from the Trenches" was "unquestionably the most remarkable and powerful piece that Ken Bernstein has written. Please read it." He's also received more than 180 personal e-mails and can hardly keep up with the comments being posted in response to its various online links.
David Glidden, professor of philosophy at the University of California at Riverside, was among those who e-mailed to express solidarity and a concern for where standardized testing is leading education. After teaching for 37 years, he said he's seen a dramatic drop in student writing ability during the last decade, as have his colleagues.
"None of us blame our high school teachers," he wrote in his e-mail to Bernstein. "We quite realize that the terms of instruction established by the teach-to-the-test system have undermined the ability of students to think and advance critical views in writing, or in speaking for that matter."
In an interview, Glidden said that on its face, No Child Left Behind "seems like a great thing." In reality, however, he said, it doesn't "go deep enough" to test skills needed for success in higher education. "How to make facts into insights and arguments and develop theses and defend them is not tested and not encouraged in the teaching of high school students."
Although Bernstein said some have accused him of shirking accountability and being a "unionized hack," he said most responses, like Glidden's, have been positive and "humbling." He said he believes his piece has been so resonant with so many because it represents not only his own experiences but experiences that colleagues have shared with him spanning many years.
"I have one voice and I can talk or write with a certain amount of cogency, but this is just the tip of the iceberg," he said. "If there were more cases where more voices were heard, maybe policy makers might wake up."
Because teachers "have very little say in what is happening in public education," Bernstein in the piece asks professors to speak out against harmful education policies and warns them of the creep of high-stakes assessment into higher education. He cites proposals to rate teacher education programs by the test scores of graduates' students as one example.
In closing, Bernstein apologizes to professors for being among high school teachers "who understood the problems that were being created [but] were unable to do more to stop the damage to the education of our young people." Many tried, he said, and "[m]any of us are leaving sooner than we had planned because the policies already in effect and those now being implemented mean that we are increasingly restricted in how we teach."