You have /5 articles left.
Sign up for a free account or log in.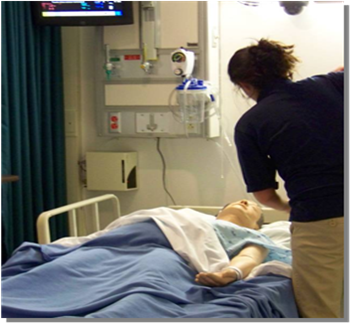 Most community colleges could easily put federal grant money to good use plugging up budget holes after years of slashing by states. But the U.S. Department of Labor's $2 billion in workforce development funding for the sector was designed to encourage two-year colleges to make lasting, ambitious changes instead of just back-filling budgets. And that approach seems to be working.
The 15 community colleges in Massachusetts, for example, have shared $20 million from the Labor Department to create new or redesigned credentials, which are aimed at unemployed or underemployed adults.
The colleges have also used the money to sharpen their focus on career services. Rather than just trying to help students find jobs as they finish degree programs, each one has hired a full-time "career and college navigator" to lend a hand to students throughout their time on campus.
Ana Sanchez, the new navigator at Springfield Technical Community College, describes herself as a matchmaker between students and local employers, including hospitals, government agencies and local companies.
Her most important role, however, might be helping students cope with the demands of their daily lives, including childcare, managing their finances and figuring out how to commute between jobs and school. "It's really important to help them with those challenges," said Sanchez.
Under the program, the state's community colleges have worked with employers to create accelerated training for students in six targeted industries: health care, advanced manufacturing, IT, biotechnology, green energy and financial services. The colleges have called the three-year program the Massachusetts Community Colleges and Workforce Development Transformation Agenda.
That grant is one of many that have gone to consortiums. But a few individual colleges also received grants. (Lists of grantees are available here and here. And see box for a few notable examples.)
Created in 2010, the package of Labor Department grants is dubbed the Trade Adjustment Assistance Community College and Career Training Program, (TAACCCT, a long acronym even for Washington). It replaced the Obama Administration's proposed $12 billion American Graduation Initiative that was also aimed at community colleges, but which failed to get Congressional approval.
The Labor Department last month announced the third wave of approximately $500 million in funding under the program, bringing the total so far to $1.5 billion. The last round is slated for next year.
Notable Labor Department grants
North Carolina Advanced Manufacturing Alliance: $19 million for 10 community colleges to address gaps in education and training in advanced manufacturing.
Pennsylvania Consortium of Community Colleges: $20 million for the state's 20 community colleges with an initial focus on electronic medical records technology, advanced manufacturing and renewable energy.
National STEM Consortium: $20 million for 10 community colleges in nine states, which are developing one-year certificates in five high-demand fields with industry partners.
National Information, Security and Geospatial Technology Consortium: $20 million for seven community colleges in six states with focus on advanced IT fields.
Illinois Green Economy Network Career Pathways: $19 million for 17 community colleges to develop training programs in eight green economy industries.
To land a grant, colleges need to make the case that they will quickly create career training paths for high-wage, high-skill jobs. They are also encouraged to experiment with ways to speed up the time students need to spend earning a degree or credential. As a result, the program gives a nudge to prior-learning assessment, competency-based education and stackable credentials, which offer a path for students to duck in and out of college as needed, beginning with short-term certificates earned in as little as one semester.
"This is about encouraging colleges to think more creatively," said Kathryn Jo Mannes, senior vice president for workforce and economic development at the American Association of Community Colleges. That means building partnerships with industry that will last.
"It's not just a proposal-writing exercise," Mannes said of the grants. "They're meant to survive the exhaustion of federal funds."
Competencies and Stackable Credentials
By giving priority to larger clusters of colleges, the Labor Department sought to create cooperation that can be rare in higher education. But the broad scope of the grants was initially confusing to some.
For example, with six target industries, the Massachusetts program seemed a bit scattershot at first. But observers said the colleges quickly settled into niches. That means institutions have taken the lead in working with industries that are particularly strong in their backyards, like health care for Boston-area colleges.
Jennifer Freeman, the grant's project manager, said the overarching goal is to make the state's community colleges more of a go-to place for technical and middle-income jobs. That's a shift, she said, because many in the state had viewed the primary purpose of community colleges as being transfer prep for four-year institutions, instead of direct training for jobs.
The presidents of the 15 Massachusetts colleges decided to apply jointly for the money.
"This is the largest thing they have ever done as a consortium," Freeman said, adding that "it wasn't called a transformation agenda lightly."
One of the project's first steps was to develop a common set of competencies for each featured industry, which were then woven into curriculums. That was hardly an easy task, particularly given the grant's relatively compressed time frame.
For advanced manufacturing, the final product was a pyramid of competencies employees should ideally master to work at various job levels. The colleges worked with manufacturers statewide to develop those standards.
For example, in the precision machining field, entry-level jobs like assemblers or warehouse workers should have skills in five major areas: shop math, blueprint reading, metrology, problem solving and workplace readiness. But further up the pyramid, supervisors and managers should hold certificates and degrees in manufacturing technology, as well as more learned skills, such as programming, and a minimum number of hours working in the industry.
The project has led to far more than a smattering of new academic offerings. Over all, the colleges plan to create more than 85 new degree, certificate and noncredit programs in the six industry fields. About 2,000 students are currently enrolled in those programs.
Many of the new credentials are designed to be stackable. Freeman said the manufacturing and health care tracks in particular include a series of certificates and degrees for students to build upon as they progress in their jobs.
Angela Bellas, the initiative's program manager at the Springfield campus, said the college created new short-term certificates in health care for patient care technicians and medical administrative assistants. Most of those credentials will be 16-18 credits, she said, which means they can be earned in a semester or two.
Part of the challenge the Massachusetts colleges have faced is making sure that noncredit programs match up well with credit-bearing ones. That becomes more important in a stackable pathway. Freeman said "colleges are really rolling up their sleeves" to improve articulation between programs.
The first step to a job for students, however, is probably their initial conversations with navigators. Sanchez said many students say they are interested in health care when they first enroll. "Everybody wants to be a nurse," she said.
Part of her job, Sanchez said, is injecting a dose of reality. She typically asks aspiring nurses about their math and science skills, which are key requirements in nursing. Sanchez makes sure students know how much work it might take to land a job.
"Let's do baby steps," she tells them.