You have /5 articles left.
Sign up for a free account or log in.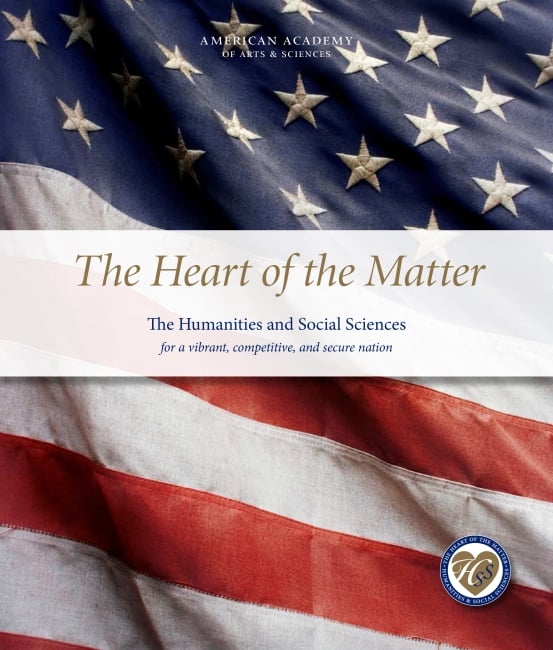 From states considering differential tuition that would be punitive toward the humanities to talk of tying state funding to the production of "high-demand" degrees, there's a general sense that the humanities and social sciences are under attack. But a new report out today argues that they play a vital role in growing an informed, career-oriented population equipped for leadership in an increasingly interconnected world.
"At the very moment when China and some European nations are seeking to replicate our model of broad education in the humanities, social sciences and natural sciences as a stimulus to innovation and a source of social cohesion," the American Academy of Arts and Sciences' "The Heart of the Matter" report reads, "we are instead narrowing our focus and abandoning our sense of what education has been and should continue to be – our sense of what makes America great."
The report notes the challenges facing the humanities and social sciences – including decreased funding and a lack of integration between K-12 and higher education – in the United States, and makes recommendations for overcoming them, in both education and the broader culture. The report seeks to advance three goals: educating Americans in the knowledge, skills and understanding they'll need to thrive in 21st-century democracy; fostering a society that is innovative, competitive and strong; and readying the nation for global leadership.
Recommendations for higher education include making the case for the liberal arts, especially as doubts about its value grow. "[C]olleges must do their part to control costs and assure that resources are aligned with their fundamental mission," the report reads. "But even as they do so, colleges have important work to do in explaining what the value of their education consists of, and assuring that they are living up to this promise." The central message must be that thriving long-term in the job market depends on developing "qualities of mind: inquisitiveness, perceptiveness, the ability to put a received idea to a new purpose, and the ability to share and build ideas with a diverse world of others."
Faculty, as guardians of the curriculum, are particularly responsible for "assessing offerings in light of high liberal arts ideals," the report says. Research-oriented course offerings are valuable, but "college and university curricula must also offer the broad-gauged, integrative courses on which liberal education can be grounded, and such foundations need to be offered by compelling teachers." That means a curriculum that meets students' needs broadly and prepares them for the lives that await them, the report states, "not one that simply mirrors the map of current faculty specializations."
The commission applauds the efforts of some colleges and universities that already have created strategic planning groups and reform measures to invigorate liberal arts instruction, and encourages dialogue across campuses to share best practices. It also praises efforts to promote greater integration across curricular domains. "Interdisciplinary research centers, which often stand at the crossroads of the arts and sciences, offer opportunities for undergraduates to take a direct role in exploration, and to bring the parts of their study into a coherent whole," says the report, which also encourages the increasing diversity of online course offerings in the humanities.
The study's recommendations for K-12 education also have implications for academe. Citing a disconnect between primary, secondary and higher education, it calls for college and university faculty "to reach out to their teaching colleagues in K-12 schools, and teachers should be encouraged to participate in the broader intellectual exchanges that has been, for decades, the purview solely of higher education." That means lifting the professional status of teachers, as well as their professional qualifications. Fewer than 30 percent of public high school teachers are taught by a history teacher with a degree and certification in history, for example, and this may be reflected in student learning outcomes: In 2010, just 45 percent of high school students demonstrated at least a basic understanding of U.S. history, according to one cited study. The commission encourages states and school districts to facilitate the entry of advanced degree-holders into K-12 teaching through revised certification procedures and fellowships, as well as federal loan forgiveness programs.
It also recommends the creation of a humanities-focused national initiative similar to the STEM Master Teacher Corps proposed by President Obama last year to attract and retain talent and encourage teacher cooperation to advance discipline education across the country.
The academy assembled a 41-member, blue-ribbon Commission on the Humanities and Social Sciences in 2011 to complete the report, following a request from Senators Lamar Alexander (R-Tenn.) and Mark Warner (D-Va.), as well as Representatives Tom Petri (R-Wisc.) and David Price (D-N.C.) to identify top actions that Congress, state governments, universities, educators and others should take to "maintain national excellence in humanities and social scientific scholarship and education, and to achieve long-term national goals for our intellectual and economic well-being; for a stronger, more vibrant civil society; and for the success of cultural diplomacy in the 21st century." It also meant to serve as a counterpoint to a similar research effort on the future of the sciences by the National Academy of Sciences. Members included college and university presidents, former governors, corporate heavyweights and celebrities, some of whom contributed to the report's accompanying film of the same name by Ken Burns.
The academy, which is currently without a president, referred questions to Richard Brodhead, commission co-chair and president of Duke University. Brodhead said the commission met several times as a group and as subgroups, and held forums throughout the country to gather data and opinions for the report. Although the commission included people from careers as varied as politics and engineering, he said, "When asked if you'd like to be part of something to lift up the value of the humanities and social sciences, everybody instantly said yes." The enthusiasm continued throughout the project, he added.
"Many of us felt that we're living in a time when education is more important than ever, and the public discussion is quite narrow in focus," he said. "Various people have advocated shortsighted ways of measuring the value of an education, but the main thing about education is that, when it's done right, it sets you up for life."
Other key recommendations include supporting full literacy as the foundation for all learning; increased investment in research and discovery, both from the federal government (which has been reduced disproportionately in recent years; the humanities and law were the only research fields in which the federal share of academic research expenditures were appreciably smaller in 2011 than six years earlier, according to the report) and through public private partnerships; and encouraging all disciplines to address global "Grand Challenges" together.
To compete on an international platform, the commission recommends promoting language learning at the K-12 and college levels; expanding education in international affairs and transnational studies through the creation of a new "National Competitiveness Act" which, similar to the National Defense Act, would include funding for education in international affairs and transnational studies; encouraging all students to study abroad, in part by increasing support for the Fulbright Program and the Education Department's Title VI international and language programs; and developing a "Culture Corps" to match veterans, artists, library and museum personnel, among others, with schools and community centers to share humanistic and social science expertise from one generation to the next.
Steven Knapp, president of George Washington University and a member of the commission, said the report aimed not to diminish the so-called STEM (science, technology, engineering and math) fields, but rather to ensure that the humanities and social sciences don't get "neglected" in higher education discussions that increasingly are focused on immediate, practical goals.
"The main thing about this is to start a conversation and a national dialogue about the possibility of losing something that's really critical to the health of our nation here," said Knapp, who has testified before Congress as to the value of the humanities. "It's about keeping alive and present all those sources knowledge of that are perceived by other nations as something to emulate."
Asked about the commission's next steps, Brodhead echoed Knapp. "We've always understood that the publication of this report is just the beginning of a long process," he said -- one that will involve persuading the federal government, private and public institutions and the general public to "pull together in the name of the overriding value of the humanities and social sciences." He noted that the America COMPETES Act promoting excellence in science, education and technology, wasn't passed until 2007, several years after the publication of the report that inspired it, "Rising Above the Gathering Storm: Energizing and Employing America for a Brighter Economic Future." In that report by National Academies, author Norman Augustine argued that said if the U.S. didn't advance its math and science education, it would fall behind in global competitiveness. (Augustine, retired chairman and chief executive of Lockheed Martin Corporation, also served on the humanities and social sciences committee.)
Warner said he commended the commissioners for the work. "Having a strong knowledge of civics, comprehensive reading and writing skills, and an appreciation of history are important for a well-rounded member of the 21st-century world," he said. "We must use this report as a foundation to continue to engage with the public on how best to keep our humanities and social sciences robust."
The report has earned early praise from leaders in the humanities and social sciences. Rosemary Feal, executive director of the Modern Language Association, called the report "spot-on"  in its recognition of the centrality of language study in education and the need to support language teachers.
"The report provides sound documentation for the value of the humanities and I hope that administrators, government agencies and private citizens will take the recommendations seriously and cooperate in a broad effort" to reach its identified goals, Feal said. "If people read the report carefully, I don't see how they can disagree with the goals or ignore its recommendations."
James Grossman, executive director of the American Historical Association, said the report succeeding in making the critical point that the humanities aren't at odds with career-oriented education, but rather underpin them.
By fostering a deep appreciation for the past and contextualization, "what the humanities prepares you for is a trajectory," he said. "Humanities education may not prepare you for a job, but humanities education prepares you for a career."
Additionally, he said he agreed with the report's support emphasis on having trained historians teaching history in U.S. schools. "A teacher cannot properly convey content knowledge unless a teacher has an understanding of the discipline."
In a statement, Richard Ekman, president of the Council of Independent Colleges, also praised the commission's work. "The goals and recommendations offered in the report certainly will spark a much-needed, national conversation about the imperative to foster the critical thinking, complex, problem-solving, and written and oral communication skills of all Americans," he said.