You have /5 articles left.
Sign up for a free account or log in.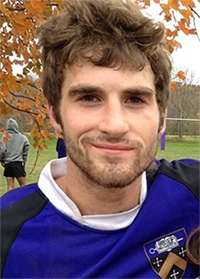 Andrew Pochter, a Kenyon College student, was killed Friday while observing a protest in Alexandria, Egypt. The stabbing death of the idealistic student, who was on a summer internship in which he was teaching English to children, has shaken many at Kenyon and drawn attention to safety issues facing American students in Egypt. He was reportedly watching, but not participating in, a protest when he was attacked.
On Friday, the U.S. State Department urged Americans to "defer non-essential travel to Egypt at this time due to the continuing possibility of political and social unrest."
American University in Cairo announced Friday that it would close all campuses from Friday through Sunday. Then this morning the university announced that its campuses would again be closed today. A spokeswoman for the university said that there are 95 American students enrolled this summer and that there have been no requests to leave. All of the university's international students were asked to remain in their dormitory this weekend.
Cairo and Damascus -- once popular places for Americans to learn Arabic, especially in summer programs -- have seen far fewer American students in recent years, since the Arab spring and the Syrian civil war have led to instability in both Egypt and Syria. Of late, more students have been enrolling at American University of Beirut.
Some colleges have continued to try to plan study abroad in Egypt, but security concerns have been a factor -- even before Friday's events. In April, Georgetown University cited safety issues in calling off a planned program this summer in Alexandria. In February 2011, the university had to evacuate some of its students from Cairo.
The University of Minnesota-Twin Cities has some students in Egypt now, and is monitoring the situation but not currently planning to bring them back. Amideast, the group through which Pochter was in Egypt, said in a statement that it "continues to monitor the security situation carefully and take all available measures to safeguard its staff and the students and clients enrolled in its training programs."
Kenyon's statement about Pochter described him as the kind of student whom colleges would prize. He had spent a year in Morocco before starting at Kenyon, and become fascinated by the Middle East. At Kenyon, Pochter was involved in Jewish life (he was raised Christian by parents of different faiths, but embraced his Jewish heritage at college) and in promoting discussions of the Israeli-Palestinian conflict. He was a religious studies major, and studied Arabic. He was active in a fraternity and the college radio station, and played on the rugby team.
But he was particularly fascinated by the Middle East. He had planned to return to Kenyon for the fall semester and then to go to Jordan for the spring semester.
During his time in Morocco, Pochter watched the fallout there from the Arab spring, and he wrote about it for the Middle Eastern publication Al Arabiya.
On YouTube, Pochter can be seen participating with a fellow student at Kenyon in a poetry slam designed to highlight Israeli and Palestinian views.