You have /5 articles left.
Sign up for a free account or log in.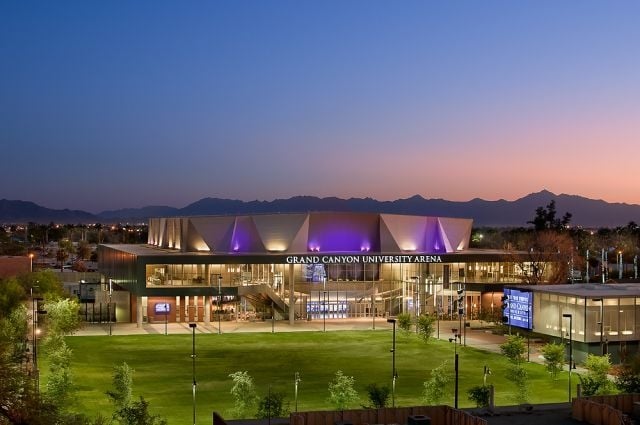 Big-time college athletics and publicly traded for-profit colleges have a few things in common. Both excel at marketing, know their way around multimillion-dollar corporate deals and have plenty of critics. But to the leaders of Pac-12 Conference universities, for-profits have no business being in the NCAA's Division I.
CEOs of all 12 of the conference's members wrote to the NCAA's Board of Directors to express concern about how athletics fit within the academic missions of for-profit institutions. Traditional universities' nonprofit status "ensures" that athletics are integrated into their academic missions, they said, and makes the "success of ... student-athletes" the central measuring stick of how the Pac-12 performs.
"In contrast, the incentives for for-profit colleges are not aligned with their students, and even less so with their student-athletes," according to the letter. "For-profit colleges are owned and operated by businesses and are not accountable to their students or faculty. Their primary responsibility is to their shareholders."
The Pac-12 members have all agreed to not play teams from Grand Canyon, officials on both sides confirmed.
A few observers scoffed at the indignation about corporate ownership from a BCS conference that two years ago inked a $2.7 billion media rights deal with the ESPN and Fox television networks. And while university presidents often refer to football and men's basketball programs as their institutions' "front porch" -- as outreach to alumni and marketing that would cost millions if not billions to generate -- major college athletics are facing an avalanche of criticism and a high-profile antitrust lawsuit.
"The gesture by the Pac-12 schools may be driven by snobbism at best and pecuniary self-interest at worst," said Trace A. Urdan, a senior analyst with Wells Fargo, who typically has a favorable view of for-profits.
The Pac-12 presidents, however, insist that the financial structures of their athletic operations -- even if lucrative in some cases -- are not run like corporations.
"Our institutions retain their full share of net revenue, including any surplus revenue, to fund improvements to their academic programs, faculty and facilities that ultimately benefit their students and communities," they wrote.
That distinction might not be as substantial as the Pac-12 leaders claim, said Michael McCann, director of the Sports and Entertainment Law Institute at the University of New Hampshire's School of Law. That's because much of the revenue from top sports programs gets reinvested in athletic departments, where budgets have grown significantly in recent years.
McCann also said academics have criticized the transparency of athletics budgets at some universities.
"College sports are clearly for profit," said McCann, who is also a law professor. "The days of pure amateurism have been gone for years if not decades."
Earnings Call that Rankled
CBSSports.com first reported on the Pac-12 letter.
The new front in the for-profit wars is linked to Grand Canyon University's move up from Division II to the Western Athletic Conference (WAC), which began last month. The university, which has a Christian identity and is owned by a publicly traded company, is the first for-profit to join Division I.
The university has a large online enrollment as well as a traditional campus in Phoenix, which will have an expected student body of 8,500 this fall. It lacks a football team, but fields 22 athletics squads, including men's and women's basketball teams.
Grand Canyon has sought to schedule more Division I opponents as it makes the jump up. The university tried to book games with several Pac-12 universities, said Michael Crow, president of Arizona State University, which is a conference member.
Crow said he and other Pac-12 CEOs were unhappy with how Grand Canyon's leaders have talked up their move to the big time.
"They're trying to game college athletics to drive up their stock price," Crow said in an interview. "It's just too much."
He cited a February earnings call with investors in which company officials described an upcoming game with a prestigious Pac-12 member. In earnings calls for-profits typically give shareholders and analysts broad updates on matters of fiscal, academic and operational performance.
"Our coaches are busy building Division I schedules and are recruiting Division I athletes. Our media people are negotiating television and radio broadcast deals, and our athletic director is negotiating contracts with major shoe, apparel and equipment companies," said Brian E. Mueller, Grand Canyon's CEO and president, according to a transcript of the call. "The Division I move will obviously raise the visibility and brand strength of the university. A fall 2013 highlight will be a soccer match versus Stanford University, likely televised by the Pac-12 Network."
Now that match will probably not occur.
"We decided in the spring to not play them anymore," Crow said of his university, which has its main campus 15 miles from Grand Canyon's. The other Pac-12 universities will also avoid scheduling the for-profit, said Crow.
The Pac-12's beef goes beyond Grand Canyon. The letter called for a discussion by the NCAA's board of directors about for-profits in Division I. That request will be granted during the board's August meeting, according to Grand Canyon officials.
Crow acknowledged that running a Division I athletic program is challenging. But he said the Pac-12 wants to avoid adding worries about for-profits and the stock market. In particular, Crow and the other presidents don't like the idea of success in sports benefiting shareholders.
"It's already difficult to manage," he said. "We're just trying to make sure it doesn't become more difficult."
See You at the Big Dance?
Grand Canyon fired back last week, arguing that its tax status has never been an issue during the 10 years the university has competed in Division II as a for-profit.
The 'Lopes, which is short for the Antelopes and doubles as the company's stock ticker (LOPE), were the nation's most successful Division II program last year.
The university holds accreditation from the same regional accreditor as Arizona State, Mueller said in a written statement. It enrolls 47,000 students online. Thanks in part to that success, Grand Canyon over the last four years has spent $300 million on classrooms, residence halls and other campus facilities.
Analysts say Grand Canyon has generally doled out smaller profit shares to investors than have other for-profit chains. Mueller said the university has chosen instead to spend much of its cash reserves on students and an educational infrastructure. And he said nonprofit institutions also answer to financial stakeholders, specifically taxpayers and private donors.
"Grand Canyon does not receive state subsidies or donations," he said. "In fact, we pay taxes in the 40 percent tax bracket."
Mueller said Crow had led the Pac-12's opposition to for-profits. He said Arizona State is reacting to local competition.
"We are disappointed in these attacks against our reputation," said Mueller. "We believe the real motivation is the competitive environment for both traditional and nontraditional students in Arizona."
Crow denied that was the case, arguing that the university's only concern is with for-profits in Division I athletics.
Both Mueller and Crow refrained from criticizing academics at each other's institutions. But the Pac-12 letter linked to a scathing report about for-profit institutions that Sen. Tom Harkin released last year, which included a somewhat unflattering section on Grand Canyon. And Mueller said Crow turned down a request for a meeting with Grand Canyon officials.
Grand Canyon's teams have squared off against teams from Arizona State 22 times in various sports since 2004, and five times last year.
A review of the NCAA's website shows that Grand Canyon stacks up relatively well against Arizona State in the graduation rates of its student athletes. Arizona State tops the for-profit overall. But Grand Canyon outperformed its neighbor in baseball, softball and men's track team graduation rates, among others.
In 2011 Grand Canyon celebrated the opening of its new, 4,700-seat arena with an exhibition game of men's hoops against Arizona State. The 'Lopes dropped what might have been the first and last tilt with its Phoenix neighbor by a score of 89-69.
However, things could get interesting if a Grand Canyon basketball team were to land a spot in the NCAA tournament when it becomes eligible in a few years. The university might then draw a Pac-12 opponent in the tourney.
Grand Canyon's fans are certainly hoping for a trip to the Big Dance someday. To help make that happen, the for-profit earlier this year hired Dan Majerle, a former professional basketball star for the hometown Phoenix Suns, to coach the men's team.