You have /5 articles left.
Sign up for a free account or log in.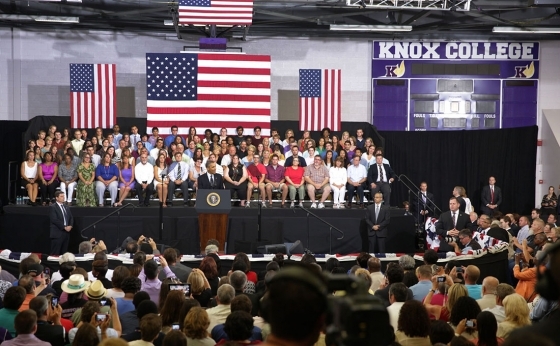 President Obama vowed Wednesday that he would soon unveil a plan to promote significant reform in higher education -- with an emphasis on controlling what colleges charge students and families.
"[I]n the coming months, I will lay out an aggressive strategy to shake up the system, tackle rising costs, and improve value for middle-class students and their families. It is critical that we make sure that college is affordable for every single American who's willing to work for it," said Obama, in a speech at Knox College.
The overall topic of his address was the economy, with a focus on the middle class. But in a brief section of the speech, the president spoke forcefully about higher education and the need to consider new ways of doing business. The president noted his administration's previous efforts to increase student aid funds and to solve the current dispute over interest rates on student loans, but he said such efforts were inadequate.
"Families and taxpayers can't just keep paying more and more and more into an undisciplined system where costs just keep on going up and up and up. We'll never have enough loan money, we'll never have enough grant money, to keep up with costs that are going up 5, 6, 7 percent a year. We've got to get more out of what we pay for," Obama said.
"Now, some colleges are testing new approaches to shorten the path to a degree, or blending teaching with online learning to help students master material and earn credits in less time.  In some states, they're testing new ways to fund college based not just on how many students enroll, but how many of them graduate, how well did they do," he said. "And in the coming months, I will lay out an aggressive strategy to shake up the system, tackle rising costs, and improve value for middle-class students and their families.  It is critical that we make sure that college is affordable for every single American who's willing to work for it."
While President Obama has consistently talked about the importance of higher education, his rhetoric on responsibility for college costs, and on the need for significant change, has been mixed. On Wednesday, he was using phrases like "undisciplined system" and promising a plan to "shake up" the system.
In some ways, this was a return to the rhetoric of the 2012 State of the Union address, when Obama told colleges: "You're on notice" on the issue of college costs. "If you can't stop tuition from going up, the funding you get from taxpayers will go down," he said at the time.
At other times, however, Obama has assigned responsibility for rising college costs to a range of players, most notably states, whose budget cuts have been blamed for much of the increase in tuition rates in public higher education. Just a month after the 2012 State of the Union, Obama gave a speech in which he talked about college affordability as a "shared responsibility" and urged governors to devote more state funds to higher education.
Martha Kanter, the under secretary of education, used the "shared responsibility" phrase in an e-mail to Inside Higher Ed Wednesday night in which she suggested that the president's plan is still being created. "Keeping college within reach of middle-class families is among the president's top priorities, and he's challenging all of us to be creative in coming up with new ideas and to be energetic in pursuing existing policies to promote affordability and value for students," she said. "This is about 'shared responsibility' -- the federal government, states, institutions and students -- all of us working together and doing our part to invest in what works to realize the president's 2020 goal 'to have the best educated, most competitive workforce in the world.' We're reading hundreds of reports, listening to students and families, education leaders, policy analysts, business and philanthropies as well as federal, state and local officials."
Although higher education lobbyists have been in close touch with the White House in recent weeks because of the negotiations over student loan interest rates, the president's remarks caught them by surprise.
Amy Laitinen, deputy director for higher education at the New America Foundation, and formerly a policy adviser in the Obama administration's Education Department, agrees with the sentiments of the president's talk Wednesday, but was unsure how much change higher education will see. "I think it's encouraging rhetoric, but pulling it off will take serious political will and capital," she said. "I'm wondering if his tone suggests he's going to try to do this with executive authority."
Laitinen said that there may seem to be a consensus on the issue of tuition rates, with college leaders and politicians alike worried about the impact of rising sticker prices. But she said this consensus only goes so far. "All of the solutions you are seeing don't force institutions to change at all," she said.
As an example, she noted that there is widespread interest in expanding options for income-based repayment of loans. In part, she said, "that's because it does not fundamentally require a rethinking of the business model. It allows institutions to charge as much as they want."
Ultimately, she said, "if he's trying to deal with costs, he's going to have to take on the institutions."
Becky Timmons, assistant vice president of government relations at the American Council on Education, said she had no idea what the administration might propose. But she guessed that it might be a new version for higher education of Race to the Top, which encouraged states to make changes in elementary and secondary education. The Obama administration has been proposing a higher ed version, and that might be a mechanism for the administration to encourage colleges to embrace certain reforms or to limit tuition increases, she said.
Presidents of the United States have little direct oversight of the way colleges set tuition, she said. "I don't see any tool or leverage available to him to set price controls."
Timmons wasn't bothered by the critical tone of the references to higher education. "I don't think you'll find much dissent [in higher education] on the framework of his speech. I think everyone thinks it's important to keep higher education affordable."
The real challenge, she said, will be coming up with policies that have an impact across all types of colleges -- and it's those policies (not the belief that the issue matters) that will be eyed by colleges for every detail. "The diagnosis is the easier part, and finding the right prescription is the tough part," she said.
Leaders from public higher education said that they shared the president's goals, but that it was important to mention -- as the president has sometimes, but not in his talk at Knox College -- the link between state appropriations and public tuition rates.
Peter McPherson, president of the Association of Public and Land-grant Universities, said his member institutions agree with President Obama on the need for more people to go to college (a goal many institutions have pledged to help with specific enrollment targets) and that these students need to find colleges and universities that are affordable and are also places they can complete degrees. Further, he said that "all over the country universities are experimenting with new models and with technology," just as the president urged.
But McPherson added that "in the past he has said it's important for states to become full partners in this effort once more and we hope he continues to talk about this, and we think he will."
David Baime, senior vice president for government relations at the American Association of Community Colleges, said it was important to note that community colleges remain relatively inexpensive and tend to raise tuition rates when forced to do so by shortfalls in the appropriations they receive.
"For any initiative designed to reduce costs at community colleges, we would remind policymakers that a full year's tuition and fees at a community college is just $3,131 [on average], and that state support per FTE for community colleges declined by more than 20 percent, adjusted for inflation, in the depths of the recession," Baime said via e-mail. "This was the primary driver of the sharp tuition increases that regrettably did occur on many campuses."
Laitinen said it was appropriate for higher education leaders to note the impact of "huge and real" budget cuts in recent years. But she said it was also important to note that "states are recovering and we're starting to see state appropriations come back." She added: "When times are bad, states increase tuition rates, but when times are good they don't reduce them."
Lillian Taiz, president of the California Faculty Association (the faculty union for the California State University System), said that she agreed with President Obama that college must be affordable. But she said that she worried about rushing to embrace models that will result in a new, more limited experience for students who are middle-class or low-income. 
"We have be very careful that we don't build in our zeal a two-tiered system, where the middle class gets higher ed lite, with lots of online, and the folks at the top continue to get a full and rich higher ed experience," she said. "We have to be really careful we don't get there."
Carol Schneider, president of the Association of American Colleges and Universities, said she was concerned that the administration's focus on efficiency could have detrimental impacts on quality.
"The president has been dropping hints all year that he intends to do something to 'shake up the system' and make college more affordable with better 'value,' which the White House seems to define as return on investment, or, as he said at Knox College, 'more bang for the buck,' " Schneider said via e-mail. " If you put this speech together with the State of the Union comments, it looks as though he is going to invite changes in  accreditation, probably to make it easier for so-called innovators to enter the terrain with their lower cost structures and gain easier access to Title IV [federal student aid] funding, the holy grail for sustaining the innovations.
"But when the president uses the phrase 'earn credits in less time,' that tells me that he and his speech writer have given no thought at all to ensuring that innovation actually results in higher levels of students' demonstrated achievement on key learning outcomes," she said. "I worry that speedier credentials at markedly lower costs may be the next frontier in the administration's completion agenda.  If speedier acquisition of course credits becomes the primary metric for 'value' -- as 'performance funding' generally requires -- then the prospects are grim for strengthening the actual quality of student learning," she added.
Schneider said that "the efficiency proponents to the contrary, the most significant educational issue we face today is how to help today's woefully under-prepared first generation students develop the broad knowledge and adaptive intellectual skills that prepare them for the jobs of tomorrow and for their role as citizens. It would be comforting if the president would talk even briefly about the kind of education which helped him vault from Food Stamps to long-term success. But, to-date, he's been completely silent on all issues related to the actual substance of world-class higher learning."