You have /5 articles left.
Sign up for a free account or log in.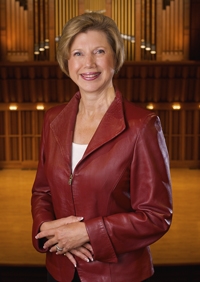 In what First Amendment watchdogs called a victory, Ball State University's president on Wednesday spoke out against intelligent design as a viable scientific theory. At the same time, the university announced that a professor accused of proselytizing remained part of the faculty but was working with administrators to ensure his courses aligned with Ball State's view that science instruction should be about science and not religion.
"Intelligent design is overwhelmingly deemed by the scientific community as a religious belief and not a scientific theory," President Jo Ann Gora said. "Therefore, intelligent design is not appropriate content for science courses. The gravity of this issue and the level of concern among scientists are demonstrated by more than 80 national and state scientific societies' independent statements that intelligent design and creation science do not qualify as science."
The question is not one of academic freedom, but one of academic integrity, she added. "Said simply, to allow intelligent design to be presented to science students as a valid scientific theory would violate the academic integrity of the course as it would fail to accurately represent the consensus of science scholars."
Ball State in May said it would investigate Eric Hedin, assistant professor of physics and astronomy, after it received a letter from the Freedom from Religion Foundation accusing him of crossing the line from teaching science to teaching Christianity. The foundation said Hedin was proselytizing in his course called "Boundaries of Science," and that its partial bibliography included works by intelligent design proponents and other "Christian apologists who lack any scientific credentials whatsoever," such as C.S. Lewis.
The foundation said it did not object to the premise of the honors science seminar, described in the syllabus as an investigation of "physical reality and the boundaries of science for any hidden wisdom within this reality which may illuminate the central questions of the purpose of our existence and the meaning of life." Rather, the organization said it objected to the course "as taught," based on reports that Hedin was sharing his personal beliefs and endorsing a Christian viewpoint over others presented. As a public university, Ball State could be in violation of its obligation to separate church and state, the foundation said.
The foundation further criticized Ball State later this summer, as the investigation of Hedin was going on, for hiring Guillermo Gonzalez as an assistant professor of physics and astronomy. Gonzalez, who was denied tenure at Iowa State University in 2007, has written a book in support of intelligent design – but he said he never taught intelligent design at Iowa State and won't teach it at Ball State.
Joan Todd, university spokeswoman, said in an e-mail that Ball State's provost, Terry King, had reviewed the results of the university's investigation into Hedin, prepared by a four-person panel of Ball State professors of biology, geological sciences, and philosophy and religious studies, and an Indiana University professor of astronomy. Citing personnel-related privacy policies, the university has not released the report.
But both King and Hedin are "working together to ensure that course content is aligned with the curriculum and best standards of the discipline," Todd said. "[Hedin's] academic credentials are an asset to the university. He remains an important and valued member of our physics and astronomy department."
It has not been finalized whether or not Hedin will continue to teach "Boundaries of Science," however. Hedin did not respond to requests for comment.
In her statement, Gora said faculty must avoid endorsing one worldview over others, even in humanities and social science courses, where discussions about religion "can have their place."
She cited the American Academy of Religion's statement on the matter:
"Creation science, intelligent design, and other worldviews that focus on speculation regarding the origins of life represent another important and relevant form of human inquiry that is appropriately studied in literature and social science courses. Such study, however, must include a diversity of worldviews representing a variety of religious and philosophical perspectives and must avoid privileging one view as more legitimate than others."
Andrew Seidel, attorney for the Freedom From Religion Foundation, said in an e-mail that the organization was pleased with Gora's attention to its concerns.
"The university seems to clearly understand the issues and agree with the positions enumerated in our letters including:
Intelligent design is not science, it is a religious belief.
Intelligent design has no place in a science classroom.
Intelligent design might be discussed in humanities or social science curriculum, but only if it is done in an objective manner.
Academic freedom cannot be used [as Gora stated] 'as a shield to teach theories that have been rejected by the discipline under which a science course is taught.'"
Seidel added: "The only outstanding question is precisely how will these concerns translate to the curriculum and Hedin's class?"
King did not return a request for comment on his work with Hedin.
Jerry Coyne, a professor of ecology and evolution at the University of Chicago who has written about both Hedin and Gonzalez on his blog, Why Evolution is True, said Gora made "a magnificent statement -- it was strong, unequivocal, and there was a lot to like about it."
Reading between the lines, he said, it was clear that the Ball State panel had concurred with the Freedom from Religion Foundation. That was the best possible solution, he said, as the situation could have become a protracted legal battle for Ball State, had it let Hedin continue teaching the course as-is.
If Hedin does continue to teach it, Coyne said on his blog that he can't simply reconfigure it as a religion or philosophy course. "It's simply too Christian, and lacks any alternative nonreligious views."
Not everyone liked Gora's statement, however.
In e-mail, John West, vice president of the Discovery Institute, called Gora's position "anti-academic freedom and Orwellian in the extreme" and an attempt to impose a "speech code" on faculty. Discovery, a pro-intelligent design think tank, has backed both Hedin and Gonzalez.
"She claims 'Our commitment to academic freedom is unflinching,' while at the same time imposing a gag order on any member of the university's science faculty who may happen to think there is evidence of intelligent design in nature," West said. "Academic freedom was designed to protect dissenting and unpopular views among faculty. That's the whole point. Redefining it as the freedom to teach only the majority view isn't academic freedom; it's an academic straightjacket."
As for Hedin, West said the university's statement about his case raised more questions than it answered.
"The devil is in the details," West said. "What course changes are being demanded? Can Hedin actually discuss the debate over intelligent design in his class or not? Or is the university censoring Hedin?"