You have /5 articles left.
Sign up for a free account or log in.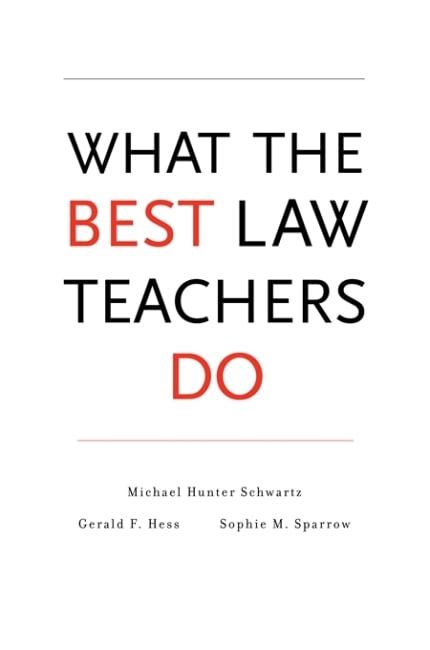 It's been a difficult few years for law schools and law professors. Given the bleak job market for law school graduates, law school enrollment has declined and many experts continue to doubt the value of a legal education. Professors, too, have come under attack for being "lazy."
But a new book by seasoned scholars of law pedagogy highlights what law professors around the country are doing right.
What the Best Law Teachers Do, out this month from Harvard University Press, is based on a national qualitative study of 26 law professors nominated as "the best" by their peers and students. Although they vary in style and specialty, the professors share a common set of characteristics. All are thoughtful and passionate about their teaching, and build personal relationships with their students. And they set high, clear standards for those students, in many cases expecting them to conduct themselves in dress, speech and overall professionalism as people who already have law degrees.
The best law professors set equally high standards for themselves. They expend considerable effort in preparing for class, even after teaching a course for many years. Whatever their method of teaching – Socratic, small groups, class discussions – they've mastered it (in fact, most use a combination of these techniques). They also plan extensive ongoing and final assessments, which students frequently remember as some of the hardest of their law school years, but always test what they teach.
They share another characteristic: their excellent results in lasting learning for their students, who learn from them as people as well as professors.
"[Students] aspire to find balance, between work and family and between self-improvement and excessive self-criticism," the book reads. "They take to heart their teachers' belief that they have talent and can do great things with their lives. Most of all, they strive to emulate, with their lives and careers, the passion, humility, confidence, and respect for others they see in these teachers' classrooms every day."
Michael Hunter Schwartz, new dean of the University of Arkansas at Little Rock's William H. Bowen School of Law, began the project about five years ago when the Harvard press approached him with the idea of writing a version of Ken Bain's popular book What the Best College Teachers Do for law professors. Because Schwartz already had been envisioning a similar project, he immediately said "Yes," he said in an e-mail interview. After realizing how big the project would be, however, he eventually called on two colleagues to help: Gerald F. Hess, professor of law at Gonzaga University, and Sophie S. Sparrow, professor of law at the University of New Hampshire. The three professors work together at the Institute for Law Teaching and Learning, which Hess and Schwartz co-direct. They've also authored three other books on law pedagogy together.
But those projects -- as well as much of the existing literature on legal education -- have been more about "translating" educational techniques and principles for law school audiences, Hess said. "This book instead was about doing in-depth, empirical, qualitative research about what leads to exceptional learning in law school. It was about gathering data and seeing what emerged from the data."
Sparrow put it another way. "This book was all about people – the 26 teachers we studied and those they touched," she said in an e-mail.
The methodology of the study went something like this: First, the authors solicited nominations for their "best" subjects on law-related electronic mailing lists and at every U.S. law school (of course, some law professors couldn't help nominating themselves, Hess said, but names mostly came from colleagues and students). They defined "best" as developing students on two levels, to an exceptional degree: intellectual and personal.  Not only do the best teachers help their students understand a sizeable body of material, learn to ask sophisticated questions and hone their legal skills, the authors said, they'll also help students better understand themselves and others.
Next, the authors asked for evidence of such learning. More qualitative than quantitative, much of that evidence came from files for teaching awards given by the 250 nominees' home institutions, rather than measures such as bar exam passage rates. The authors also asked each nominee for two years' worth of student evaluations and a teaching philosophy statement.
The authors narrowed their subject pool based on that evidence and observed most of the professors teaching in person. They followed up their observations with extensive interviews, and also talked to professors' current students and alumni.
From transcripts and notes, common traits and behaviors among subjects began to emerge – more than Schwartz had imagined, he said. "They teach at law schools that represent the full spectrum of U.S. News law school rankings, yet the core of who they are and what they do is quite similar."
Those commonalities became the themes and sub-themes that are the basis of the book, fleshed out with examples.
All the best professors engage students to a remarkable degree, for instance, and get "excited" by students' insights and questions.
"It's not a competition," a student of Paula Lustbader, Seattle University School of Law professor, says in the book. "When you're getting something, she's happy. I don't think anything makes her happier than to see that light bulb go off. I really mean that. If other professors that I'm thinking of saw a light bulb go off, they might not show it; there might not be the praise; there may not be the recognition, or the acknowledgment."
Another section of the book discusses how the best law professors prepare for class. All prepare thoroughly, even when they're intimately familiar with the material, in different ways. Ruthann Robson, professor of law at the City University of New York School of Law, for example, says that she reads each assignment several times before class discussions – first as a student, trying to look for concepts that might be difficult or unfamiliar, "as if I have never read it before." She then reads as a lawyer, thinking about arguments and procedure. Finally, she reads as a law professor, thinking "about how the material fits into the overall learning goals for the semester and how the material might be tested."
Although she's been writing and thinking about law teaching for years, Sparrow said she learned new things from writing the book – namely that "great teachers really teach from the heart."
"Very good teaching may be about technique," she said. "Great teaching is more than effective techniques; it includes the affective domain in the classroom, the sense of caring and community that exists between students and teachers."
Hess agreed. "The biggest take-away is that the best law teachers have an incredible commitment to student learning and student success," he said. "Seeing how that translated into students' commitment to their own learning, it's very obvious to students, I think, when teachers care deeply about them."
Hess also said the professors are linked by a vigorous work ethic – one that challenges some of the assertions about law professors that have been made of late. Several teachers in the book begin their workdays at 4 a.m., for example. Others prepare for each class for several hours, littering their course books with Post-Its with fresh insights into concepts they've taught for years. Yet another tracks down students in the hallways after class to make sure they've understood a recent lecture.
Given the national dialogue about law school, Schwartz said, "the book therefore offers a different, wholly positive, and exciting glimpse into aspects of legal education that critics, among whom I count myself and my co-authors, have not yet explored."
But the book isn't just for legal academics, Schwartz added. Law schools deans, faculty hiring committees and trainers and teachers in other disciplines will find the book inspiring, he said. Students, too, can learn that "when people's work is consistent with their values, they are happier; the teachers we studied are very happy."
Lustbader said she hadn't yet read the book but was looking forward to doing so. Pedagogy is subordinate to scholarship in legal education, given the current priorities of the academy, she said, and there's a need to identify and share best practices and anecdotes about what good law professors around the country are doing.
Like the authors, Lustbader said she believed the most effective law professors shared a "holistic" approach to students. That's defined in part by "an attitude about the important role we play in welcoming students into the profession, and in modeling professionalism and the human condition and how to treat clients and manage diversity and navigate through stressful times [in our careers]," she said.
More from Books & Publishing