You have /5 articles left.
Sign up for a free account or log in.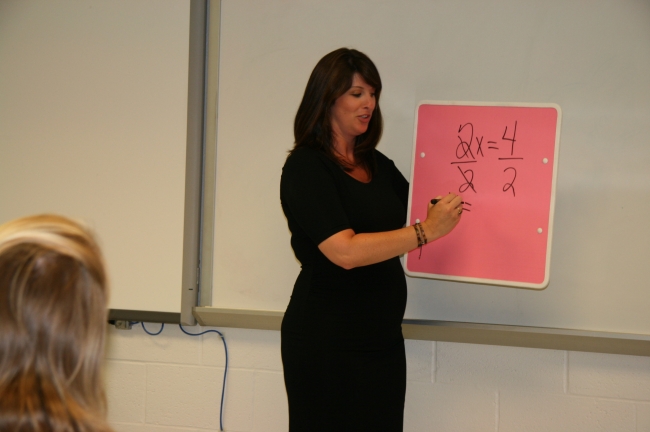 When University of Maryland at Eastern Shore faculty return to campus this fall, they'll find a new tool in their teaching arsenal. Each classroom will be equipped with a new whiteboard, measuring 18 by 20 inches and weighing a little less than four pounds. They come in snazzy colors like pink, blue and green.
Oh, and they're bulletproof. Couldn't hurt, right?
It's a potentially life-saving tool, a last line of defense in the event of an active shooter situation, and that was basically the thinking behind President Juliette B. Bell's decision to spend $59,800 on the whiteboards/shields.
(Note: The above paragraph has been changed from an earlier version.)
"We are not really doing this in response to a specific event; I see it more as an opportunity to be prepared and to be proactive in our approach to safety on campus," Bell said. "We think that it's worthwhile."
One of the six teachers and staff who died in the Newtown, Conn. elementary school shooting last year was shot while trying to usher her students to safety.
UMES is the first college to purchase the whiteboards, which "cover the head and torso," from the manufacturer Hardwire LLC, though about 100 K-12 schools across the country use the boards. CEO George Tunis said the company is also in talks with another large public university near the Eastern Shore that is considering a purchase.
"Probably 99.9 percent of universities out there have no idea this even exists," Tunis said. "They just haven't seen it."
UMES has a longstanding relationship with Hardwire, however, as its foundation has provided grants to that and other small regional companies. Hardwire approached UMES with the proposition.
"We thought that it was a very novel idea," Bell said, adding that UMES is currently undergoing a comprehensive assessment of campus safety and security.
Not everyone thinks the idea is so great, however. John E. McIntyre, an editor at The Baltimore Sun who also teaches editing across the state at Loyola University Maryland, mocked the whiteboards on his blog.
"I doubt that those 18-by-20-inch panels will offer the same kind of protection as, say, the shields of the hoplites advancing side by side on the plains of Marathon, particularly if the assailant is armed with anything more advanced than a flintlock," McIntyre wrote, "but, hey, it's the university's money to spend, or rather, its foundation's money. Better that it should go for security than be wasted on things like pay for adjunct faculty."
But security experts, while not speaking directly to the viability or potential effectiveness of the whiteboards, suggested it's wise to think big.
There's no one solution to make campuses totally safe, but having good hardware, along with rigorously tested policies and procedures is part of a comprehensive emergency response plan, said S. Daniel Carter, director of the 32 National Campus Safety Initiative at the VTV Family Outreach Foundation, an advocacy organization founded by families and survivors of the 2007 shooting at Virginia Tech University.
UMES' decision to conduct a full-scale emergency response exercise, for example, demonstrates sound judgment. Such an activity is a crucial part of ensuring that everyone on campus – faculty, staff and students – know how to respond to any sort of situation, whether it be an active shooter or a gas leak.
"They have a comprehensive, proactive approach, and I think that's what's most important in emergency response preparedness," Carter said. "It's important to look at the fact that, yes, they purchased bulletproof whiteboards, but also look at it in the context of what they're doing overall."
Carter said he has not heard of any other campuses using a product such as this.
Bell has already posted about the whiteboards on a campuswide message board, and when students return for classes, campus officials will explain the rationale behind the purchase and how the tool can be used, she said.
UMES has not experienced a campus shooting, but in February, the University of Maryland at College Park was shaken when a graduate student shot two undergraduates and himself at their off-campus house. One of the roommates survived.
"This was not done to convey any sense of un-safety by the university or anything, to suggest that we expect any kind of event, but it's in response to a national issue," Bell said.
Every college should think critically about how it's addressing safety concerns and what resources are available – and that looks different for every campus, said Abigail Boyer, director of communications and outreach for the Clery Center for Security on Campus.
"It's an interesting and important conversation to be having as to not just what technology are we having on campus, but what processes and procedures do we have to keep students and faculty safe," she said. "What works best is a holistic response."
While self-defense mechanisms may come in handy at some point (though hopefully they'll never have to), more and more campuses are taking a preventive approach. Most often, that's via behavior intervention or threat assessment teams, which identify and work with potentially troubled students and comprise a cross-section of officials from departments including mental health, student affairs and public safety. UMES does this as well.
Maryland is one of 22 states where colleges decide individually whether to ban or allow concealed weapons on campus; UMES does the former.
Nina Bennett, chair of the Faculty Assembly and an assistant professor of human ecology, called the purchase "positive" and "strategic."
"It's one more tool that we have as faculty; it's just like maybe having a fire extinguisher in the classroom," she said. "I think UMES is ahead of the game. I think this speaks volumes about what our campus is doing in terms of helping us to be proactive and being aware of the opportunities and the resources that are available to us."