You have /5 articles left.
Sign up for a free account or log in.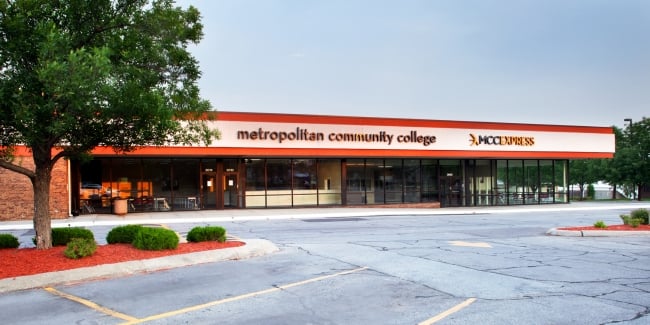 Metropolitan Community College
Housed inside a former Blockbuster video store at the end of South Omaha strip mall, Metropolitan Community College's newest (and smallest) location may be modest in size, but it reflects plenty of ambition.
While in the past, the community college has offered GED and English as a Second Language classes at its campuses and at community sites throughout Omaha, the college's adult education initiative — MCCC Express — is a new strategy to provide multiple adult education services in one space.
"Before MCC Express, community demand and space constraints meant some of our ESL and GED classes were located in church basements or community rooms throughout the city," said Jim Grotrian, Metropolitan Community College's executive vice president, in an e-mail. "MCC Express gave adult education a home base in the heart of South Omaha, with transition specialists, advisers, tutors and faculty all under one roof."
MCCC Express offers GED and ESL classes as well as transition services and occupational training. The center opened in the summer of 2012 in response to a "community need," said Mona Dowding, the college's adult education director. About 24,560 people aged 18 to 44 lack a high school diploma in the Omaha-Council Bluffs metropolitan area, according to 2010 Census data.
The opening of the center came at an especially critical time for the Omaha community. In May of 2011, the Omaha Public Schools board voted to discontinue its adult education and GED program, which enrolled 800 students. So Metropolitan Community College's adult education classes became even more essential to local residents.
There are more than 57,000 homes in Metropolitan Community College's four-county service areas where household members speak a language other than English. Many of those families, Grotrian said, live in South Omaha, where MCC Express is located. Since MCC Express is a small facility and some staff members are bilingual, Spanish-speaking students may find it easier to navigate than a larger campus.
With four classrooms and one computer lab, the intimate, personal atmosphere of the center may be exactly what lures members of the community through its doors. It eliminates the "intimidation factor" of a large campus, said Dowding. Because MCC Express is located in a busy shopping center, Dowding said, people pass by while heading to the grocery store or the bank next door.
"People walk in and say, 'Hey, what is this? What do you guys do here?' Word of mouth has been huge for us," Dowding said.
Students who may have never set foot on a college campus feel that MCC Express is an "approachable place," since language, GED and transitional services are all located in one place, said Krystal Overmyer.
"The instructors really talk about what the students' needs may be. They can just walk down the hall and say to a support staff member that this person might need to be in this class or this person might need help with a certain computer skill," Overmyer said. "All of those conversations just happen a little easier."  
There is a small amount of data suggesting that the creation of MCC Express has had positive outcomes for students. In the fall of 2012 there was a 74 percent retention rate in the classes of two GED instructors at MCC Express. That number is a significant increase from the 42 percent retention rate of students in those same instructors' classes at two other Metropolitan Community College campus sites in 2011.
For the past three weeks, 18-year-old Vikhyat Prakash has driven 14 miles from West Omaha to attend the GED Fast Track program at MCC Express. The Fast Track program offers review of all subject areas making up the GED exam in just three weeks. Prakash finished the program on Thursday and said he is "very grateful" for the support he received at MCC Express.
"I can honestly say I haven't had any better instructors in the 12 years I've been in school," Prakash said.
He said instructors at MCC Express also provided him assistance in learning about his postsecondary options. More students should be aware of the Fast Track option, Prakash said, because it allows them "to move on with their lives" if they do not want to go down the "traditional route" of finishing high school.
While the new MCC Express facility offers a "one-stop shop" for adult education, Overmyer said, Metropolitan Community College will continue to offer GED and ESL classes at other community locations. The college was awarded a $230,000 education grant from the Nebraska Department of Education this year, which allowed it to expand its adult education program. It now offers 17 GED classes and 15 ESL classes at community sites — an increase from the 12 and 11 sites where those classes were offered prior to the grant.
In June, the Nebraska legislature gave more support to adult education when it created the Diploma of High School Equivalency Assistance Act. This bill provides $1.5 million in funding, split over a two-year period, to community colleges, public schools and public agencies that offer high school equivalency programs to help defray costs of preparing students to take GED tests. While in the past, GED tests were offered on paper, new GED standards that will go into effect next year will require all testing to be online only. So the additional state funding will help offset the costs of upgrading computer equipment, Dowding said.
Before the bill was passed, Dowding and other representatives from Metropolitan Community College testified in front of committees in support of the bill. She said they told the committee that funding could help create programs similar to MCC Express.
Dowding said she is "unaware" of any facility resembling MCC Express that exists in the state of Nebraska, and other community colleges have expressed "a lot of interest" in creating a similar adult education model in their respective communities.
Grotrian said that putting a strong emphasis on adult education will ultimately build "stronger communities."