You have /5 articles left.
Sign up for a free account or log in.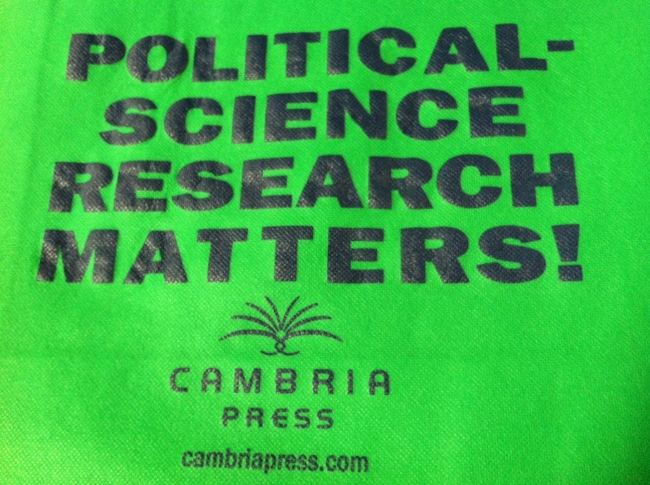 Photograph by Serena Golden
CHICAGO -- There was no shortage of experts on Congress here this week at the annual meeting of the American Political Science Association. But at a session on what to do about a particular Congressional action -- placing strict limits on National Science Foundation support for the discipline -- many scholars were a bit flummoxed.
They could not agree on why Congress singled out political science or the best strategy to reverse the limits. But most agreed that the action was dangerous not just to political science but to the principles that govern academic support for research across disciplines. It would have been better for Congress to have simply said that it didn't have enough money to fund political science than to say that the NSF could only approve grants that related directly to economic growth or national security, said Ira Katznelson, the Ruggles Professor of Political Science and History at Columbia University.
By imposing limits on political science, Katznelson said, Congress was attacking "the principles of academic self-governance." He predicted that the move would "degrade the quality of scholarship."
The cuts in NSF support are already having an impact. A grant from the NSF has helped the APSA and Duke University run a summer program -- the Ralph Bunche Institute -- to encourage minority students to consider advanced study and careers in political science. This year, the program wasn't held due to the lack of NSF funds.
While APSA is planning to make up for the lost NSF funds next year for that program, the association can't replace many grants -- and so participants here were focused on how to reverse the measure. The provision in the budget bill is known as "the Coburn amendment," after its sponsor, Senator Tom Coburn, an Oklahoma Republican who has for years been trying to block NSF support for political science.
A number of efforts are being started to reverse the amendment. Howard J. Silver, executive director of the Consortium of Social Science Associations, said that his group, in conjunction with the American Association for the Advancement of Science, foundations and others, are convening a meeting Wednesday to try to come up with ways to "take a shot at repealing Coburn and to make sure this doesn't happen again."
The APSA is encouraging more grassroots lobbying by members, releasing a "tool kit" on how to write members of Congress, talking points on the NSF funding issue and tips on how to reach lawmakers for personal visits. The association is also encouraging members to invite members of Congress, when they are back in their districts, to sit in on political science classes to see what actually is going on in the discipline. And the association recently reached out to 150 university presidents to ask them to lobby on behalf of ending the Coburn limits. Further, the association is creating a new committee to consider the "public engagement" of political scientists.
And others are also getting involved. Cambria Press distributed tote bags at the meeting with the slogan "Political Science Research Matters!"
U.S. Rep. Dan Lipinski, an Illinois Democrat who formerly was a political science professor, said he viewed the role of campus leaders as crucial. "I believe that the university presidents have to get more involved. They have the greatest opportunity to reach members of Congress," he said at a session on the NSF amendment.
Lipinski, while criticizing the Coburn amendment, was pessimistic about repealing it in the near term. Congressional gridlock means that next year's appropriations are likely to come in the form of a "continuing resolution" that keeps spending going with minimal changes, he said. In that environment, changing a provision affecting one part of one agency is unlikely to rise very high on the Congressional agenda.
He also noted that Republicans in Congress have already been pushing for more specific criteria to be imposed on all NSF grants, not just in political science, and that scrutiny of any federal research spending is likely to grow, given how many members of Congress "don't want to spend a penny on anything."
It is important for political scientists and other researchers to remember that "we do not have an inherent right to have our research funded by taxpayers," and that "we have to make the argument that there is value in what we do."
Is Federal Funding Necessary?
That value may be self-evident to most political scientists, but not all -- at least when it comes to federal funding.
Peter Lawler, a political scientist at Berry College, told attendees he was fine with the Coburn amendment. Lawler said he didn't think the profession was biased, as some in Congress have alleged. Lawler said that there was considerable ideological diversity present at the meeting and in the association, adding that if lawmakers wanted to find and criticize "uniformity" in thinking in the social sciences, they should go to a sociology or anthropology meeting.
But Lawler said he didn't think federal support of the discipline met the "value" test because it "doesn't have a record" of success. He said political science largely failed to predict the fall of the Soviet Union or the Arab Spring, and questioned how much utility members of Congress saw in the field. "When people talk about the crisis of scientific literacy, they say we need more MIT Ph.D.s," he said. "Who is saying that what we need to compete with the Chinese is more political scientists?"
John H. Aldrich, the Pfizer-Pratt University Professor of Political Science at Duke and incoming president of the APSA, not surprisingly, thinks the world does need more political scientists. But in terms of strategy to deal with the Coburn amendment, he said he is currently considering issues that could point to the best tactics. He said that he is considering whether the amendment reflects an attack on political science or is just the opening of an attack on the social sciences generally, in which case "a coalition approach" may be best.
He also said it may be time for political scientists to consider other federal sources of funds, such as the National Endowment for the Humanities or the National Institutes of Health. The latter, like the NSF, supports behavioral research in addition to the biological research for which it is best known.

Much of the talk here was about coalition building and lobbying and how to win over Congress. But S. Laurel Weldon, a professor of political science at Purdue University, argued that her colleagues in the discipline need to be more explicit about the motives behind the attacks on political science. She said that it was not a coincidence that some of the studies that have been criticized involved research on climate change or on Congress itself. "This is about silencing critics and preserving the status quo," she said.
Weldon argued that political scientists should link the Coburn amendment to the broader Republican challenge to science, noting the way Republican lawmakers have consistently attacked and tried to limit research on key environmental issues. "We need to paint the Republicans who are attacking us as anti-science, against public interest science," she said. "We need to link this to the other attacks."
Further, Weldon said she feared that too much of the discussion here was about lobbying Congress and "insider" strategies. "We also need to pursue outsider solutions," she said. And while she acknowledged that she didn't have a specific plan, she said "we need to do something splashy. We need to be street fighters and find something spectacular to do," something that would engage average citizens and attract attention.
Others here noted a challenge for the discipline, whether the strategies to be pursued are aimed at insiders or outsiders. Clearly many political scientists are angry about the Coburn amendment and would like to see it reversed. But just how much effort individual scholars will spend on the effort is unclear. At the panel here, there were 13 people -- big names in the profession -- on stage for presentations. But there were only a few dozen in the audience -- their small numbers more obvious because the ballroom had a capacity in the hundreds.