You have /5 articles left.
Sign up for a free account or log in.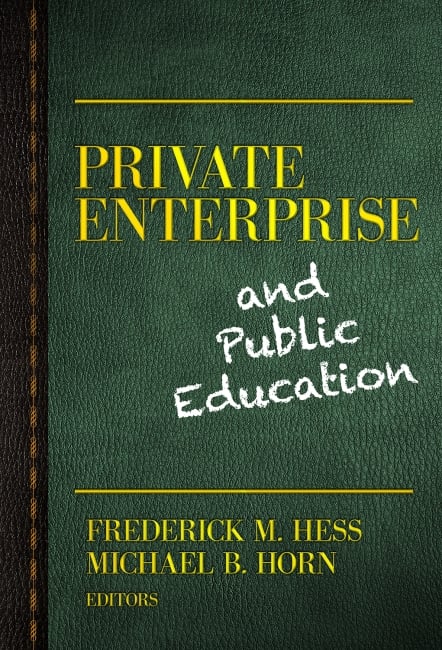 The regulation of for-profit higher education is a hot topic once again, thanks in part to a second round of negotiations over gainful employment rules, which begin today,
Previous federal efforts to crack down on for-profits crested in 2012 with Senator Tom Harkin's investigation of the sector. The inquiry yielded a massive report, much of it critical. Yet Harkin, an Iowa Democrat, said some for-profits play a key role by serving neglected students.
That slight shift in tone from the sector's loudest Congressional critic suggested that opposition to profits in education might be waning. Others, however, like Senator Dick Durbin, remain aggressively critical of the industry.
The debate has also been muddied of late by the outsourcing of more aspects of higher education to for-profit companies, some of which even provide course content.
Attempting to shed light on the discussion is a new book from the American Enterprise Institute (AEI). The book, dubbed Private Enterprise and Public Education (Teachers College Press), includes 10 essays from researchers on the role of for-profit providers in both K12 and higher education.
Two contributors to the volume -- Michael B. Horn, the co-founder and executive director of the Clayton Christensen Institute for Disruptive Innovation, and Andrew P. Kelly, the director of AEI's Center on Higher Education Reform -- chatted with Inside Higher Ed over e-mail about some of the larger themes it covers. Excerpts from the conversation follow:
Q: The book cites polling that found largely positive public perceptions about for-profits. Why does that differ from the more polarized take on the sector among policy makers?
A: Polls do suggest that Americans have a positive view of for-profit colleges. A Stanford University/Associated Press poll from 2010 found that 66 percent of respondents thought for-profit colleges provided an excellent or good education -- just behind the 70 percent and 74 percent who said the same about nonprofit four-year colleges and public four-year colleges, respectively. Just 7 percent thought they were of poor or very poor quality.
The apparent disconnect between the public's generally positive view of for-profit colleges and the polarized debate among elites is not unlike the rest of American politics. Voters tend to hold views that are less extreme than their elected representatives on most political issues (see here). And unlike Beltway wonks and advocates, Americans are not likely to have kept up with every twist and turn in the gainful employment/secret-shopper/Harkin-hearing saga, meaning they probably don't see this as a partisan issue.
It's also important to note that Americans both acknowledge quality issues while also recognizing the role that for-profits play in boosting access. A 2009 poll by the liberal advocacy group Americans for Democratic Action found that while just half of respondents thought for-profit colleges provide an education that was as good as or better than public or nonprofit institutions, six in 10 believed that for-profits play an important role and should be allowed to grow.
Q: How widely held is the view among federal lawmakers that profit and higher education shouldn't mix?
A: There's a sense that the for-profit question lines up neatly on the liberal-conservative dimension, with Democrats supporting the Obama administration's skepticism of for-profits and Republicans promoting for-profit interests.
But the truth is that the for-profit college issue is actually a cross-cutting one for Democrats in Congress. A nontrivial number of Democrats -- a mix of some of the most liberal and the most moderate -- are caught between the position of their party and role that for-profit colleges play in providing access for their constituents. This division was evident in February 2011, when 58 Democrats broke ranks and voted with a Republican majority to block the implementation of the gainful employment regulations. We saw it again recently when five out of the 17 Democrats on the House Education and Workforce Committee joined Republicans in voting for a bill that formally repeals the credit hour and state authorization regulations.
In other words, while a majority of Democrats side with the President and other leaders like Senator Tom Harkin, a substantial number have voiced their concerns about efforts to single out for-profit colleges, and their voices will continue to influence these policy debates.
Q. Will that perspective play a substantial role in continuing regulatory battles, such as the one over gainful employment?
A. It does not seem like these Democratic divisions are likely to close simply because the U.S. Department of Education has revised some of the technical details of gainful employment regulations. These changes may appease the courts, but political opposition to the effort remains strong. 
The more interesting question here is what effect the president's latest plan to "shake up" higher education may have on the debate over "gainful employment 2.0." Many Republicans (and some Democrats) have argued from the start that efforts to collect better outcome data and enhance program integrity should be extended to all of higher education, not just for-profit colleges and vocational programs at community colleges.
Now that the president has proposed to hold all colleges to new outcome and affordability standards (essentially a "gainful employment for all" approach) the administration's opponents can conceivably argue that the looming round of gainful employment is actually redundant and a distraction from the administration's grander plans. In fact, it seems likely that the latest announcement will lead many in Congress to be even more insistent that these issues be dealt with legislatively rather than through Education Department regulations.
Q. Has colleges' continued outsourcing of academics to companies -- like Coursera and Udacity -- changed the dynamic by essentially creating a new type of "for-profit" player?
A. It's unclear at the moment whether this will create a new type of for-profit player, because for a long time there have been for-profit companies that have sold services to universities. As a result of the trend of modularization -- or unbundling -- in higher education, different entities partner with universities to deliver different parts of the educational experience. The first such relationships were on the back end of education around IT support and financial operations. Increasingly those relationships have moved toward the front end in areas such as food service and dormitories, and now more recently they have moved into the academic core, which is new. These partnerships could be the critical catalysts that the higher education experience may need to become truly unbundled. But as the recent experience with Altius and Tiffin College showcases, it's not clear that accreditors will allow that to occur so easily.
Q. Should lawmakers or accreditors set limits on which elements of the core academic enterprise nonprofit colleges can outsource?
A. No. Focusing regulations on inputs -- what resources a college uses or how it uses them -- inhibits innovation and does not serve students well. Instead the regulatory focus should be on productivity around outcomes that improve students' lives and empower students to make smarter decisions. Regulations should not discriminate based on tax status.
Q. What advantages do major for-profits have in navigating potential disruptions to higher education? What disadvantages?
A. Our studies of disruptive innovation have shown clearly that successful for-profits are very vulnerable to disruption, as it is the pursuit of profit that causes them to be disrupted. It is therefore unlikely that existing major for-profits have any significant advantages in navigating potential disruptions to higher education -- and arguably possess some disadvantages. The key to navigating disruption is being able to set up an autonomous business model that is unconstrained from the legacy of fixed costs and processes of the existing organization and therefore can create an innovative business model that seizes new market opportunity disruptions. That said, because public colleges and universities often do not empower a leader with being able to make the critical moves necessary to set up this autonomous organization -- as there are many competing power centers in traditional colleges and universities -- it's possible that a for-profit entity with strong leadership would have a better ability to make this kind of a bold move.
Q. Do start-up for-profits have an advantage over start-up nonprofits in driving change?
A. On average, start-up for-profits likely have an advantage in driving disruptive change over start-up nonprofits because it's far easier for them to attract capital and scale once they have a proven business model, whereas nonprofits spend far more of their time and resources on raising money. One of the challenges for-profits are currently facing, however, is that because venture capitalists are increasingly prizing quick exits in three- to five-year time frames and are not investing capital that is patient for growth but impatient for profit, it is currently harder to raise capital that is patient enough to create disruptive innovations, which can take around eight years or so before they start to produce tangible financial results.