You have /5 articles left.
Sign up for a free account or log in.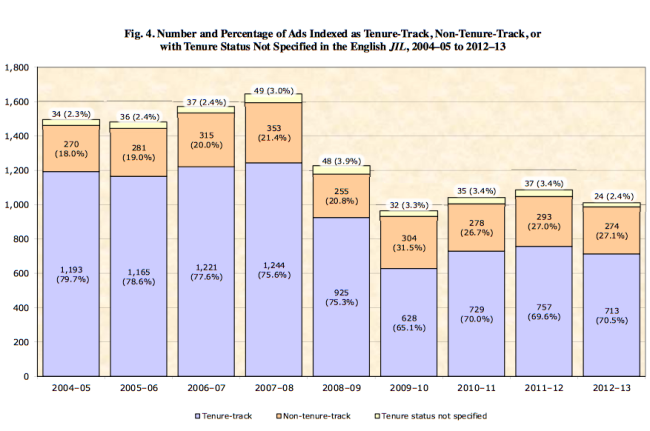 After two years of slight growth, hiring for faculty positions and other full-time jobs in English and foreign languages was down year-over-year, according to a new report from the Modern Language Association.
The annual report on the MLA's Job Information List is published each fall and includes all jobs advertised with the organization for this academic year (reflecting ads posted during the most recent hiring season). Although not every job is advertised with the MLA, the vast majority of full-time, tenure-track positions are, making the list a trusted indicator of the job market.
Although the MLA had projected continued job growth in foreign languages based on the number of ads posted early in the season, the final count showed a decline in both editions of the report from the previous year. Some 1,142 English jobs were posted in 2012-13, compared to 1,235 the previous year. In foreign languages, 1,102 jobs were posted, compared to 1,128 jobs in 2011-12. The percentage decreases year-over-year are 8 percent and 2 percent, respectively. Current job posting levels are similar to those in the mid-1990s, but still far lower than the most recent hiring peak of 2007-8. (Compared to that year, job listings in 2012-13 were down 38 percent in English and 34 percent in foreign languages.)
Rosemary Feal, executive director of the MLA, said she had been optimistic that the numbers would be a bit better, giving modest growth in both editions of the job list in each of the last two years, but that the differences were statistically slight.
"We weren't particularly surprised," she said. "We're of course continuing to see a job market overall that is weak and once again offers too few full-time and tenure-track jobs."
The report also speaks to that trend, showing a decline in year-over-year tenure-track positions, by 6 percent in English and 5 percent in foreign languages.  (Although few to no adjunct jobs are listed with the MLA, postdoctoral fellowships and other full-time, non-tenure-track jobs are, and their numbers are growing as tenure-track lines continue to disappear.) Non-tenure-track positions made up 27 of English job ads in 2012-13, and 44 percent of all foreign language job ads.
MLA Job Information List by Jobs Posted

| | | |
| --- | --- | --- |
| Year | English | Foreign languages |
| 2007-8 | 1,826 | 1,680 |
| 2008-9 | 1,380 | 1,227 |
| 2009-10 | 1,100 | 1,022 |
| 2010-11 | 1,190 | 1,095 |
| 2011-12 | 1,235 | 1,128 |
| 2012-13 | 1,142 | 1,102 |
While nothing about the report is wholly unexpected, Feal said she noted a shift in the way such reports are being interpreted by faculty members and especially graduate students. Rather than feeling resigned to work as "exploited" adjuncts, she said, academics who don't land tenure-track jobs are increasingly looking both inside and outside the academy for fulfilling, challenging work. While the so-called "alt-ac" path for Ph.D.s was highly controversial little more than a decade ago, attitudes are changing, she said. She noted the MLA's partnership with the American Historical Association, funded by a grant from the Andrew W. Mellon Foundation, called Broadening Career Horizons.
"The project involves tracking [humanities] Ph.D.s who have found careers outside the classroom and creating resources for current Ph.D. students to explore careers outside the classroom," and to build "community" among such groups, Feal said.
Promoting the need for tenure-track positions that ensure high-quality instruction and research within the academy will remain the central focus of the organization, she added, but, given the trend lines, it's also important to show Ph.D. students that "interesting, well-paid, influential work" exists outside the classroom, as well – in higher education, government, nonprofit organizations and other sectors.
Ervin Malakaj, president of MLA's Graduate Student Caucus and a Ph.D. candidate in the Germanic languages and literature department at Washington University in St. Louis, said in an email that the "general perspective of graduate students with regard to job prospects is indeed improving."
He continued: "This is largely the consequence of a heavy and much-needed recent discourse that seeks to legitimatize alternative or nontraditional job prospects for humanities Ph.Ds. Many initiatives at universities across the country and at the annual meetings and conventions of professional organizations, such as the MLA, help Ph.D.s find meaningful ways to utilize their academic training in the private sector, for instance."
Numbers-wise, the report wasn't wholly disappointing, with Feal noting a win for language diversity, based on job ads: Among foreign languages, Spanish jobs remained predominant but continued on a multiyear pattern of decline, to 34 percent of all positions from 36 the previous year.The second-most popular language, French, rose to 22 percent of all jobs from 17 percent the previous year. (Note: Because listed positions belong to various departments, both English and foreign languages lists add up to more than 100 percent.)  Other rising languages included German and Scandinavian; Russian and Slavic; Arabic; and Japanese, all with slight percentage increases. Chinese stayed relatively flat year-over-year, at 8 percent of jobs listed.