You have /5 articles left.
Sign up for a free account or log in.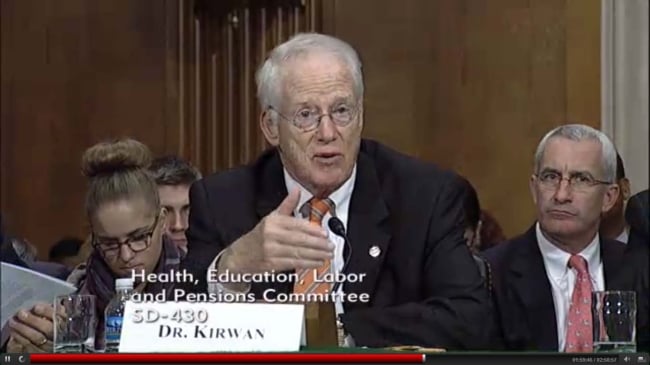 WASHINGTON -- A growing number of reform-minded lawmakers on Capitol Hill want to see more of online "innovations" like competency-based education. To help out, some are making noise about changing federal financial aid policy and the accreditation system.
That was the message during a hearing Thursday of the U.S. Senate's Committee on Health, Education, Labor and Pensions. The hearing and several emerging pieces of legislation are harbingers of how the looming debate over the reauthorization of the Higher Education Act might shake out.
For example, Sen. Mike Lee, a Utah Republican, said this week that he plans to soon introduce a bill that would give state regulators a new option to either act as accreditors or create their own accreditation systems. Under the bill, Lee said states could work with the U.S. Department of Education to sign agreements that would authorize the flow of federal financial aid to a wide range of course providers, some of which look nothing like colleges.
"Accreditation could also be available to specialized programs, individual courses, apprenticeships, professional credentialing and even competency-based tests," Lee said in the written version of a speech he gave this week. "States could accredit online courses, or hybrid models with elements on- and off-campus."
The federal government isn't likely to seriously ramp up spending on financial aid. So any new money for those emerging models would likely come out of the coffers of traditional colleges.
The senator's plan is to create a decentralized, more streamlined form of accreditation. But some experts said state-level accreditors, which already exist in New York, could be just as cumbersome as the existing accreditation system allegedly is.
"There are less bureaucratic ways for this to be accomplished," said John Ebersole, president of Excelsior College.
Ebersole, who has often taken on what he sees as excessive regulation, said regional accreditors are doing a fairly good job. They are under enormous pressure to keep "bad actors" at bay while also encouraging experimentation. And he said accreditors usually get it right.
Andrew Kelly, however, likes Lee's idea. Kelly, who is director of the American Enterprise Institute's Center on Higher Education Reform, said it would create a credible alternative to the existing accreditation system, which the bill would leave intact.
Lee's bill would also bring accreditation closer to the ground level, said Kelly. "This is a devolution to the states that want to do this."
Judith Eaton, president of the Council for Higher Education Accreditation (CHEA), said greater competition among accreditors and higher education providers can be a good thing. But she also urged caution with proposals like Lee's.
"If state accreditation is offered as an alternative to federal accreditation, does this mean that government officials, not faculty, make judgments about teaching and learning?" she asked in an email.
'Education Oversight Reform'
Sen. Lamar Alexander said during Thursday's hearing that eliminating bureaucracy in higher education regulation is a top priority. The powerful Tennessee Republican (and former U.S. education secretary) wants to cut back on red tape that prevents colleges from experimenting with ways to cut prices and boost student learning.
"We've got enough horsepower in the Senate" to pass laws aimed at less regulation, he said. "The time is right."
Alexander has pulled together a bipartisan group of three senators to mull specific proposals. They are also working with Nicholas Zeppos, the chancellor of Vanderbilt University, and representatives from the American Council on Education.
If the hearing was any indication, Alexander isn't looking to just eliminate federal reporting requirements -- a favorite target of the higher education lobby. He wants ideas about how to loosen some of the rules around federal financial aid and accreditation.
Several Democrats at the well-attended hearing seemed supportive of that approach. But they warned against opening the floodgates of aid to unscrupulous operators and low-value credentials.
"The gateway to education reform is education oversight reform," said Sen. Sheldon Whitehouse, a Democrat from Rhode Island.
It's unclear whether any of the Beltway chatter about higher education will result in new legislation being passed in advance of the reauthorization of the Higher Education Act, which could be years away given the divisions that hamstring Congress now. But several observers said the various dueling bills could set starting points for negotiations over that legislation.
There also appears to be broad, bipartisan agreement that federal aid policies have not kept pace with new approaches to higher education.
Several panelists called for the expansion of the U.S. Department of Education's "experimental sites" program, which allows colleges to try new approaches within a "safe space" of looser regulation and financial aid policies.
Earlier this week two Congressmen announced proposed legislation to do just that. The bill from Rep. Peter Welch, a Vermont Democrat, and Trey Gowdy, a Republican from South Carolina, would encourage experimental sites for competency-based programs, prior-learning assessment and accelerated degree programs.
"This legislation creates a partnership between the federal government and our college administrators to cut unnecessary federal regulatory costs and encourage cost saving innovations," Welch said in a written statement.
Upstarts and the Old Guard
A prominent member of the higher education establishment echoed some of the lawmakers' arguments on Thursday.
William (Brit) Kirwan, chancellor of the University System of Maryland, said he supports the expansion of competency-based education. And he said the federal rules governing financial aid make it hard for colleges to go big with those programs.
"This isn't a foreign idea to higher education," said Kirwan, citing similar options, like Advanced Placement (AP) exams and other established forms of credit-by-exam. "We just need to recognize it."
Kirwan and other panelists said they would support changes to the existing accreditation system that might make it easier for competency-based and other emerging forms of online education to spread.
"The technology has reached the point where it really can improve learning," he said, adding that "it can lower the costs."
One commonly cited criticism of accreditors is that they favor the status quo, in part because they are membership organizations of academics that essentially practice self-regulation.
Paul LeBlanc, president of Southern New Hampshire University, said during the hearing that accreditors tend to "strengthen the incumbent models, especially if those incumbents are threatened by the new models."
Those are fighting words to Belle Wheelan, president of the Southern Association of Colleges and Schools' Commission on Colleges (SACS), a regional accreditor. She said accreditors work hard to encourage innovation while also taking seriously their role as the gatekeepers for federal financial aid.
For example, she cited four institutions that have begun offering competency-based degrees through a process called direct assessment, which is completely de-coupled from the credit-hour standard. Regional accreditors reviewed and gave a green light to those four programs, including Southern New Hampshire's and LeBlanc's very own College for America.
Wheelan's commission is poised to move forward with its take on direct assessment in December, she said. And the commission will kick the tires on any competency-based programs that colleges want to try to offer.
"I can't approve what people don't ask me to approve," said Wheelan.
More competency-based degree offerings are on the way. And that suits Sen. Christopher Murphy just fine.
"I believe that it is the future," Murphy, a Democrat from Connecticut, said during the hearing. "It's one of the ways to deliver a much more affordable product, with better results and metrics."