You have /5 articles left.
Sign up for a free account or log in.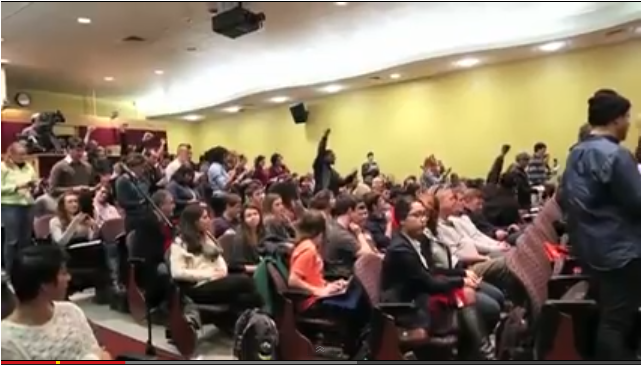 In 2001, The Brown Daily Herald accepted an advertisement questioning the idea that black people in the United States are owed reparations. Students called the ad racist, and responded by trashing 4,000 copies of the newspaper. Brown was accused of fostering an intolerant environment, where protest of controversial ideas turns into the squelching of some views altogether.
Last month, Brown was slated to have a lecture by Ray Kelly, the New York City police commissioner and architect of the controversial "stop and frisk" approach to policing, which many see as racist. Kelly showed up, but he was interrupted so many times that he couldn't speak and the event was called off.
The students who blocked him from speaking said his views were racist and didn't deserve a forum. Many others were outraged that he couldn't give a public lecture. Brown was, once again, accused of intolerance. 
One might conclude that Brown has a problem with free speech. But it's also worth noting that, both in 2001 and 2013, many students said that the protesters didn't in fact represent the majority view on campus. In 2001, many said that the anti-reparations ad was offensive, but no excuse to block distribution of a newspaper. This year, many students say that they find Ray Kelly's policing philosophy offensive, but that he was entitled to speak. (The Brown Daily Herald published a poll Wednesday suggesting that the vast majority of students feel that way, and that only 13 percent of students endorsed the idea of shutting down the lecture.)
So does Brown have a problem with free speech?
On Wednesday, Brown's new president, Christina H. Paxson (at right), announced that she was appointing a committee to review what happened at the Kelly lecture, and to consider its broader implications. In a letter to students and faculty members, Paxson said that she has learned how personally affected many students have been by the "stop and frisk" policy that is associated with Kelly. But she said that there can be no compromise on the principle that people are entitled to express their views.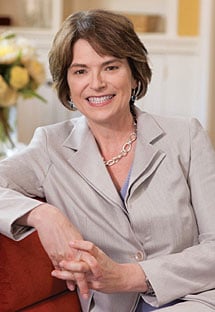 "I strongly believe that Brown must be a place that supports the free exchange of ideas, even if it means making space for points of view that are controversial or deeply upsetting," Paxson wrote. "The central mission of Brown is to discover, communicate and preserve knowledge and understanding in a spirit of free inquiry. Ideas, expressed in writing and in speech, are the basic currency of the university's work. Impeding the flow of ideas undermines Brown's ability to fulfill its mission. Making an exception to the principle of open expression jeopardizes the right of every person on this campus to speak freely and engage in open discussion. We must develop and adhere to norms of behavior that recognize the value of protest and acknowledge the imperative of the free exchange of ideas within a university."
She announced that a committee would study what happened at the aborted Kelly lecture, and how the university can ensure that speakers have a chance to make their case. She said that, once the facts are known, the university will consider whether those involved should face sanctions. She noted that the university's conduct code states, "Protest is a necessary and acceptable means of expression within the Brown community. However, protest becomes unacceptable when it obstructs the basic exchange of ideas. Such obstruction is a form of censorship, no matter who initiates it or for what reasons."
And Paxson wrote that the committee should look more broadly at the university. "[T]he committee will address the broader issues of campus climate, free expression, and dialogue across difference that have been the context for much of the discussion and activity of the last week," she wrote. "Specifically, the committee will make recommendations regarding how the university community can maintain an inclusive and supportive environment for all of our students while upholding our deep commitment to the free exchange of ideas."
Paxson won't be the first Brown president to promote discussion on the issue. In 2005, Brown's then-president, Ruth Simmons, gave a talk to kick off the spring semester in which she said she was concerned about reports she heard from students, parents and alumni about "the lack of diversity of opinion on campus." Students had told her of a "chilling effect caused by the dominance of certain voices on the spectrum of moral and political thought," she said at the time.
Simmons not only spoke out but supported the growth of the Political Theory Project, a research center known as a home to scholars to the right of the norm at Brown, and the sponsor of lectures and events that feature a range of political views.
Praise for Paxson
Many at Brown are praising Paxson (who condemned how Kelly was denied a chance to speak on the day it happened) for giving the issue of political tolerance more attention.
Iris Bahar, professor of engineering and chair of the Faculty Executive Committee, said that she was very concerned when she heard about the Kelly lecture. "Not in my almost 18 years here do I remember something where someone was not allowed to speak," she said. "I think we need to address this as a community -- and ask what we can do to make sure that this never happens again."
But Bahar does not believe that those who blocked Kelly from speaking reflect the views of most students or faculty members. "Conservative institutions love to glom on to stories like this as it shows how off the mark Brown is," but that misses the point, she said. "Brown has a liberal student body -- there is no denying that. and Brown has a liberal-leaning faculty. We can't pretend otherwise." But Bahar said that, "by and large, we want to hear different opinions." She said that most of the people she knows do not support Kelly, but believe strongly that he should have been given the right to speak.
Not everyone agrees, however. Brown posted Paxson's letter on its Facebook page, where it received support -- but also criticism from those who see the interruption of Kelly as a legitimate form of protest. One comment said: "A little civil disobedience (without violence) never hurt anyone. I'm proud to be an alum of a university where students visibly display their outrage at blatant abuses of power. Quite frankly, I'd be upset if they didn't."
Others who posted, meanwhile, wanted to be assured that those who disrupted the talk will be punished. "If the university doesn't hold the disruptive protesters accountable, then the code of conduct means nothing. It would be further proof that only certain speech is worth protecting at Brown, and further proof of hypocrisy."
One recent alumnus, Terrence George, praised Paxson for promoting discussion of political diversity. George graduated in May, and was the president of the university's Republican club. He said that he never expected a majority of Brown students to share his views, but that he felt confident that most students would let him and others speak.
Still, George said that the university does have a problem with some people being afraid to share their views. He said that throughout the time he was a Republican leader on campus, people would come up to him and tell him that they shared his views, but didn't want to be publicly known for doing so.
These "closet conservatives," he said, make him wonder about how many people might in fact differ from the prevailing political views. George said that he lost a few friends while at Brown when they learned that he was a Republican. "But people who would abandon you for that reason weren't that good friends to begin with."
An editorial in the Daily Herald backed George's points that many at Brown censor themselves because of pressure. "It is evident at this point that there is an incredibly vocal minority of students who feel compelled to shut off all streams of debate with which they disagree," the editorial said. "There is perhaps a majority of students who find themselves frustrated with with the narrow scope of debate that occurs in person or now, more than ever, on forums like Facebook. There are students — students from diverse backgrounds — who are afraid to state their opinion, and that is a profound loss for this campus.
Benjamin Wofford, a senior at Brown and co-editor-in-chief of The Brown Political Review (a nonpartisan publication), said that the Kelly incident has dominated the campus in an unusual way for the last week. "It's like this massive social experiment where thousands of students are debating one thing, day after day."
Wofford said that many students (himself included) have been receiving email from parents and others who aren't in Providence, horrified that a speaker would be prevented from talking. On campus, though, he said that there is support (but not majority support) for what the protesters did. Much of that is based on discussions where black and Latino Brown students who have themselves experienced police harassment in stop-and-frisk form have described their feelings.
While many Brown students opposed the way the protest played out, nobody on campus would think of defending Kelly, Wofford said.  "It's absolutely true that almost no one I know of is publicly defending Ray Kelly or stop-and-frisk," Wofford said. "What do you draw from that? Yes it's true that one political narrative is illiberal liberalism. But I take it as something that's happened organically in a community where a significant portion of students have had this raw emotional, painful thing happen to them."
Will Creeley, director of legal and political advocacy for the Foundation for Individual Rights in Education, said that the "heckler's veto" is a problem that extends beyond Brown and needs to be forcefully opposed. He said he was pleased to see Paxson talking about the university's code of conduct.
Via email, Creeley said that "President Paxson has sent a strong and necessary message to those who would simply shut down speakers with whom they disagree. As President Paxson notes, Brown policy plainly prohibits this type of censorship. No matter how noble some students imagine their decision to censor may be, preventing a speaker from being heard violates core civil liberties principles and has no place on a university campus or in our liberal democracy."
The issue of punishing the students who blocked the talk is likely to be controversial. A Brown spokesman said that there are a "range of options" on sanctions, but that the committee needs to do its work first.
Robert M. O'Neil, professor of law emeritus at the University of Virginia and an authority on First Amendment and academic freedom issues, said that he is not certain punishments help in these situations. "It's likely to be counterproductive," he said.
More important is -- if at all possible -- to get a speaker who was blocked from speaking back on campus and show that the institution is committed to free speech. That would send more of a message, he said, than punishing students. The emphasis needs to be on promoting the free exchange of ideas, he said. College leaders "need creativity," he added.
More from Academic Freedom