You have /5 articles left.
Sign up for a free account or log in.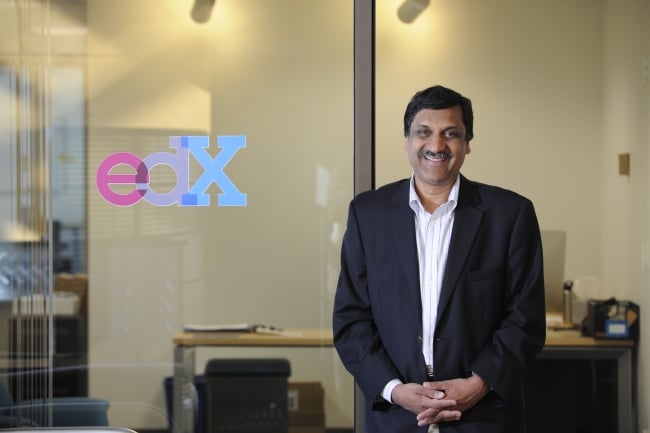 ORLANDO -- Anant Agarwal has quit cold turkey -- coffee, that is. But the president of edX, the massive open online course provider co-founded by Harvard University and the Massachusetts Institute of Technology, is as energetic about MOOCs as ever, despite almost daily calls from traditionalists for the death of his product.
Some of that energy was on display here on Friday, when Agarwal headlined the morning keynote at the Sloan Consortium International Conference on Online Learning. He called his platform a "particle accelerator for learning," demonstrated an online lab session calculating how to cook a steak and brushed away complaints about the completion rate of MOOCs.
And the day before he took the stage, MIT released a preliminary report on the future of the institution, naming edX a key component of its strategy.
"We're improving results, we're improving access, we're improving campus ed, and we're getting revenue," Agarwal said in an interview after his keynote. "When we see our university partners showing those results and saying it is improving, that in and of itself is enough to justify our existence."
EdX and MIT are by no means interchangeable, but the goals outlined in the report -- "unbundling education and blurring boundaries" -- show how the MOOC provider is affecting face-to-face education at the institution. One of the report's three working groups of faculty members, administrators and students is examining the potential of edX alone. Its findings suggest an education from MIT could be broken into smaller modules that, along with online education, would make it simpler for students to study away from campus and assemble their own curriculums.
"Achieving [those goals] will require a commitment to adopting new models of blended learning -- again emphasizing the flexibility to use different pedagogies in different settings -- and an investment in a diverse and flexible range of spaces that cater to different formats of learning," the report reads.
That's where edX comes in. Half of MIT's undergraduates use edX content in their residential courses, and as more faculty members break their courses into modules, Agarwal said he expects MIT will move away from the traditional four-year on-campus experience.
An education from MIT may soon involve a freshman year spent completing online courses, two years on campus and a fourth "year" of continuous education. While students pursue their careers, they could access a growing library of online courses to refresh their knowledge, Agarwal said.
"As we blend the courses, universities will take the next step," Agarwal said. "We would be woven into the fabric of universities. And as long as we're adding value, we have no qualms about that."
MIT has already taken what Agarwal called "a bold step" toward such a model, even though the institution only describes it as an experiment. In September, the university's arm of edX, MITx, announced the creation of two "XSeries" -- edX courses bundled into sequences. Partner universities are weeks away from announcing their own XSeries, he said.
"That's the future," Agarwal said. "It took a lot of discussion with universities to take a step in that direction."
MOOCs and various "MOOC-like" entities are often talked about in terms of how they can shake up traditional economic models. But much of that talk involves taking MOOCs produced by elite universities and reshaping the educational offerings of non-elite institutions. Despite its qualifying language and preliminary nature, the MIT report is envisioning the use of MOOCs not only to improve teaching, but also to potentially reshape the overall experience of an MIT education.
E(d)xpansion Plans
While MIT examines how blended courses can change education on campus, edX is looking abroad.
Agarwal said the MOOC provider will continue the two-pronged international expansion seen in recent months. EdX is in talks with countries about building consortiums such as the Chinese XuetangX, but it will also push its open-source platform, Open edX, for countries and organizations that wish to build their own platforms -- such as the French Ministry of Higher Education and the Queen Rania Foundation for Education and Development.
"We felt that countries were simply not going to come aboard the platform en masse when education is such a basic human right," Agarwal said. "If you want to set up your own consortium and become a competitor to edX -- you know what? -- you could do that."
The international expansion isn't limited to universities. Two weeks ago, the steel manufacturer Tenaris announced it will use edX's platform to train its employees.
EdX's foreign partners could also help MIT, which "might consider creating affiliated campuses around the world, with students in different campuses sharing online content and forums," according to the report.
The open-source side of edX's expansion plans will next year become less formally structured than the MOOC provider's consortiums. EdX has found a powerful partner in Google, which is working with edX to create MOOC.org -- a site that Agarwal enjoys referring to as "the YouTube of courses." The site is expected to launch in the first half of 2014 and will let anyone create online courses.
Also on the docket for 2014 is edX's essay grading software, which hasn't been heard from since The New York Times wrote about it in April. Agarwal called it "alpha software," saying it will face a gradual rollout. "For one thing, it's very controversial," he said. "Faculty have to trust it."
With the backing of Harvard and MIT, Agarwal said edX doesn't face the same pressure to generate revenue as companies backed by venture capital, such as Coursera and Udacity. As edX's "general direction and general outline" begins to take shape, he said, he sees a path toward becoming self-sustainable.
"It's not at all clear to me that there's a business here that will produce hundreds of millions of dollars ... but I can see enough -- as a MOOC provider -- for us that we can sustain ourselves," Agarwal said. "Our ambitions are modest in terms of revenue, and that's adequate."