You have /5 articles left.
Sign up for a free account or log in.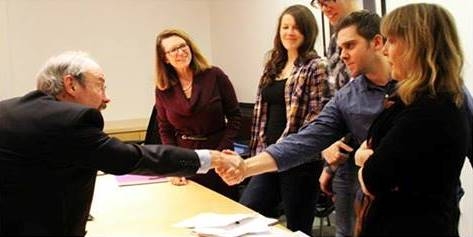 Graduate teaching assistants at New York University could be represented by a union as early as next year, under a deal announced Tuesday afternoon.
Under the deal between NYU and the United Auto Workers, an election is expected next month on whether graduate teaching assistants would like to be represented by the UAW. If they vote yes, as is expected, NYU would become the first private university since 2005 with unionized TAs. Under the agreement, both sides agreed to withdraw a case currently before the National Labor Relations Board on the legal right of private university graduate students to unionize. That case had the potential to set a new precedent on the issue, which is currently governed by a 2004 ruling denying that right.
In the absence of a new ruling, it is unclear whether other private universities where teaching assistants are trying to unionize will follow NYU's course of action, or will force unions seeking to represent the TAs to go through a long legal process to seek an NLRB ruling.
Grad Unions and Private Universities
2000: NLRB -- in case involving NYU and UAW -- rules that graduate teaching assistants are eligible for collective bargaining and can be considered employees.
2002: NYU recognizes the UAW union for its graduate students, becoming the first private university to do so.
2004: NLRB -- in case involving Brown University and the UAW -- reverses the 2000 ruling, and says that graduate students cannot be considered employees entitled to collective bargaining.
2005: NYU withdraws recognition of the UAW,
2005-6: Graduate teaching assistants go on strike at NYU, seeking to force the university to restore recognition, but strike fizzles out without such recognition.
2011: Regional NLRB official, in response to new petition from NYU graduate students to unionize with UAW, rules that the 2004 decision that grad students lack collective bargaining rights is still in place, but questions logic of that ruling, which is then appealed to full NLRB.
2012: NLRB announces that it will use the appeal on behalf of NYU grad students to reconsider the 2004 ruling.
2013: NYU and UAW announce compromise under which the appeal to NLRB will be withdrawn.
The UAW and NYU have sparred for years -- most notably in a long strike that started in 2005, when NYU stopped recognizing the union -- over collective bargaining rights for TAs. But a joint statement issued by the university and the union featured a positive, collaborative tone. "[T}he university and the UAW see this agreement as an opportunity to prove again that bargaining for graduate employees can be effective in a private university," said the statement. "The union and the university are pleased by the trust exhibited to this point to reach this historic agreement. It will form the foundation of our relationship going forward. The university is pleased at the expansion of our relationship with the UAW, and the UAW is excited about its enhanced relationship with one of the most innovative global private teaching and research universities."
The deal announced Tuesday is similar to a proposal the university made earlier this year: Withdrawal of the case before the NLRB, a union election for teaching assistants, but no union election for research assistants, whom the UAW would also like to unionize. (The joint statement acknowledges that the two sides have not been able to resolve differences over those grad students.)
Both sides had good reasons to compromise. Now that President Obama has succeeded in getting nominees confirmed to the NLRB, it was expected that the board would rule in favor of the union. But the UAW and union supporters have been dismayed by how long it has taken to even get close to an NLRB ruling (some hoped this matter might be resolved early in the first Obama administration), and there have been rumors of a push to pressure one of the Obama NLRB appointees -- Nancy J. Schiffer -- to recuse herself because she formerly was deputy general counsel for the UAW.
Some union supporters have argued that a compromise with NYU (as a model for other universities) could be more secure than an NLRB ruling that might be reversed the next time a Republican president is in office -- or if a federal court unsympathetic to academic unions heard a challenge to an NLRB ruling.
Outside the South, graduate student unions are common in public higher education (where collective bargaining rights are determined at the state level), but have been the source of years of organizing and legal struggles in private higher education. Private universities have consistently opposed the unions, arguing that grad students should be seen primarily as students, not employees. Unions have argued otherwise.
The NLRB has flip-flopped on the issue, depending on whether Democratic or Republican appointees are in the majority. But during most of the Obama administration, Senate Republicans have held up nominations and legally challenged appointments made by the president without Senate confirmation, leaving the question of grad student unions (as well as plenty of other union issues) in limbo.
NYU and the UAW have some history of compromise -- when they aren't fighting, at least. In 2002, NYU became the only private university to recognize a TA union. At the time, the relevant NLRB ruling recognized the right of graduate students to collective bargaining. After that decision was reversed in 2004, NYU regained the right to reject collective bargaining, and it did so in 2005. The union went on strike to try to force the university to recognize it, but the strike fizzled. The 2004 NLRB decision is unchanged by the NYU-UAW compromise, although that decision didn't bar TA unions. Private universities have always been free, as NYU has indicated it would do after an election, to recognize a union. Because the election won't be conducted through the NLRB process, both sides agreed to use the American Arbitration Association.
The joint statement also addressed a concern that NYU and other private universities have raised: that collective bargaining could end up involving union officials in academic matters. Union officials have always said that this was a false issue, and that questions like compensation, benefits and grievance procedures are about working conditions, not the curriculum. The joint statement says that the "parties concur that the 'academic management rights' of the university to make academic decisions separate from the bargaining relationship will be honored by the union, making clear that academic decisions are not subject to bargaining."
The statement issued by the UAW noted several provisions of the agreement that it considered significant. In particular, the union statement noted that NYU has pledged not to try to influence the graduate student vote, and that this pledge extends to department chairs and departmental directors of graduate studies. A fear of graduate student unions at NYU and elsewhere has been that because of the power professors hold over their grad students, active campaigning against a union could scare off union support. One pro-union blogger responded to this part of the agreement with an image of a flying pig and the line: "Pigs Must Be Flying Because NYU Just Agreed to Neutrality."
The union, acting on behalf of graduate teaching assistants at NYU's main campus and its Polytechnic Institute campus, said that the compromise had been approved by more than 100 graduate employees, including at least one person in every major department. The statement from the UAW called the agreement "unprecedented" and noted that it has taken eight years for the union and NYU to agree on the matter.
William A. Herbert, executive director of the National Center for the Study of Collective Bargaining in Higher Education, said that he thought the agreement "demonstrates prudence by both the employer and the union." He said that the neutrality pledge "allows graduate students to make their own choice," and that "both parties recognize their best interests are in a negotiated agreement aimed at calming the waters." (The center Herbert leads is supported by both labor and management groups in higher education, and is based at Hunter College of the City University of New York.)
Technically, other private universities could continue to rely on the NLRB's 2004 ruling that found no right to unionize for graduate students. But Herbert said he thought there was a chance -- particularly if NYU graduate students vote for a union, and negotiations on a contract proceed smoothly -- that others could follow NYU's lead and come up with agreements to permit union elections.
"It may be that other universities look at NYU and examine what they concluded there -- that it's in their interest to have good working relationships and avoid disruptive campaigns that sometimes arise in the context of NLRB proceedings," he said. "This could send a signal to other universities that this is a model that could be utilized on other campuses."