You have /5 articles left.
Sign up for a free account or log in.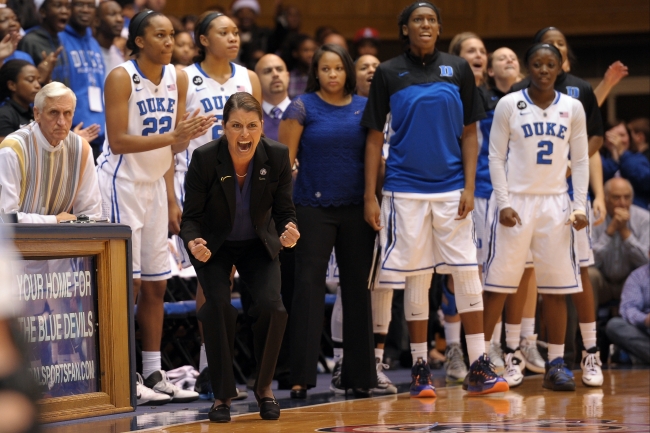 The fact that researchers have spent decades tracking and talking about the continual decline of women coaching women's sports teams has failed to reverse that trend. But a new report calling out the universities sporting the biggest gender gaps -- lookin' at you, Oklahoma State -- could do more to expose the issue and hold administrators accountable, its authors say.
The "report card" shows many problem spots. The proportion of programs awarded "A" or "B" grades – meaning that 55 to 100 percent of women's teams are coached by women – is roughly equal to the proportion getting Fs. In total, 39.6 percent of women's teams at the 76 Division I Bowl Championship Series universities were coached by women. That's a 0.6 percentage point drop from last year.
"Over time, if it's half-a-percent every year, that adds up," said Nicole LaVoi, associate director of the University of Minnesota's Tucker Center for Research on Girls and Women in Sport, which compiled the report along with the Alliance of Women Coaches. "We're not seeing dramatic decreases, but we're certainly not seeing it go the other way."
BCS Programs With the Highest and Lowest Proportions
of Female Head Coaches of Women's Teams

| | | |
| --- | --- | --- |
| University | Proportion of Female Coaches | Report Card Grade |
| University of Cincinnati | 80.0% | A |
| University of Texas | 63.6% | B |
| University of Miami | 60.0% | B |
| Pennsylvania State University | 60.0% | B |
| University of California at Los Angeles | 57.1% | B |
| Washington State University | 55.6% | B |
| University of Illinois | 54.5% | B |
| Florida State University | 54.5% | B |
| Louisiana State University | 54.5% | B |
| University of Iowa | 53.8% | C |
| Texas Tech University | 25.0% | D |
| University of Alabama | 23.1% | F |
| Vanderbilt University | 22.2% | F |
| Virginia Tech University | 20.0% | F |
| Syracuse University | 18.2% | F |
| West Virginia University | 18.2% | F |
| University of Arkansas | 16.7% | F |
| University of Kentucky | 16.7% | F |
| North Carolina State University | 16.7% | F |
| Oklahoma State University | 12.5% | F |
There are plenty of reasons why the percentage of women coaching women's sports has declined from more than 90 percent in 1972, when Title IX created unprecedented opportunities for female athletes on college campuses, to about 40 percent in 2013. (1972 is thought to mark the beginning of this decline because once female sports became more prominent and lucrative, more men took interest and began seeking out those jobs.)
They range from the personal (women tend to be the primary caregivers for children), to the organizational (the vast majority of athletics departments are run by men who tend to hire more men, and family-friendly policies are not always in place), to the societal (people tend to think of coaches as synonymous with men, and when women don't see head female coaches to look up to they are less inclined to pursue that career path).
LaVoi and others say the consequences fall not just on the women who aren't getting hired, but the girls and young adults who see a clear lack of female representation in the coaching ranks.
"We obviously have record numbers of female athletes who have a lot of athletic talent and knowledge about sport who could in turn become great coaches," LaVoi said, comparing the scenario to women in the STEM fields. "But they don't see women in those positions, so they don't aspire to that."
It's not a coincidence that the University of Cincinnati – the only institution to score an "A" grade – employs female coaches on 80 percent of its women's teams, Senior Associate Athletic Director Desiree Reed-Francois said.
"We actively recruit a diverse pool and have several initiatives aimed at providing an inclusive and supportive environment," she said in an email.
While LaVoi is optimistic that within the next five years there could be some signs of change – "We wouldn't do this work if we didn't think it could make a difference" – Linda Carpenter, who along with Vivian Acosta has reported on the state of women in college sports leadership since 1977, said it will take a lot to reverse the trend.
"I fear that actually turning the direction of the tidal flow is a huge challenge and requires commitment and good will in stronger proportion than now exists," Carpenter said in an email.
Among the necessary changes: "Incentive in the form of salaries, support and perks that demonstrate that women athletes and their coaches are valued rather than tolerated on the campuses of institutions of higher education" – and subsequent recruitment of more female coaches. (Female coaches currently earn a fraction of what their male counterparts make.)
Since women coaching women's teams have become less common, the proportion of women coaching men's teams has stayed flat. Carpenter wants not just more women coaching women, but more women coaching men. That is one way of "restructuring" the ingrained bias that women are somehow less qualified than men to coach – that, and hiring more women to coach high-profile sports.
Additionally, LaVoi says, professional development and networking for female coaches and education for athletics directors could help address the organizational problems.
"The hardest barrier is the societal stereotypes – how do you change people's ideas about gender and leadership," she said. "By generating awareness about the issue and by getting more women in visible coaching positions, that will hopefully in turn start to shift people's stereotypes about women in power."