You have /5 articles left.
Sign up for a free account or log in.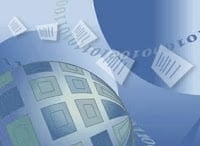 The much-maligned college transcript is finally going digital.
A small group of private firms are seeing increasing demand for their repositories for e-transcripts, as colleges move away from paper versions for both incoming and outgoing students.
Roughly 24 percent of institutions received some form of digital transcripts in 2009, according to a survey conducted by the American Association of College Registrars and Admissions Officers. Only 17 percent sent them to other colleges or to employers. But those numbers have almost certainly increased.
"We're at an inflection point," said Rick Torres, president and CEO of the National Student Clearinghouse.
The nonprofit clearinghouse runs an electronic transcript exchange that makes it one of the biggest players in the expanding field. The clearinghouse also has partnered with Hobsons and Ellucian, two education technology companies, on transcript processing and delivery.
Parchment is a major competitor. The company got its start with high school transcripts. Currently more than 5,600 high schools use Parchment's digital credentials.
The Colorado-based company is now moving rapidly into higher education. Parchment works with 1,670 colleges and universities, including 225 or so community colleges. And the company last year landed a statewide partnership to handle the digital transcript exchange for Kentucky's public colleges, universities and high schools.
Additional firms that are active in the space include Scrip-Safe, ConnectEDU and Pathbrite. Other entities that could get involved in work around digital transcripts include  LinkedIn, Mozilla, Coursera and testing firms like ETS and ACT.
The competition has created a "dynamic and interesting market," said Matthew Pittinsky, Parchment's CEO.
Experts hope the shift to digital will help improve the college transcript, which most agree tells little about what a student knows or can do.
"So many things are possible once you get away from paper transcripts," said Michael Reilly, executive director of the registrars association.
Electronic transcripts can include more information, often including links to descriptions and examples of students' work, knowledge and skills. For example, Reilly points to Stanford University's electronic transcripts, which can feature "hot links" to a wealth of information that a static, paper version could not convey.
When they are used this way, digital transcripts share similarities with other emerging forms of credentials, including digital badges, competency-based transcripts and new skills certifications from testing firms.
Pittinsky, an ed-tech veteran who co-founded Blackboard, has been pushing the concept of a "next gen" transcript that would be digital, standardized, portable and national -- or even global. Something like this already exists in the United Kingdom – the Higher Education Achievement Report (HEAR).
Ideally digital transcripts would be "stackable," Pittinsky said, meaning students could easily bring them along as they earn additional degrees, certificates and other credentials.
But he said a set of broadly agreed-upon standards and a common document structure are necessary for that idea to take off. "The challenge is that we end up in the tower of Babel," said Pittinsky.
Burck Smith, the founder and CEO of Straighterline, an online course provider, said the digital transcript market still needs to mature. But with some more standardization and a critical mass of users, he thinks employers could tap e-transcripts to learn much more about potential hires.
"That's the gold mine that everyone wants to hit," said Smith.
Complex History
Officials at colleges that have made the switch said digital transcripts are cheaper and more efficient than paper versions. Those savings can benefit both students and institutions.
"This is a revolution in the way we do things," said Tammi Coble, the registrar at Cateret Community College, which is located in Morehead City, North Carolina.
Cateret recently signed on with Parchment. The company handles student requests for transcripts as well as their distribution. The college paid for an initial contract with Parchment but does not pay a recurring fee to the company. And Coble and her colleagues no longer have to touch transcripts or track down students to bill them for the documents.
Student accounts with Parchment are free. And they can stack all their credentials with the company's transcript exchange.
Parchment charges institutions for the outsourced transcript processing. And students typically pay a small amount -- ranging from $3 to $10 -- to institutions to have digital transcripts distributed, printed and mailed. Colleges often use that revenue to help offset the Parchment fee.
"We do not determine if and how much an institution charges the students, though our fee to them may influence what they decide to charge students," a spokeswoman for the company said via email. "There is always a cost associated with processing a transcript, whether paper or electronic. And all institutions manage those costs differently."
Digital transcripts are more established in K-12 than higher education, for several understandable reasons.
A high school transcript is simpler and more standardized than a college one. And the broad range of institutions that send or receive college transcripts also complicates the transcript process.
"Both the sender and the recipient have to have the same technology," Reilly said.
Registrars also have to be sold on the security of digital transcripts. But Reilly and others said electronic versions of the documents are easier to protect and keep free from forgery or fraud.
The registrars' association and the clearinghouse teamed up to create shared principles around transcript security and other key concerns with the technology. That agreement is dubbed the Global Registrar EduRecord Exchange Network, or GREEN. Last week Parchment signed on to the agreement.
Likewise, the Postsecondary Electronic Standards Council (PESC) also has similar guidelines in place.
The somewhat complex history of digital transcripts goes back to the 1990s, when the council and the registrars group worked together to create the Standardization of Postsecondary Education Electronic Data Exchange (SPEEDE). In 1995 the groups launched a freely-accessible web server for the exchange, which was housed at the University of Texas at Austin.
Last year the Clearinghouse acquired the server. Its migration to a private nonprofit firm "created a bit of a dust-up in the business," Reilly said.
While the competition between companies around digital transcripts remains intense, the server is vender neutral. That means it is free and open for use by colleges and their various transcript services.
What comes next with the evolving market for e-transcripts is anybody's guess. But it's a safe guess that the market is going to expand.
Coble said she wanted her college to be ahead of the curve. "We need to get on the technology and move with it."
(Note: This article has been changed from a previous version to correct erroneous references to the National Transcript Center.)