You have /5 articles left.
Sign up for a free account or log in.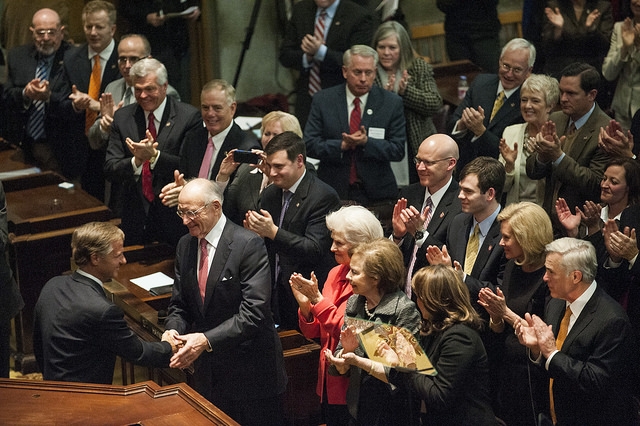 Making community college free has become a hot idea. Over the last two weeks politicians in Tennessee, Oregon and Mississippi have proposed a tuition-free first two years of community college for their states' high school graduates.
Higher education leaders have welcomed the attention, as well as possible new pots of money aimed at lower-income students.
Terry W. Hartle, senior vice president of the American Council on Education, said the proposal from Tennessee's governor, Bill Haslam, was "extraordinarily important." He said it could be as "potentially far-reaching" as any state-based student access push since the creation of Georgia's HOPE scholarship in the early '90s.
However, Hartle and several other experts said the funding proposals raise significant questions. They urged a cautious, thoughtful approach and warned about a range of possible unintended consequences – such as driving students away from public, four-year institutions.
"This is not a minor proposition," Hartle said. "This will cost a lot of money."
More strategic ways of using state support could actually do a better job of helping students who need it the most, some said.
Kay McClenney, director of the Center for Community College Student Engagement, said state scholarship funds for lower-income students are often short of money.
For example, Oregon's Opportunity Grant, a need-based scholarship program, is "terribly underfunded," said Elizabeth Cox Brand, director of communications and research for the state's Department of Community Colleges and Workforce Development. That story is repeated around much of the country.
Some lawmakers may be feeling relatively flush as their states emerge from the recession. But McClenney said they must be careful about how they spend their "limited public funds" for higher education. By making tuition free for all, she said states run the risk of "subsidizing large numbers of people who don't need the support."
Hartle said the resulting expansion of student access could create challenges, particularly if the plans do not factor in students' likelihood of success. Without well-designed conditions, the tuition-free proposals "might be setting the institutions up to fail," he said.
Even so, Hartle and McClenney praised lawmakers in the three states for trying to help the most vulnerable of college students.
"The interest and the sentiment are powerfully welcome," said McClenney.
Major new funding proposals aimed at community college students are rare. And badly needed state support could draw more lower-income students into college and help them get to graduation.
"We know that many potential students, especially underrepresented and first-generation ones, see college as unaffordable," Dewayne Matthews, Lumina's vice president of strategy and policy, said in an email. "The Tennessee proposal addresses that concern very powerfully."
Matthews said he likes Haslam's strategy of linking the free tuition plan to the state's aggressive goals for increasing its number of college graduates.
David Baime, senior vice president for government relations and research for the American Association of Community Colleges, agreed with Matthews that the proposal sends a "loud and clear" message to lower-income students that college is for them.
"A lot of our students are so marginal when it comes to their ability to pay for college," he said.
But Baime said policy makers must think carefully about the consequences before moving forward with two years of free tuition. He worried whether the tuition subsidies would be sustainable, because healthy budgets don't last long.
Raising tuition once it has been eliminated is never easy, as California's community colleges have learned. (Tuition was free at the state's two-year colleges until 1984. And current tuition levels remain far below the national average, at $46 per credit.)
Matthews also said states must continue to serve more students. That takes funding.
"If states forgo tuition revenue, they will need to find that money elsewhere," he said.
Legitimate Goals, and Worries
Tennessee has drawn the most attention for its community college tuition plan. Haslam, a Republican, has won fans by prodding colleges to do better, and then finding ways to fund those initiatives.
On Monday the governor proposed making the first two years of community and technical college free to all Tennessee high school graduates. He suggested funneling $300 million from the state's lottery fund to create an endowment that would cover the cost of the tuition and fees.
The so-called Tennessee Promise would cost the state an estimated $34 million per year, according to a fact sheet the governor's office circulated. But Haslam said the proposed endowment should be able to handle that expense.
To be eligible students must enroll in community college the fall after their high school graduation. They must also take at least 12 credit hours per semester, maintain a 2.0 GPA and complete eight hours of community service per semester, according to the fact sheet.
The fund will be a "last-dollar scholarship," meaning it will cover only the fees left over after all other sources of aid have been applied. That includes federal funding, like Pell Grants.
The state expects 25,000 students to apply to the program. And the governor's office said it hopes to bring in at least 5,000 volunteer mentors to work with applicants.
"It is a promise that we have an ability to make," Haslam said of the plan, in a written statement. "Net cost to the state, zero. Net impact on our future, priceless."
A similar plan is moving forward in Mississippi, albeit more quietly. Two weeks ago a committee of the state's Legislature passed a bill that would make tuition free at all 15 Mississippi community colleges for students who graduated from high school within 12 months of enrolling in college. An appropriations committee and the full Legislature have yet to consider the plan.
To qualify under the language in the proposed bill, students would also need to be first-time, full-time students. Once admitted students would need to maintain a 2.5 GPA while taking a minimum of 15 credit hours each semester to continue to have their tuition covered by the state.
Mississippi would only pick up the tuition costs after all other federal, state and institutional aid sources have been tapped. As a result, lawmakers estimated the annual cost to be less than $4.5 million per year for the 75,000-student system, reported The Sun Herald of Biloxi.
The impetus for the legislation is concern over the "cost of higher education," according to the text of the bill, and the "growing financial burden of both out-of-pocket expenses and loans to be repaid, that are being placed on current and future students."
Those concerns are legitimate, said Sara Goldrick-Rab, an associate professor of educational policy studies and sociology at the University of Wisconsin at Madison.
Many people mistakenly believe community college is affordable, said Goldrick-Rab, who studies community college access issues. It is not, she said, at least for low-income students, who face an average net price of more than $8,000 a year even after all grants are considered.
"Many students are quite reasonably worried about borrowing $16,000 to $24,000 for a two-year degree, which often takes three years to complete," she said via email, adding that "it is increasingly hard for students to find flexible part-time employment that aligns with their school schedules."
Yet while Goldrick-Rab said the free-tuition plans are welcome developments, some are better than others.
She is concerned about whether the plans would harm access to four-year institutions. That's because academically prepared, low-income students experience a "smoother path" to a bachelor degree if they start at a four-year institution.
Goldrick-Rab also said the benefits of free tuition are reduced if policy makers set "unreasonable criteria" such as high G.P.A. or credit thresholds.
"I'd recommend a closer look to see if additional sources of funding, including federal work-study and benefits access programs, could be aligned to bring even more resources to the table," she said.
It's in the Details
Oregon's free tuition plan remains solidly in the conceptual phase. But as with the proposals in the two other states, momentum is building rapidly for the idea – thanks in part to all the attention President Obama and others have directed at community college students.
A committee of the state's Senate on Tuesday voted for a bill that requires Oregon's Higher Education Coordinating Committee to study the idea of free community college tuition for two years for the state's high school graduates.
Lawmakers estimate a cost between $100 million and $200 million per year, reported The Oregonian, a Portland newspaper. Roughly 32,000 students earn high school diplomas in the state each year.
Gov. John Kitzhaber, a Democrat, supports the proposal. But he included several caveats during his testimony before the state Senate this week.
"I'd suggest it's an excellent idea but not without its complexities or potential pitfalls," Kitzhaber said, according to The Oregonian. He suggested adding G.P.A. requirements and other incentives.
Cox Brand is among many state officials who will study the proposal as it emerges. She likes the overall concept. "It's a grand idea. We all want to have more affordable college, for everyone," said Cox-Brand. "It's the shiny, bright object."
But she said plenty of challenges and tricky details will need to be resolved to make the plan work.
"What is it really going to look like?" she asked. "How much does it even cost? Is it sustainable?"