You have /5 articles left.
Sign up for a free account or log in.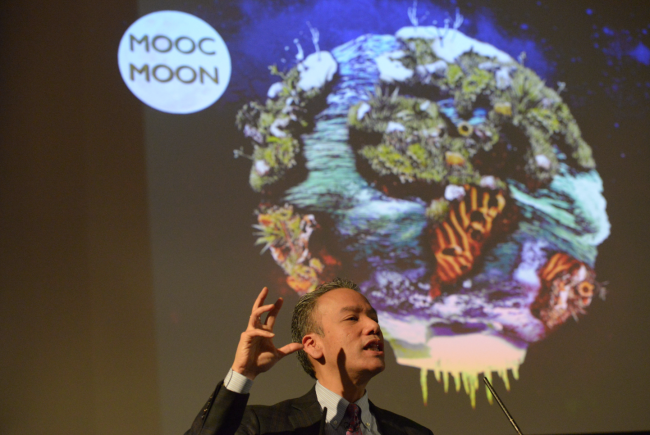 When faculty members move from one institution to the next, so do their courses, but after having spent hundreds of thousands of dollars to prepare those courses to a massive audience, are universities entitled to a share of the rights?
The question has so far gone unanswered (though not undiscussed) even at some of the earliest entrants into the massive open online course market, including Harvard University and the Massachusetts Institute of Technology. Since MOOC providers have gotten out of the intellectual property rights debate by saying they will honor whatever policy their institutional partners have in place, it falls on the universities to settle the matter.
Almost two years after Harvard and MIT jointly launched the MOOC provider edX, Sanjay E. Sarma, director of digital learning at MIT, said his institution has "figured it out."
"Faculty have always had certain expectations and rights, and we want to respect them," Sarma said. "In other words, we don't want any new policy to change any rights they have right now."
Instead, Sarma said, MIT will introduce an interpretation of its intellectual property policy -- which appears to support both the faculty members' and the institution's position -- in the coming months. 
MIT's policies and procedures note that the institution's "mission has generally been best served by allowing the individual faculty member to decide when, how, and in what form [teaching materials] should be disseminated." Only a few sections before that, the institution carves out an exception for intellectual property created "with the significant use of funds or facilities administered by MIT."
That makes MOOCs a borderline case. They're courses, but in addition to spending six-figure sums to develop them, universities also devote hundreds of hours of effort by instructional designers and production staff.
Sarma shared some of the principles guiding the new interpretation, which will be revisited after one year. If faculty members who have created MOOCs with significant use of MIT's resources leave MIT, they still own their rights to teach their course elsewhere, though without the produced recordings. MIT keeps that footage, as well as a license to continue the MOOC based on the course materials it helped produce.
"The word we're using is stewardship," Sarma said.
Harvard's intellectual property policy contains similar language, encouraging faculty members to disseminate their work "in ways that are meaningful in the public interest." If the university's "involvement in the creation and development of copyrighted materials is more than incidental," however, Harvard and the faculty member should share the rights.
Robert A. Lue, faculty director of HarvardX, spoke about that changing model of course development at a recent conference on online learning held at the University of California at Berkeley.
"There's a cluster of individuals -- a village -- that works with each faculty member," Lue said, listing media specialists, instructional designers and students. "What that village really represents is the beginning of a symbiosis across the entire institution that ultimately represents an ecosystem for how we can think about creating exciting learning experiences not only at scale, but also for our students on campus."
Other institutions, such as Princeton University, have reframed the question in more familiar terms, with one faculty member there casting the MOOC as a "21st-century textbook." Duke University, one of the first institutions to join Coursera, appears to have put an end to the debate by equating MOOCs with face-to-face courses.
Cathy N. Davidson, who taught her first MOOC via Coursera this spring, recently announced she would leave Duke for the Graduate Center of the City University of New York. The move could have been complicated by a intellectual property rights dispute -- especially since CUNY is not a Coursera partner, But after checking with the MOOC provider and the university, Davidson said her developing a MOOC at Duke is a non-issue.
"I own my own course content," Davidson said in an email. "No one at Duke (or anywhere) can teach with my videos without my permission. I can reuse my videos and course materials at CUNY, but need to acknowledge that they were produced at Duke."
Davidson called her MOOC a "one-time experiment," but David Jarmul, associate vice president for news and communications at Duke, confirmed that she is free to offer it again from CUNY. Duke's intellectual property policy, which includes a specific section on "Internet courseware," grants all faculty members a license "to make 'all traditional, customary or reasonable academic uses' of course content ... whether they are teaching on campus, off campus or online."
Harvard isn't rushing to come up with any new policies just yet. Its ad hoc Committee on Outside Activities in the Online Environment, formed last year to gather input on intellectual property rights and other issues, delivered its report in October, and the Faculty of Arts and Sciences discussed the findings last month. But as Harvard Magazine reported, the committee did not make any legislative proposals. Additionally, "the matters under review did not change Harvard understandings about the ownership of intellectual property."
As a HarvardX spokesman put it, "That is an issue that is being discussed right now (without a clear answer as of yet)."
Perhaps most importantly to HarvardX, and despite the unresolved issues: Faculty members are still lining up to experiment with MOOCs.
"Despite the fact we're in the 'trough of disillusionment' about MOOCs, which I think much has been written about, faculty continue to come," Lue said. "So we have about 50 projects in flight, and our biggest problem right now is we can't meet faculty demand for doing these online experiences."