You have /5 articles left.
Sign up for a free account or log in.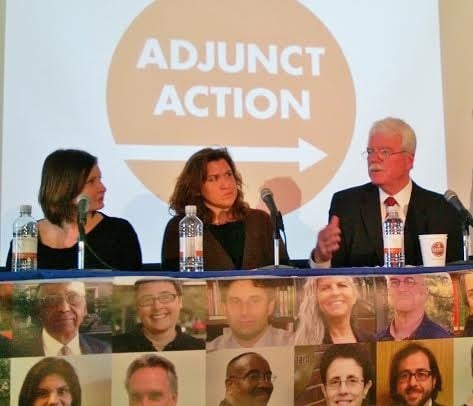 WASHINGTON – Hoping to reach an estimated 1 million adjunct professors nationwide, Service Employees International Union on Monday officially launched its new Adjunct Action Network website. The union marked the occasion with a "national town hall" event for adjuncts at Georgetown University here.
If a million adjuncts sounds like a lofty goal, it is. But adjuncts and organizers in attendance said they'd been encouraged by the fact that SEIU's Adjunct Action organizing campaign is on the ground in nine cities, and that more than half the adjuncts in Washington, the campaign's original city, have now either formed or filed for elections for unions affiliated with SEIU.
That includes Georgetown adjuncts, who won their union bid last year and are now negotiating their first contract. And after working to establish unions at individual campuses, Washington-area adjuncts are now in talks with SEIU about a city-wide union. It's a model the union and its affiliated adjuncts would like to replicate elsewhere, including Boston, Philadelphia, Seattle and Los Angeles.
Mary Kay Henry, president of SEIU, called the website a "new way to organize in a changing world," and to eschew some of the traditional problems adjuncts have had with organizing, such as lack of office space and a kind of commuter status. By connecting with adjuncts on their campuses and in other states through the new online forum, she said, there's potential for adjuncts to "light up the entire country."
Of the Adjunct Action organizing campaign itself, Henry said it reflects at once the brokenness of "America's promise" – that is, that education is one's path to a better life – and the "inability" of adjuncts to accept that brokenness. 
Speakers at the town hall, including U.S. Rep. George Miller, a California Democrat on the House Committee on Education and the Workforce who has been adjuncts' biggest ally in Congress, said adjuncts can't passively wait for the changes they want to see in their pay and working conditions and instead must lead the charge.
And because organizations have more sway than individuals, unionization is "the only way this can be done," Miller said. He noted that there already was growing interest among his Democratic colleagues in the plight of adjuncts, thanks to an "accidental moment in history" with Maria Maisto in November. Maisto, president of the New Faculty Majority, a national adjunct advocacy group, had been invited to testify before the education committee about the impact of the Affordable Care Act on higher education.
But Maisto soon redirected the conversation to more general concerns about adjuncts – their relatively low pay and overall poor working conditions, and their impact on student success.
Miller said he and other legislators were "stunned" by the revelations, especially because universities seem to be "forward-thinking" employers who presumably would have sounder employment standards. "It sent us the signal that there was something very, very wrong here."
The testimony sparked a report from Miller's office on adjuncts, called the "Just-in-Time Professor," based on existing research and adjuncts' responses to an online forum about their working conditions.
Miller said the status of adjuncts raises "very serious ethics and transparency issues."
Parents – especially those who go into debt to send their children to college – would do well to know more about the exact conditions under which the majority of professors work, he said. And as a policy maker, he'd like to know the "tradeoffs" institutions have made – that is, where tuition and public money is going if not into front-line instruction.
But Congress can do only so much, Miller said, calling organizing "critical."
At one adjunct's suggestion that Congress ask college and university accreditors to consider adjunct working conditions, for example, Miller said "titanic fights" ensue when legislators try to intervene in that realm.
Henry said adjuncts themselves can better demand that kind of "accountability" from accreditors. Maisto, who attended the town hall, said the New Faculty Majority and other adjunct advocates already have begun to address the issue with the Council for Higher Education Accreditation.
Adjuncts on the panel agreed. Tiffany Kraft, an adjunct professor of English at Washington State's Clark College, whose faculty union is affiliated with the National Education Association, said adjuncts were "implicit accomplices" in their own struggle if they failed to take a stand, especially given their potential for organizing power -- estimated at about 75 percent of instructors across higher education. (Note: This paragraph has been updated to reflect that Clark College full-time faculty and adjuncts currently are represented by the NEA.)
Kerry Danner-McDonald, an adjunct professor of theology at Georgetown, acknowledged additional barriers to organizing beyond logistics.
She said that colleagues at scholarly conferences expressed that tell-tale "oh" sound upon hearing she was an adjunct, and that she "wasn't ready to go through that yet with my students," or "out" herself as an adjunct to them, during the union drive there.
But she eventually realized she needed to fight for her professional future, a sense heightened by the realization that she has "no college savings" for her daughter, who has expressed an interest in attending Georgetown.
Audience members shared similar accounts of disconnect between their work and their economic realities. One adjunct working at a community college said she'd had to visit a food pantry to feed her children after a divorce.
And Jane Harty, a self-proclaimed "career adjunct" professor of music at Pacific Lutheran University, said she was still making $11,000 a year, at half-time, after decades at the institution. Harty and her fellow Pacific Lutheran adjuncts have held their union vote but have had their ballots impounded pending the university's legal argument that it is outside National Labor Relations Board jurisdiction due to its religious status.
Jaimie Hoffman, an adjunct professor of communications at California State University-Channel Islands, said she risked losing eligibility for a federal loan-forgiveness program related to public service should her course load dip below the 30-hour-per-week mark at any time in the next 10 years. Given the lack of control over her schedule, that's entirely possible, she said, noting the irony that in her former job as an administrator at the college, that wasn't a fear.
Miller attributed part of that problem to the way individual colleges count adjuncts' hours. That's been a recent point of contention in relation to the Affordable Care Act. College associations pushed for months for federal guidance, which recently was issued.
Donya Coldwell, adjunct professor of world literature at Saint Joseph's College, in Philadelphia, said the at-times difficult-to-swallow message that adjuncts must fight for the changes they want to see was "true." At the same time, she said, "it's really difficult to act."
Given that they lack job security, it's hard to persuade adjuncts to go out on a limb and organize, she said, and sometimes only small numbers of adjuncts being willing to do so can weaken the cause.
But she said she hoped the new Adjunct Action website would make it a bit easier to drum up support.
"You can't picket with three people," she said.