You have /5 articles left.
Sign up for a free account or log in.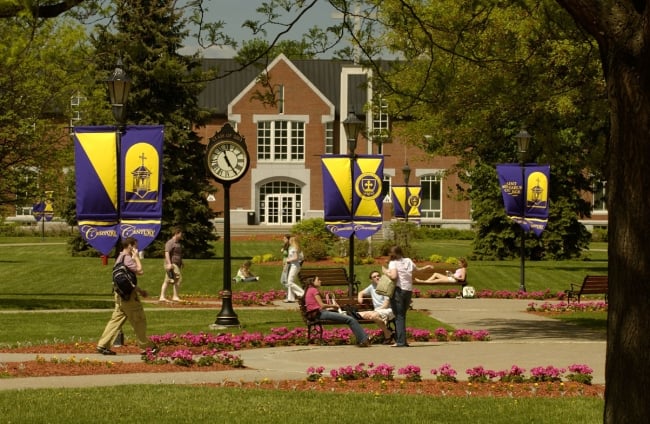 After surveying the fate of small private liberal arts colleges, Saint Michael's College in Vermont is now planning ahead for enrollment declines, inexpensive online classes for credit and debt-averse students and families.
College officials say they now have a way to keep the college sustainable by making it smaller. Even though enrollment is steady and there's been a budget surplus each of the past six years, Saint Michael's is planning to enroll 10 to 15 percent fewer students over the next three to four years and, in turn, employ about 10 percent fewer faculty and staff members. That approach runs counter to the strategies of some liberal arts colleges that are saying that they will thrive by getting larger, even as many doubt that a growing number of students will be seeking liberal arts degrees.
A task force of three Saint Michael's alumni, three faculty and three trustees spent about nine months studying what will happen to small tuition-dependent liberal arts colleges and found there's a "perfect storm" approaching.
For Saint Michael's, those projected problems include a 15 percent drop in high school graduates in the Northeast, but also an unsustainable pricing model that is going to collide with a student debt bubble and large-enrollment online courses from elite universities that will drive down costs.
President John J. Neuhauser, a former business school dean at Boston College, said Saint Michael's is preparing for its enrollment to drop from 1,900 now to 1,600 in the next several years. In turn, the college plans to cut the number of faculty positions from 150 to 135, mainly through attrition.
Neuhauser said the assumption is that the steep fall-off in the number of high school graduates is going to affect somebody -- and that somebody might be Saint Michael's.
"Everybody thinks they are smarter than everybody else, but we're going to plan as if we weren't and try to be smarter than everybody else," he said.
The college is trying to avoid a number of scenarios by planning for the worst and hoping for the best. Some colleges have had to suddenly and sharply cut faculty because of unexpected enrollment declines.
Saint Michael's is also adding a summer online program for students from elsewhere that will start to rely on content from online courses to help lower costs. The summer program could eventually help students graduate in three years.
"It's pretty clear that you have to get some productivity out of small liberal arts colleges or else they are simply going to price themselves out of existence," Neuhauser said.
Michael McGrath, a trustee who chaired the task force, is a former business consultant who said he's seen companies swept under by technology. He asked everyone on the task force to take a free online class, whether from iTunes or from the massive open online course providers edX and Coursera.
He said the task force concluded there are going to be significant changes in the market for all of higher education, and he said it's better to be "slightly paranoid and react in advance."
"There's that potential in higher education that it's going to be more than a little downsizing by the marginal colleges," he said. "It could be quite profound."
John O'Meara, an associate physics professor who was on the task force, said faculty members plan to discuss the college's plan in depth in May but are increasingly aware that perhaps the current higher ed economy is not "just the normal doom and gloom-ism." He said professors read about problems but always assume the larger trends won't hit them.
"No faculty member is saying, 'Please fire me' or something – nobody is embracing this with joy," O'Meara said. "But I think there is an acknowledgment among the faculty that we may be in a more unique financial situation than we have in the past."
McGrath, the trustee, believes the student debt bubble is going to pop and depress prices. He called the government-backed loans with few strings attached the "biggest government scam and the most unethical thing in history."
"It's the biggest scam, and then they will probably turn around and blame colleges," he said. "They will hold hearings and they will say, 'When the student applied to you for a federal loan, why didn't you monitor what the grades were?' "
If that easy money dries up, McGrath said, there will be even more pressure on colleges.
Other small private colleges are working on ways to grow their market share by, among other things, cutting their sticker price.
"Those things can either be just interesting strategies or desperate – depends on how they work out," McGrath said.
Neuhauser, likewise, said any effort by Saint Michael's to grow net tuition by increasing enrollment would be "foolish." For one thing, Saint Michael's is near its capacity now, meaning additional students at the residential college could force new construction.
The college is still working out how it plans to reduce faculty lines and continue to maintain a healthy variety of course options.
Some people argue most traditionally structured colleges will struggle to maintain a diversity of courses if they have fewer than 2,000 students. Neuhauser said that's generally true but he believes the threshold is a bit lower and technology can help.
"I think it's going to change how it's conducted, but we'll see, it's easy to be critical of MOOCs and things like that now, but what's edX, 18 months old? It's pretty new," he said. "I betcha Gutenberg had the same problem."
McGrath said he believes the trustees are setting a good example by planning for the worst -- "it's really dumb if you don't prepare for a storm" -- and that he's seen too many boards in the corporate world fail to react to changes. He said he used to tell his clients, "If everybody is happy 90 days from now, then we're not doing enough."