You have /5 articles left.
Sign up for a free account or log in.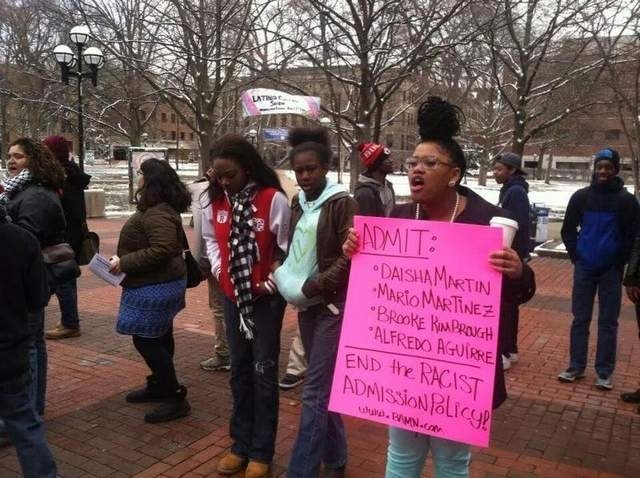 This article has been updated from one posted shortly after the decision was announced.
WASHINGTON -- The U.S. Supreme Court on Tuesday upheld the constitutionality of a measure approved by Michigan voters in 2006 to bar public colleges and universities from considering race in admissions.
The ruling leaves in place not only the Michigan measure, but also similar ones in California, Washington State and elsewhere that have made it more difficult for public colleges to recruit and admit black and Latino students. While the measures survived legal challenges when they were approved by state voters, an unexpected challenge to the Michigan measure had given new hope to those seeking to overturn the state bans. That challenge (and most of the opinions released Tuesday by various coalitions of justices) focused not on the appropriateness of affirmative action, but on when statewide votes are legitimate tools to set policies that have an impact on minority citizens.
The justices upholding the Michigan measure had a variety of reasons (some conflicting) for doing so. The plurality opinion -- written by Justice Anthony Kennedy and joined by Chief Justice John Roberts and Justice Samuel Alito -- stressed that the court was not ruling on the constitutionality of the consideration of race in admissions, only on the right of states not to exercise their right to have such consideration at their public colleges.
"This case is not about the constitutionality, or the merits, of race-conscious admissions policies in higher education. Here, the principle that the consideration of race in admissions is permissible when certain conditions are met is not being challenged," the opinion summary says. "Rather, the question concerns whether, and in what manner, voters in the states may choose to prohibit the consideration of such racial preferences. Where states have prohibited race-conscious admissions policies, universities have responded by experimenting with a wide variety of alternative approaches. The decision by Michigan voters reflects the ongoing national dialogue about such practices."
Among the other justices backing the outcome, two -- Justices Antonin Scalia and Clarence Thomas -- wrote an opinion saying that the key question was whether the Michigan measure was discriminatory. And they said it was not. "The question here, as in every case in which neutral state action is said to deny equal protection on account of race, is whether the challenged action reflects a racially discriminatory purpose. It plainly does not," they said.
Justice Stephen Breyer also backed the outcome of upholding the Michigan measure, but for different reasons. (Fuller explanations of the various opinions are below in this article.)
Justice Sonia Sotomayor wrote a dissent -- joined by Justice Ruth Bader Ginsburg -- saying that the Michigan measure violated the rights of minority individuals in the state. "We are fortunate to live in a democratic society. But without checks, democratically approved legislation can oppress minority groups. For that reason, our Constitution places limits on what a majority of the people may do," the dissent says.
"This case implicates one such limit: the guarantee of equal protection of the laws. Although that guarantee is traditionally understood to prohibit intentional discrimination under existing laws, equal protection does not end there. Another fundamental strand of our equal protection jurisprudence focuses on process, securing to all citizens the right to participate meaningfully and equally in self-government. That right is the bedrock of our democracy, for it preserves all other rights."
Justice Elena Kagan recused herself from the case, as she has from many cases in which she played a role prior to joining the court.
The U.S. Court of Appeals for the Sixth Circuit -- in two rulings, one by a 2-1 vote and one by an 8-7 vote -- found that Proposition 2 (the measure passed by Michigan voters) was unconstitutional. But those rulings had been stayed, pending the Supreme Court's ruling, which now has reversed them.
Tuesday's Supreme Court ruling does not invalidate last year's ruling that, under certain circumstances, it is constitutional for public colleges and universities to consider race in admissions. That decision -- Fisher v. University of Texas at Austin -- found that there is a right to consider race, but not an obligation to do so. The new decision -- in Schuette v. Coalition to Defend Affirmative Action -- says states can reject the use of that right.
The names in the ruling refer to Bill Schuette, the attorney general of Michigan, who has defended the 2006 vote, and the Coalition to Defend Affirmative Action, Integration and Immigrant Rights and Fight for Equality by Any Means Necessary, an organization known as BAMN (the acronym for the end of its name), which brought the case to challenge the 2006 referendum.
Most leaders of public colleges and universities in Michigan and other states that have barred the consideration of race have opposed such bans. But most also have been leery of BAMN's legal challenge, finding it awkward to argue against the right of their states' citizens to decide such matters. But after the Supreme Court agreed to take up the case, most higher education groups backed the challenge to Proposition 2.
The argument advanced by the civil rights activists who filed the challenge to the Michigan referendum is not, strictly speaking, on the merits of affirmative action. Rather, they argue (and the appeals court agreed) that Proposition 2 effectively denied minority citizens the same right to influence the policies of public universities that other groups have. So, for example, if rural Michiganders want to encourage the public universities to adopt policies that would help rural students, they can do so.
But under Proposition 2, those who believe that consideration of race is important can no longer try to get the public universities to do so in admissions. Proponents of Proposition 2 have said that the referendum is a race-neutral tool of democracy, and that states have the right to use referendums to consider policies with regard to public college admissions policy.
Initial Reactions
Critics of affirmative action were quick to respond to the decision. Roger Clegg, president of the Center for Equal Opportunity, which has released numerous studies critical of the consideration of race in admissions, said that he hoped the ruling would lead other states to follow Michigan. "Where ballot initiatives are not available, state legislatures should act; where state legislatures won't act, then action should be taken at the local level," Clegg said in a statement.
Jennifer Gratz, who is CEO of the XIV Foundation -- which opposes the consideration of race -- and who sued the University of Michigan over its affirmative action policies and was a key figure in the campaign to pass Proposition 2, also issued a statement praising the Supreme Court.
"Much progress has been made over the past 15 years in challenging discriminatory policies based on race preferences and moving toward colorblind government," Gratz said. "Today's ruling preserves this foundation and is a clear signal that states are moving in the right direction when they do away with policies that treat people differently based on race, gender, ethnicity or skin color."
George Washington, a lawyer for BAMN, said in an interview shortly after the Supreme Court ruled that it was "a terrible decision ... equivalent to Plessy v. Ferguson," the 1896 ruling that upheld the doctrine of "separate but equal."
Washington said that the Supreme Court has "turned over to the states what rights minorities have," and that measures like Proposition 2 "have already led to the resegregation of the University of California and the University of Michigan."
In a state like Michigan, where the electorate is overwhelmingly white, the Supreme Court has given the white majority "veto power over the political rights and educational futures of black citizens, and that is not acceptable," he said. "Frankly, our sense is that they have taken off the gloves, and now we have to take off the gloves, and go back to the sit-ins and strikes and all the things that won the civil rights movement."
The major associations representing college presidents filed a brief with the Supreme Court on behalf of BAMN, but without endorsing many of the arguments made by BAMN. Ada Meloy, general counsel for the American Council on Education, said Tuesday morning that the key thing about the opinions was that they did not make new law on affirmative action.
"Our main concern ... was whether it would detract from the Fisher decision, which allowed the continued use of race," Meloy said, referring to the 2013 Supreme Court ruling involving the University of Texas at Austin. "We were very pleased to see that was not shaken by the decision issued today."
Michael A. Olivas, director of the Institute of Higher Education Law and Governance at the University of Houston, is a supporter of affirmative action, and he criticized the justices who upheld the Michigan measure for "a very flawed world view" in which they believe that race is no longer a powerful force in American society.
But Olivas said that the decision should also motivate academic leaders -- regardless of their views on race or affirmative action -- to think about the impact of having statewide votes on how colleges make decisions.
Public colleges and universities, Olivas said, have trustees who are either appointed or elected and who are charged with making "nuanced, institution-specific, public interest oriented decisions." State voters either elect trustees, or elect governors who appoint them -- so they are connected to the process, he said. But it is trustees (and those they hire) who truly understand the issues. "Why are those officials hamstrung by ballot measure that are not nuanced, but that are blunt axes on divisive issues?"
While Olivas personally disagreed with the votes in Michigan and California to bar public colleges from considering race and ethnicity, he said his concern wasn't related to the outcome of those elections. He noted that some think California voters today (who are more diverse) might reverse that state's ban. While he would applaud that outcome, he said that the fact that state voters might go one way on affirmative action one year, and then switch sides, "shows how silly it is" to have voters determine these issues.
Who Gets In?
Proposition 2, like affirmative action, affects those public colleges and universities with highly competitive admissions. In Michigan, that means that the impact has been most clear at the University of Michigan (in just about every program) and in professional schools and selected programs elsewhere.
While the University of Michigan's leaders have repeatedly criticized Proposition 2 and pledged to do everything they can to recruit a more diverse student body, they have faced criticism for not doing more. Just last week, a rejected black applicant to the university of Michigan participated in protests, charging that the university could increase its black enrollment by admitting students like her. Brooke Kimbrough, the student, has a 3.6 grade-point average and an ACT score of 23. While supporters said that she could succeed at Michigan, critics said that the university was correct to turn her down, given that her academic record wasn't superior to those getting in. According to the university, the average high school G.P.A. of those admitted to Michigan is 3.85 and the 50th percentile of admitted students have ACT composite scores of 29-33.
Kimbrough's protest set off considerable debate, and she was challenged to a debate by Gratz.
This academic year has been one of considerable debate about race at Michigan. In the fall, black students organized a #BBUM Twitter protest attracted nationwide attention, as students used the hashtag to describe their frustrations with "being black at the University of Michigan." Students described hostile or ignorant comments as everyday events in their lives, along with the reality that their numbers are small (not even 5 percent of the university's enrollment, though the state has a black population of more than 14 percent). Then in January, black students demanded that the university double black enrollment. While university officials have pledged to do more, they have repeatedly noted the limitations placed on them by Proposition 2.
On the #BBUM hashtag Tuesday, some said that they believed their protests had drawn more attention to the needs of black students, but that the Supreme Court ruling had undercut that progress.
Why the Justices Ruled as They Did
Tuesday's opinions (none of which attracted majority support on the court) were based on very different perspectives.
The Kennedy-Roberts-Alito opinion stressed that the Supreme Court's willingness to let colleges consider race (sometimes) was never a requirement, and that states and colleges were free to decide not to consider race and ethnicity.
"This court has noted that some states have decided to prohibit race-conscious admissions policies. In Grutter [a 2003 ruling upholding the consideration of race by public colleges], the court noted: 'universities in California, Florida, and Washington State, where racial preferences in admissions are prohibited by state law, are currently engaged in experimenting with a wide variety of alternative approaches.' Universities in other states can and should draw on the most promising aspects of these race-neutral alternatives as they develop."
Michigan's Proposition 2 was one such experiment, the opinion suggested, and so should not be disturbed.
The two justices who are most consistently critical of any consideration of race -- Scalia and Thomas -- wrote that they considered it "bizarre" that there was any legal question about a state barring the consideration of race, given that the Constitution bars racial discrimination. "Called upon to explore the jurisprudential twilight zone between two errant lines of precedent, we confront a frighteningly bizarre question: Does the Equal Protection Clause of the Fourteenth Amendment forbid what its text plainly requires? Needless to say (except that this case obliges us to say it), the question answers itself."
The votes of the five justices noted in the above paragraphs were expected. Many supporters of affirmative action were more surprised by the vote of Justice Breyer, who, as he noted in his opinion, believes that colleges do have the right to consider race in admissions.
He rejected the idea that black citizens (or those favoring the use of affirmative action) were being disenfranchised by Proposition 2. He said that it was not the elected or appointed trustees who lost power to the voters, but rather "unelected faculty members and administrators," to whom trustees had delegated authority. He said that, in this context, he could not object to the state's electorate deciding that it disagreed.
Breyer repeatedly stressed that he was ruling on a very narrow set of circumstances. He said, for example, that he would have viewed the case differently had the consideration of race in Michigan been linked to past discrimination.
Creating Two Classes of Michigan Citizens?
Only the dissent accepted the BAMN argument that Proposition 2 limited the political rights of minority groups. "There are now two very different processes through which a Michigan citizen is permitted to influence the admissions policies of the state's universities: one for persons interested in race-sensitive admissions policies and one for everyone else. A citizen who is a University of Michigan alumnus, for instance, can advocate for an admissions policy that considers an applicant's legacy status by meeting individually with members of the Board of Regents to convince them of her views, by joining with other legacy parents to lobby the board, or by voting for and supporting board candidates who share her position," said the dissent, by Justice Sotomayor.
"The same options are available to a citizen who wants the board to adopt admissions policies that consider athleticism, geography, area of study, and so on. The one and only policy a Michigan citizen may not seek through this long-established process is a race-sensitive admissions policy that considers race in an individualized manner when it is clear that race-neutral alternatives are not adequate to achieve diversity. For that policy alone, the citizens of Michigan must undertake the daunting task of amending the State Constitution."
And that, the dissent said, was unconstitutional. "While our Constitution does not guarantee minority groups victory in the political process, it does guarantee them meaningful and equal access to that process," said the dissent. "It guarantees that the majority may not win by stacking the political process against minority groups permanently, forcing the minority alone to surmount unique obstacles in pursuit of its goals — here, educational diversity that cannot reasonably be accomplished through race-neutral measures. Today, by permitting a majority of the voters in Michigan to do what our Constitution forbids, the court ends the debate over race-sensitive admissions policies in Michigan in a manner that contravenes constitutional protections long recognized in our precedents."