You have /5 articles left.
Sign up for a free account or log in.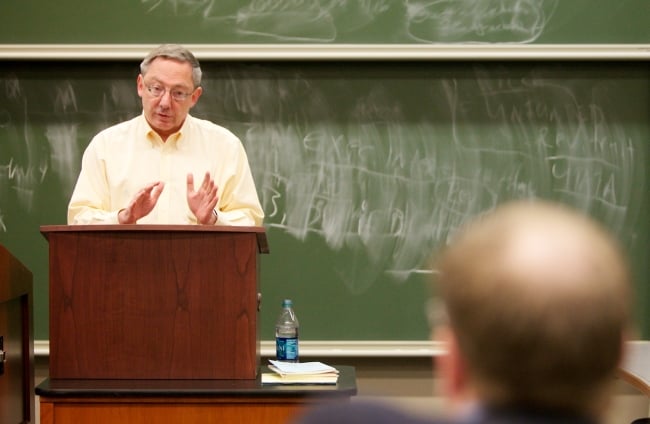 Just last month, Virginia's high court upheld the University of Virginia's right not to disclose a professor's emails about his work on climate change to a conservative organization that requested their release under the Freedom of Information Act.
Now the university is again being asked to disclose a faculty member's email correspondence and other personal records -- this time by a gay rights advocacy group that says it's concerned that the work of renowned Constitutional law professor Douglas Laycock is being used to support anti-gay and pro-life legislation.
Although the two Virginia requests came from different sides of the political aisle, experts say they raise similar issues. Namely, experts say, FOIA requests regarding professors' preliminary scholarship and personal correspondence walk a fine line between ensuring transparency in public institutions and infringing on academic freedom.
The newest case is particularly notable due to Laycock's eminence in the field and the fact that he is married to U.Va. President Teresa A. Sullivan.
Earlier this month, the university received a FOIA request from two students, in consultation with GetEQUAL, a lesbian, gay, bisexual and transgender rights advocacy group based in Berkeley, Calif. The request seeks access to emails to and from Laycock's university account to three conservative political organizations, along with phone records from the professor's work cell phone from January 2012 to May of this year and expense reports for travel during the same period.
The request also seeks access to relevant emails sent to and from the professor's assistant, and the professor's employment contract.
The request says: "At the heart of this [FOIA] request is a general concern University of Virginia resources may have been used to help finance causes that are perpetuating harm to [LGBT] individuals and the reproductive rights of women across the country, including here on UVA's campus."
It continues: "It has come to my attention that Professor Laycock has become a central figure in several, recent high-profile political and legal actions that have caused grave concern within both the LGBT equality and women's health movements."
The letter was written by Gregory Lewis and Stephanie Montenegro, both seniors at Virginia. In an interview, Montenegro said she was an ally of the LGBT community and concerned about women's reproductive rights. To that end, she said she felt that having as much information as possible about Laycock's research and how it was being used would help facilitate future dialogues on campus.
Heather Cronk, spokeswoman for GetEQUAL, said via email that the students "are interested in knowing more about ways that Professor Laycock might or might not have used university resources to work directly with some of the anti-LGBT and anti-choice groups that are now using his work to further their agenda."
Cronk said GetEQUAL has similar concerns.
"Though Professor Laycock has maintained a sort of academic agnosticism about the issues of LGBT equality and reproductive access, his work is nonetheless being used by individuals and organizations that have very clear and harmful agendas," she said.
Laycock, a staunch supporter of individual rights and the separation of church and state, inhabits a somewhat unique political niche. He has argued for gay rights, including in an amicus brief pertaining to two recent U.S. Supreme Court cases about gay marriage, Hollingsworth v. Perry and United States v. Windsor.
But he also signed on to a letter to Arizona Gov. Jan Brewer in support of controversial legislation in that state that critics said would have enabled businesses to turn away gay customers. (Laycock says that description was a gross misrepresentation of Senate Bill 1062's intent; Brewer ultimately vetoed it).
Laycock also argued in favor of Hobby Lobby's right not to include certain kinds of contraception in its employee health care plan in an amicus brief regarding this year's Supreme Court case, Sebelius v. Hobby Lobby.
Various political groups, including the Becket Fund for Religious Liberty and the Alliance for Defending Freedom, both referenced in the FOIA, have cited the latter two documents in their own advocacy efforts. 
Work Used to 'Harm Individuals'
It's how those documents are being used – not the fact that Laycock is writing them – that worries GetEQUAL, Cronk said. "We are absolutely concerned with protecting academic freedom – the rub is that, while a professor has every right to do academic work of his or her choosing, there must be a system of checks and balances when that work is being used to harm individuals."
Montenegro also said the request was not an attack on academic freedom.
But Laycock said the FOIA request was little more than an attempt to chill his intellectual expression.
"Obviously the intended consequence is to intimidate and deter, only I'm not that easily intimidated or deterred," he said. "That's the only way to understand this request."
Laycock said the request reads much like that made to the university several years ago regarding Michael E. Mann, then a climate scientist at the institution. A conservative political organization called the American Tradition Institute (which has since changed its name) sought access to Mann's email correspondence pertaining to his research.
Faculty advocates said at the time that releasing such documents would negatively affect professors' ability to freely explore controversial topics, as well as the university's ability to recruit top faculty. The university backed the professor, who now teaches at Pennsylvania State University, and Virginia's Supreme Court ultimately agreed in April of this year. (It previously had shut down an attempt by the former state attorney general Ken Cuccinelli to compel the university to release Mann's emails.)
"This is from the other side of the political spectrum, but with the same intent," Laycock said.
As in the Mann case, Laycock said he would leave the legal battle over the request to the university. But he said he had no problem releasing his travel records, because he had never sought reimbursement from the university for travel related to the work mentioned in the FOIA.
McGregor McCance, a university spokesman, said via email that the institution is processing the FOIA request "as it does all FOIA requests. We will endeavor to gather potentially responsive records, and then review those records to determine if some or all of them are subject to exemptions under the Virginia Freedom of Information Act."
He noted that the university does not release scholarly or scientific communications of faculty protected under the Virginia Freedom of Information Act, and that the university's interpretation of protected communications recently was upheld in the Mann case.
Of his work with the conservative political groups in question generally, Laycock said he's litigated both with and against them. He said he wasn't "naive" about how some of his legal arguments and scholarship could be appropriated by other groups, but that his work over 38 years stood for "liberty and justice for all."
"An informed academic who takes seriously the claims of both sides can be a partial antidote to the single-issue advocacy that inundates government officials," he said. "I don't have any illusions that I get every issue exactly right. But I do work hard to understand the law in ways that redeem the Constitution's promise of liberty for all Americans."
Neither the Becket Fund nor the Alliance for Defending Freedom immediately responded to requests for comment.
Laycock said the FOIA request showed that its authors were both unfamiliar with his work as a whole and held a narrow view of liberty.
"I want to protect the rights of gays to get married, and the right of conservative folks not to participate in those marriages," he said. Equally, Laycock said he respected women's reproductive rights and an employer's desire not to provide certain kinds of contraception, as argued in the Sebelius v. Hobby Lobby case.
Laycock said the students should have contacted him personally if they wanted more information about his work.
Cronk's organization is looking forward to speaking more deeply with the professor, she said. "We're eager for a public forum in order for Professor Laycock to talk about why he's engaging in the legal work he has taken on, and for those being harmed by that work to be able to explain those experiences for Professor Laycock."
Greg Scholtz, director of academic freedom, tenure and governance for the American Association of University Professors, called FOIA requests a "vexed issue: the balance between two goods -- academic freedom and the public's right to know." For that reason, the AAUP has not published an official policy statement on the matter. But the organization has weighed in on specific cases where academic freedom appears to be at stake, Scholtz said.
One such case is that of William J. Cronon, a pro-labor professor of history at the University of Wisconsin at Madison. In 2011, during battles over the future of organized labor in that state, the Republican Party of Wisconsin requested copies of Cronon's email correspondence containing various terms, including Gov. Scott Walker, who pursued legislation cracking down on unions.
In a letter to Madison's then-Chancellor Carolyn (Biddy) Martin, AAUP called the FOIA request "outrageous," and said disclosing the email correspondence would "inevitably produce a chilling effect not only on Professor Cronon's academic freedom but also on the academic freedom of his faculty colleagues and of faculty members throughout the University of Wisconsin system, with potentially deleterious effects on the quality of research and teaching."
The letter also referenced the earlier Virginia case involving Mann.
Several days after receiving the AAUP letter, Martin issued a statement saying that when faculty members "use e-mail or any other medium to develop and share their thoughts with one another, they must be able to assume a right to the privacy of those exchanges, barring violations of state law or university policy."
Martin continued: "Having every exchange of ideas subject to public exposure puts academic freedom in peril and threatens the processes by which knowledge is created."
Robert O'Neil, former president of and law professor at the University of Virginia who has written extensively about academic freedom in the digital age, and who is a personal acquaintance of Laycock and Sullivan, the current president, said via email that there is "absolutely no reason that Doug (or any other reputable and disinterested law professor) should temper his or her public statements for any reason other than conviction."
Regarding FOIA requests pertaining to research, O'Neil said the Virginia Supreme Court's recent "vindication" of Mann "got it just right." Likewise for Martin in Wisconsin, he said, as well as similar decisions made by Michigan public institutions to reject FOIA requests regarding pro-labor faculty members' emails in recent years.