You have /5 articles left.
Sign up for a free account or log in.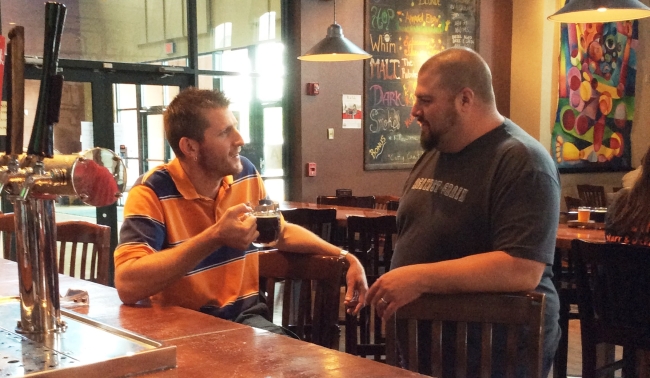 Crowds will gather tonight -- as they do every night -- at Against the Grain in downtown Louisville, Ky., to drink craft beer and catch up with friends. But this evening they'll be treated to some unusual entertainment, at least for a brew pub (even a classy one in a college town): a talk on using nanotechnology to combat HIV and other viruses.
Those who want a seat are advised to come early: Last month's inaugural "Beer With a Scientist" talk was standing-room only.
The program is the brainchild of Levi Beverly, an assistant professor of medicine at the University of Louisville and an investigator at its James Graham Brown Cancer Center and the Institute for Molecular Diversity and Drug Design.
Beverly said Beer With a Scientist seeks to connect scholars and intellectually engaged non-academics over important scientific questions and good beer.
Most customers "likely don't know an M.D. or Ph.D. on a personal level, and [in academia] we just assume that everybody has Ph.D. and M.D. friends they can talk to about all this stuff," he said. "It's about people having somebody they can talk to and approach."
Beer With a Scientist was inspired by a similar talk series at Brooklyn, N.Y.'s, Bell House music venue and bar. The Secret Science Club has attracted such well-known scientists as Steven Pinker, professor of psychology at Harvard University, and Martin Blaser, microbiologist at New York University. (It's also known for its avant garde approach to science, such as a recent taxidermy contest. That's not yet on the agenda for Beer With a Scientist.)
Beverly said he attended the Secret Science Club regularly while he was working at Memorial Sloan-Kettering Cancer Center from 2006-10. At the time, he said, he imagined it would be a "where-else-in-the-world" kind of experience, one that he'd be unlikely to find elsewhere.
Unless he started one himself -- which he did upon settling in Louisville, with the help of a few willing fellow scientists (the speaker lineup is set though October) and Sam Cruz, owner of Against the Grain.
Science isn't foreign to Against the Grain. Cruz said he regularly talks to his customers who are professors about their work (and even reads some of their research via email). But he said he jumped on the chance to more formally support the nearby cancer center and offer "relevant" entertainment to his academic clientele.
The bar, which is situated in the Louisville Bats' minor league baseball stadium complex, attracts its share of lay customers, as well. So Cruz thought Beer With a Scientist  also would help bridge what he sees as a "disconnect" between scientists and the general public.
"If you don't know about something, it's hard to care," said Cruz. "I think that's why this works; what we're doing with these talks is letting people take the time to think about these things."
Cruz said that Beverly -- who likes to talk about volleyball and looks more like a personal trainer than a stereotypical professor – was the right person to bridge that gap.
"He does not fit the mold for a stuffy professor or researcher," he said. "I thought, 'This is our guy.' "
Good ideas aside, neither Beverly nor Cruz was sure how popular the program would be. The professor said he imagined speaking for five or 10 people, but by the time he started lecturing last month on why we haven't cured cancer (turns out we have, to a large degree) there wasn't a seat left in the house.
Beverly talked for about half an hour, then took about a dozen questions from the crowd. Not everyone paid attention, and that was fine, he said. But it was clear that at least 80 percent of attendees were there to hear the talk, he said, thanks to some university marketing, fliers and a campaign on the Underground Science Louisville Facebook page. He circulated around the bar for about 30 more minutes, taking one-on-questions.
Tonight, Jill Steinbach, an assistant professor of bioengineering at Louisville will take the floor, maybe even with a beer in hand (she's an amateur brewer). Steinbach said she's looking forward to sharing some of her research with the crowd and, similarly to Beverly, challenge some stereotypes about science. Namely, that it's not accessible and that it's a man's field.
"Nobody ever expects [that I'm a professor]," said Steinbach, who is young, with long blond hair. "That's a little disappointing about our culture generally, but for the next generation I have a huge interest in promoting females in science and engineering."
Steinbach hopes the audience at the end of the talk the audience will understand what a virus is, why infections occur and the basics of drug delivery via nanotechnology.
Both professors said it wasn't too difficult to pare down their research for a lay audience. Beverly said another scientist – Albert Einstein – once observed that being able to explain something simply indicates deep understanding (as well as the inverse).
In July, a third professor will lecture on myths about staving off aging and whether or not any of them hold water. Later in the summer, a physicist will lecture on quasars and deep space.
So far, Beverly hasn't planned for coverage of potentially controversial scientific topics, such as evolution, climate change or embryonic stem cell research. But he didn't rule it out.
"It's important to educate on these topics," he said, since internet-based information on them is frequently inaccurate, and it's not always easy to discern fact from fiction or opinion online. But for right now, he said, "We're keeping it light."
Cruz said he'd be willing to host talks on controversial topics, for what they contribute to the public discourse.
"Yes, it's polarizing and it could polarize some of our customers, but those discussions have value and it's important to know that those things are there and we can't ignore them," he said.
Cruz said he hopes at some point to turn the talks into a fund-raiser for the cancer center. Right now the bar collects donations in a jar, but he hopes to be able to put some of the evening's profits toward research.
The bar owner also said he hoped Beer With a Scientist would be exported to other bars in other cities and towns.
"I'd like this to grow," he said.
At Against the Grain, at least, Beverly said there's a strong chance the talks will continue well past October.