You have /5 articles left.
Sign up for a free account or log in.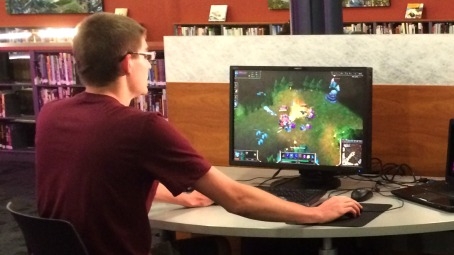 Robert Morris U. - Illinois
In the latest blow to the nerd-jock distinction, an Illinois university has added video games to its varsity sports lineup.
Robert Morris University-Illinois, a 7,000-student private institution with its main campus in Chicago, announced this month that it would incorporate eSports – organized video-game competitions – into its athletic program. Starting in September, League of Legends players will join hockey goalies, quarterbacks and point guards as varsity athletes at the Chicago campus. The university is a member of the National Association of Intercollegiate Athletics.
League of Legends is an online multiplayer battle-arena video game. More than 27 million people play it each day, according to Riot Games, which developed the game.
The Chicago-based university, which has no affiliation with Robert Morris University in Pittsburgh, is the first institution in the country to assign varsity status to a video game.
The university plans to offer between 45 and 50 athletic scholarships to incoming gamers, said Kurt Melcher, the university's associate athletic director. The scholarships will pay for 50 percent of tuition and 50 percent of room and board for members of the League of Legends team.
The gamers will be treated like other varsity athletes, Melcher said. They'll have uniforms, regular practice sessions and postgame meals. Students who need it will also receive tutoring support from RMU's athletic department.
The League of Legends team will compete in the Collegiate Star League, an eSports league that includes teams from institutions like Harvard, MIT, and the University of California at Berkeley, the athletics official said.
Some colleges recognize their gaming teams as clubs and give them campus resources. At other institutions, the teams are "just five or ten people who are passionate about it," Melcher said.
The athletics official expects the team to compete weekly, on Saturdays. He said RMU will establish a gaming facility on the Chicago campus by converting a computer lab, or some similar space, into a League of Legends tournament area.
The Illinois university plans to hire a coach in the next few weeks. Riot Games has given the university the names of some "higher-end gamers" who might be good candidates, Melcher said.
In many sports, a coach must work hard to motivate athletes to give their all in training sessions. With League of Legends, one challenge will be to keep the student-athletes from practicing too much, Melcher said. "The community and culture of that game – it's like 15 Red Bulls and they're playing all night," he said. "You almost have to regulate it backward and say, that's enough practice."
Melcher has already received 70 applications and more than 500 e-mail inquiries from students thinking about trying out for the team.
Once the athletics department hires a coach, he or she will be responsible for sifting through the applications and evaluating the ability level of potential varsity gamers. Students who participated in eSports in high school will have an edge.
Pedro Rodriguez, the former president of the League of Legends division for UC-Berkeley's eSports team, said he thought RMU's decision signaled that video games were "becoming more mainstream."
"I always thought that eSports is definitely a valid occupation, something which requires skill and lots of practice and lots of time and effort," the Berkeley student said. "You're exercising your mind."
Sure, video games aren't physically demanding – but neither is golf, Rodriguez said.
Melcher said he doubts the team will generate revenue, considering the scholarship levels RMU is offering.
"I think the real gains come from having that sort of student participate and come to our campus and do something they love doing," he said.
Melcher's background is in traditional sports: he played Division I soccer as an undergraduate and has coached women's soccer at RMU for 19 seasons.
Nonetheless, the increasing popularity of virtual athletics has been hard for him to ignore. "Last year for the national championships for League of Legends, they sold out the Staples Center," Melcher said. (The Staples Center is a sports arena in Los Angeles that seats more than 18,000.) "The L.A. Kings couldn't even do that," he said.